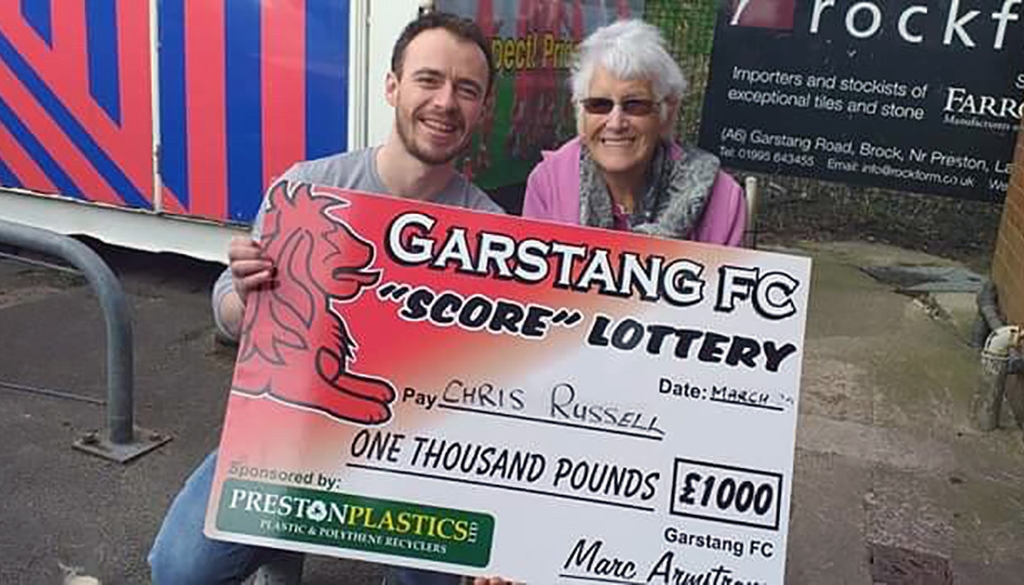 Garstang Score Lottery Relaunched
Thu 4th June 2020 | Garstang
By Martin Fallon
Garstang Football Club has run it's successful "Score" lottery for several years and all the money goes back into the ground infrastructure in order to provide the best possible facilities for players and supporters alike. Plans in place for a new stand at the ground, which will make viewing more comfortable once football at our level can return.
The lottery, which is kindly sponsored by Preston Plastics, has just been relaunched and players can win their top prize of £1000 in every monthly draw. It costs just £5 a month and Garstang pay out subsiduary prizes up to a total of £1380.
For every new member who joins (minimum 3 month subscription), they also donate £10 to the North West Air Ambulance Service. The air ambulance has a charity shop in Garstang which is currently closed and they have attended The Riverside in the past to treat players injured playing sports. The club also hope to do a possible charity event in the pipeline once things return to normal.
For your chance to help Garstang and the North West Air Ambulance Service, plus have a chance of winning £1000 every month, just follow the simple instructions below to set up your standing order.
1. Set up a standing order with your bank for £5 on 1st of each calendar month using your full name as the reference. Garstang's account details are Royal Bank of Scotland, Account Name Garstang Football Club Lottery Account, Sort Code 16-20-18, Account Number 10075592.
2. Text or WhatsApp Marc on 07470 404669 with your name and address.
Anyone wishing to pay £60 for an annual subscription, then please contact Marc on the above number.