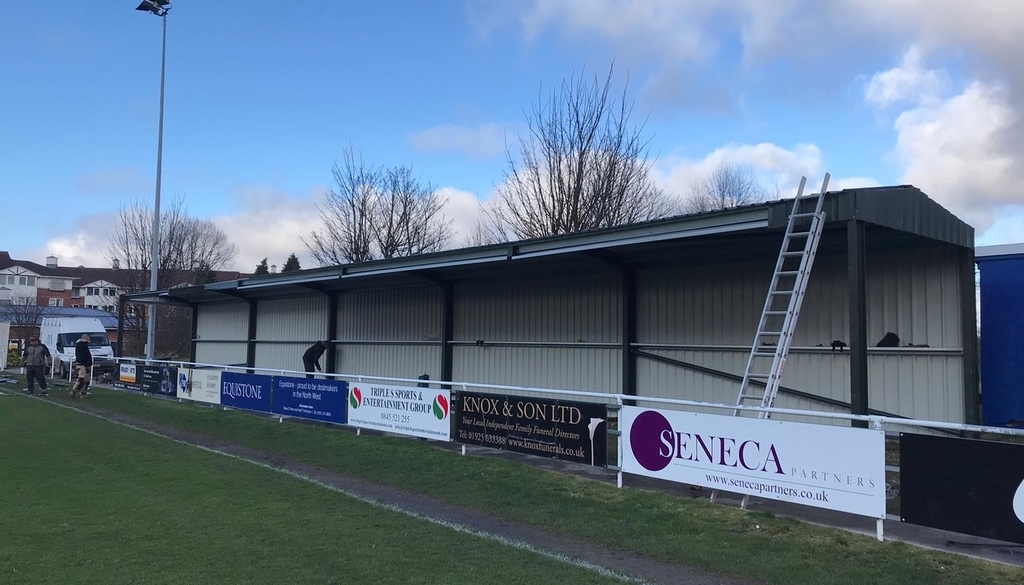 Winds of change blow through at Rylands FC
Thu 20th February 2020 | Warrington Rylands 1906
By Craig Kendall
Last week saw lots of work take place at Gorsey lane, home of Rylands FC. Their new seated stand comprising of 150 seats, which will take them to a capacity of 200 seats in total at the ground, is nearing completion.
This, alongside the existing covered standing area, is the latest addition to the planned improvements scheduled this year for the club. They've already launched their new clubhouse and sports bar just before Christmas too, much success and the feedback from visiting clubs has been very positive so far.
What hasn't been planned however was the arrival of storm Ciara and Dennis over the last week. This brought a shock during the early hours of Tuesday morning to their Gorsey lane neighbours when the winds grew to such intensity they blew over part of the brick boundary wall separating their ground from the street that runs alongside.
Luckily because it was in the middle of the night nobody was hurt, however, the safety of the public was the obvious concern so they took the decision, along with help from the local authority to demolish the rest of the boundary wall, some 130m in length, to ensure the public's safety.
A busy week for all involved as chairman Mark Pye commented, "It was a shock to us all to wake up on Tuesday morning to see what damage the storm had brought. I can't believe that the wall has gone, you don't think anything could have been that strong to take it down, it's been there for so long it just shows the power of nature. I'm just glad it happened when it did and nobody was hurt. We've already spoken to all the neighbours to discuss with them the new boundary that will replace the wall."
The rest of the seasons home games are unaffected by the storm damage and the site is now secure and ready for next game. As the Rylands chairman often says, "...it's never dull here at Rylands!"
Rylands are next in action on Saturday when they entertain Litherland REMCYA at home, 3:00 pm kick-off.