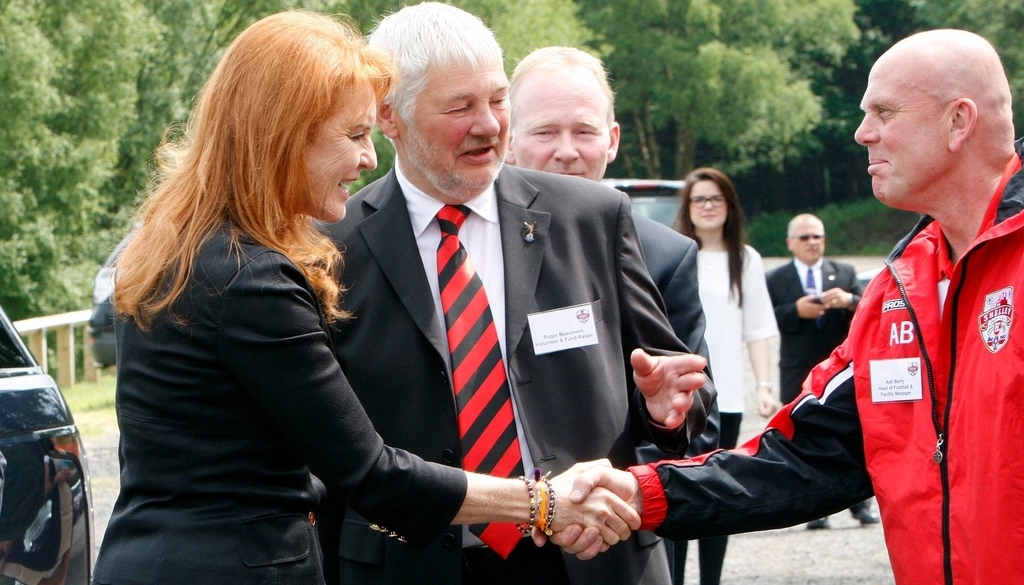 Berry has had to adapt to player lifestyles in recent years
Fri 6th December 2019 | Shelley
By Craig Kendall
When Ash Berry took the jump from the Northern Premier League to the Division Five of the Huddersfield & District League - many would have thought he had gone bonkers - but just as Dizzie Rascal's hit song rang out of the speakers in 2009, Berry took on the role at Shelley and never looked back.
"Man, I'm just livin' my life, There's nothin' crazy about me" raps Dizzie in his number 1 record, and that is just what Berry has taken on board - loving every moment of his time at the Hudderfields based side.
"It's been a big journey for us", Berry explained.
"I always wanted to get as high as I could and I've got as far as the EvoStik, managing one or two good clubs in there. At one side I worked in the Academy and I think I've done about twenty-five years now, starting at Chesterfield in the late nineties. I've always used that for recruitment and also used it the other way to put non-league players into the League, which I've managed to do. It's been brilliant. I've enjoyed every minute of it.
Just 8 miles down the A616 lies another local side in Golcar United who Selley have had plenty of battles against throughout the years, "That's a little bit more of a feisty one! They're a bit like us. They haven't had the same history that Emley's had and we've got a really good close relationship with Emley. There's no rivalry with us and Golcar, shall I say, and it's the same with Emley. In that little round robin triangle, it's a little different than between ourselves and Emley."
With so many clubs close to Shelley, Berry knows just how difficult recruitment is especially with several NWCFL and NCEL on their doorstep, "It's very difficult, to be honest. We've had to go further and further afield. The disappointment from my point of view is we're a bit different to any of the other non-league clubs and to anywhere else I've worked before. Everywhere I've worked before it's about the first team but, working where I am with the Chairman I have, that's not necessarily so.
"We have a massive junior set up: twenty-six junior sides, right through to an Under-19s side, whom I pushed to play in the Northern Floodlit League, They play the likes of Ossett, Glasshoughton and Frickley. I thought, ten years into the project, we'd be starting to introduce more of our own. We do keep producing but we keep having blips and poor years and I think it's getting harder and harder to find lads that keep on playing after junior football."
Having played with 34 different players already this season, Berry has found it difficult fielding similar sides week in, week out, "I think it's very important. That's far too much change. I would say that twelve or fourteen games in, we hadn't had a week where we hadn't had at least eight or ten players unavailable. Every single week! Week, in week out, it was every single game. If we hadn't had as big a squad with so many players at the club, we'd have struggled to put a team out. I speak to other managers – at this level and above or below – and everybody has said the same. It's getting harder and harder because commitment is getting less and less."
And Berry believes that he has had to adapt massively in the last few years to players' every changing lifestyles, "I think the last five years have changed beyond all recognition. I don't want to sound ancient but I suppose I'm getting that way in terms of some of the lads that are about. There is so much choice in what you can do, so many other activities and they've so much more money. A lad that helps with our second team is my ex-teammate. We go right back to junior school together and he's still involved with the club. He's a godparent to my daughter and she's 34 now so you can tell we go far back. We were talking one Saturday and were saying when we played in our day, there were no opportunities to travel or to go and play further afield.
"All the local leagues were so strong; not just in Huddersfield but everywhere. We remembered Saturdays when we were lucky to both get to an away game in Huddersfield. My dad had a milk round and he used to use his milk float! We all could drive but we hadn't got a vehicle between us. We were stood there one Saturday and we'd see all the lads arriving in Mercs, BMW-1 series and we were laughing. We're not going back hundreds of years' we're going back thirty years!
"We struggle to get to away games and now everybody has weekends away, stag dos in Prague, music festivals at Bramham in Leeds, go watch a test game, go snowboarding… you name it! There are just so many other things to do and they've got the money to do it.
"I've had to adapt. I'm very old school: I love discipline, I love rules, I like commitment and I'm passionate but I've had to curb a lot of that. More than what I'd like to do but I've had to because they won't respond or play to the way we were brought up. It is becoming a problem and it is becoming a problem at all levels. Even as far as the pro game, there are lads that are playing who are not sure whether they play or they don't.
"I speak to everybody. Nicky Law's another big pal of mine. He's managed Bradford City, Chesterfield and Alfreton for a long number of years – ex-pro – and he's taking the Under 23s now at Burnley. He said he's just not compatible with the modern game. I said it isn't the modern game, it's modern life. He said, "I think you're probably right".
"Nobody wants to do anything that's organised. Everybody wants to do everything instantly. Rather than play football and commit themselves to ten months, home and away and travel, they just go down on a Wednesday night and play five-a-side with their mates at the local indoor place. One week they're going somewhere so they don't play and I think people have got like that about everything.
"I've played football and cricket all my life and I saw it coming with cricket years ago. I thought it would never come with football but it has."
Currently 17th in the standings, but just eight points away from one of the promotion places, Berry is still confident, "We set off like a house of fire and we were going well. We've had one or two good Cup wins but the Cups and the weather have contrived against us. We went a month without playing and we went seven weeks without a League game. We've struggled since the break and we haven't got going at all. It's probably the most talented squad I've ever had and we're struggling at this point.
"We're chopping and changing. I don't want to chop and change the side. We've had to chop and change the formation and it's not good but we've had very little option. We've had so many men missing at any given time but a couple of good wins could get us right back in there. We're certainly capable of it.
"We went the other week to Whitchurch and we won 3-2. It could have been more and we were applauded off the field by their supporters, which I thought was fantastic. They were a good set of people. 3-2 flattered them; we battered them.
"Either side of that, we lose to Worsbrough Bridge in the Sheffield Cup, which I was gutted about, then we lose to St. Helens at home in the League. Madness! I think everybody can beat everybody in this League. Bottom of the League Steeten beat Golcar, then drew with Ashton.
"I think Lower Breck and Liverpool will break away. I don't think anybody else will. Emley are in a bit of a false position because they've played quite a bit more than anybody."
Shelley has the lowest average attendance in the division, but they are on the increase from last season and do have some local derbies coming up, "We're conscious of that. We've been conscious of that since Day One. Yet again, that's another disappointment that aims back at the youth. I expected us to attract our junior and youth players in more numbers than we do. We put a matchday experience on for the different age groups that come in. They meet all of the team, then go out onto the field as a group and be ballboys. They all have a fixture card at every single junior level at our place that gives one parent free entry – the lads are free anyway because they're under sixteen – to try to encourage them in.
"I think the other thing is results make a difference. When we were flying earlier on in the season, we were getting better crowds so, hopefully, if we can turn it around and pick it up again, we'll get better crowds.
"We've still got the big two to come. We've got Emley at home on Easter Monday, then Golcar for the last game of the season. There could be something riding on the Golcar game. The Easter game is always traditionally well-supported. We have got our biggest two fixtures to come along but it's disappointing yet again.
"I find getting people to come to watch non-league is the hardest thing. Once they've been, they get hooked. They watch and they'll come back.
"The other thing that hasn't helped us is having us, Emley and Golcar. Golcar is different. They're in the middle of a massive estate with the ground so that's a big catchment area. One thing that hasn't helped us and Emley is Huddersfield being in the Premiership because everybody in the area got a season ticket. That's just starting to wean off. Ironically, I'm a Leeds fan. My family were all Leeds, which is unusual around here because they hate Leeds with a passion, the Huddersfield lot! I like plaguing them a little bit!
"Even for what I keep telling them is their Cup Final this weekend, they haven't sold out yet for the Huddersfield end. I knew it would diminish once they came back out of the Premiership but that's hit us hard the last couple of years, while they've been in the Premiership."
With the upcoming fixture on Saturday against Abbey Hey in the Macron Cup 3rd Round, Berry is hopeful to go all the way, "I've said that all season, from the beginning. We won about eight trophies in my first four or five years, which I understand we're at a lower level but there were a group of players that I brought through with me from the EvoStik so they were better players. They were quality, they were very together and they were my sort of lads. As we got a couple of seasons into the Prem, they were getting towards the wrong end with age, starting to get married off, better jobs and that sort of thing.
"I've had to alter the team two or three times since then. I said this year we desperately need to win a trophy. We haven't won a trophy now for four years and I think it's time we won a trophy. It's what you're involved in football for. Whatever level you're at, you want to win trophies.
"All the time I've been here, all I've tried to do is make the club as successful as I can and keep raising the profile. We're very lucky with the preseason friendlies we get. With me working in the pro game and still doing a lot of scouting, I have a lot of contacts. We've played Leeds United Under-23s and Sheffield United Under-23s. We've played Accrington's first team because John Coleman's a mate of mine. We've played all the higher end of the non-league. We've played FC United twice because Margey [Karl Margison] was a mate of mine.
"I've done it and I'll keep doing it to raise the profile of the club. Our first very big friendly was a mid-season game at York City when York was still in the League. That was in the early days. We went there as a District League side and we lost 4-2, which was a hell of an achievement and a great performance.
"We've had some fantastic days and some fantastic nights but it's a bit frustrating at the minute. I'd like to get us higher up that table and certainly push for this League Cup if we can."
A big thank you to Ash for his time and to Ellie Dalglish for her excellent transcribing skills.
Ash Berry is pictured with the Duchess of York as they officially opened Storthes Hall Park in 2015. (Picture from ExaminerLive).