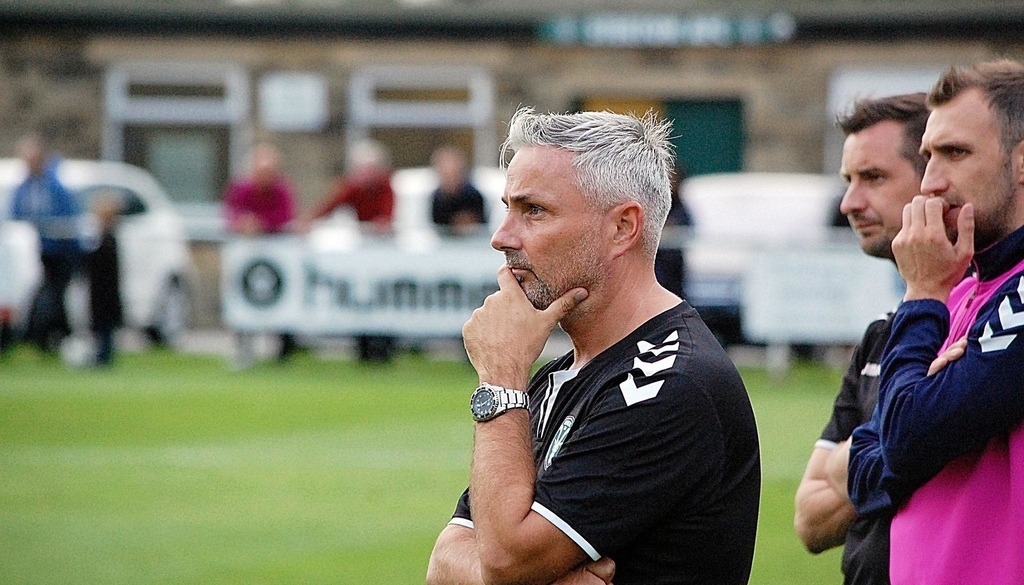 Roy Mason approaches 500 games at Steeton!
Fri 29th November 2019 | Steeton
By Craig Kendall
In 2006, Google purchased YouTube for US$1.65 billion - a great deal some would say, but we believe that now current NWCFL First Division North side Steeton got a better deal - when Roy Mason agreed to become their manager - and some 4,860 days and two promotions later, he is still there.
Mason had originally taken over when the side was in the West Riding County Amateur League Division One - the equivalent of Step 8 some 13 years ago, but he hasn't looked back since, "You know, I didn't! In fact, it's quite funny that I only came back to Steeton because I wanted to become less involved in this League, with doing committee work! I was player-chairman at a club I was involved with, Keighley Phoenix. I moved to Steeton just after the birth of my second child. It was right. I was just going to go and play now for my local club without the pressure of doing any committee work.
"Three years down the line I ended up being First Team Manager. How has that happened? Thirteen years later, to still be here and for us to be in the North West Counties is something I never would have imagined when I started!"
"We were in the First Division of the West Riding County Amateur. I took over, I think, two weeks before the season started because the previous Manager had resigned. Most of the players had left the club. The remit that Committee had said to me was just to try and keep us in the First Division. It's going to be a tough ask with no players. I'd managed the Reserve Team as player-manager the year before. At that time I was 36/37. It was a big jump for me and not something I'd dreamt of before but sometimes when the opportunity comes up, you've got to take it with both hands.
"The first year was massively tough for us. Nobody wanted to come to the club because the club was on its backside; it was going down. Luckily, we brought a few in and we managed just to stay up in the First Division. A couple of years later we won the First Division and went into the Premier Division. We managed to hold our own there and became consistently a top four, top five sides, culminated with the club getting to the County Cup Final at Elland Road for the first time in their history.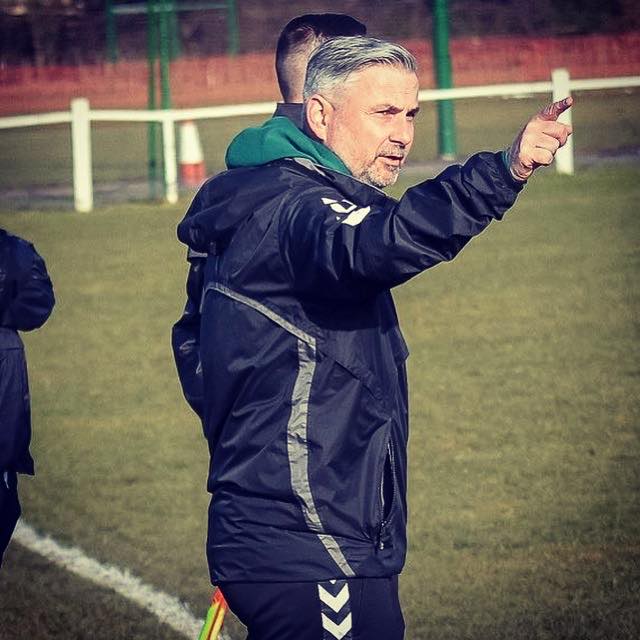 "We turned it around. There have been some really good times but we never imagined it would come to this, to be honest."
It has to be a successful time for the club, accumulating in a cabinet filled with trophies, "We won the Keighley Cup three times. We were the County Amateur First Division Champions. We won the Premier Division Cup last year: the year that we got promoted into the North West Counties. It's been good. For me, the progression of the club as Manager has pleased me because we've done everything in a self-sustainable way as well."
The West Riding County Amateur League has boasted some excellent teams in the past who have gone on to play higher up in the pyramid including NCEL's Campion, Hemsworth Miners Welfare, Silsden, Albion Sports, Northern Premier League's Brighouse Town, and more recently NWCFL's Golcar United - but Mason believes their biggest challenge was with their ground, "The biggest difficulty we faced was our ground. We knew all along that our ground, past our fantastic playing surface, was always going to be too small. We'd had preliminary meetings a few years ago with the North East Counties about looking at moving up but the ground was too small and we weren't going to be able to get there.
"A chance meeting with a couple of people meant I ended up having a chat with Mark Lawn, the ex-Bradford City Chairman, who's the father-in-law of our skipper, Tim Hird. Mark got talking to me about what the plans were and he asked, what about the Cougars' Cooper Park? I knew a couple of the directors at Keighley Cougars because one of their businesses had sponsored us a few years seasons ago so we arranged a meeting with Keighley Cougars. Myself and Mark went down and had a chat with them and it started to become a possibility that we might be able to ground share with them at some point or do something together.
"The North West Counties then announced that they were going to expand the League. They were looking for more teams to come in and it seemed an ideal opportunity for us to enquire making that step. We had a meeting with John Deal and Geoff Wilkinson, who were helpful to us right from the start but, from the first meeting, they looked at the ground and said there was no chance here. It was far too small and there was no way of making the pitch any bigger.
"We said we had a back-up: Keighley Cougars. They said we couldn't use a ground share from a promotion. We asked was it technically a promotion when the League is being restructured. To be fair to John Deal, he made phone calls to the FA straight away on our behalf. The FA said they would be happy with it and it went from there. We moved into Cougar Park at the start of last season."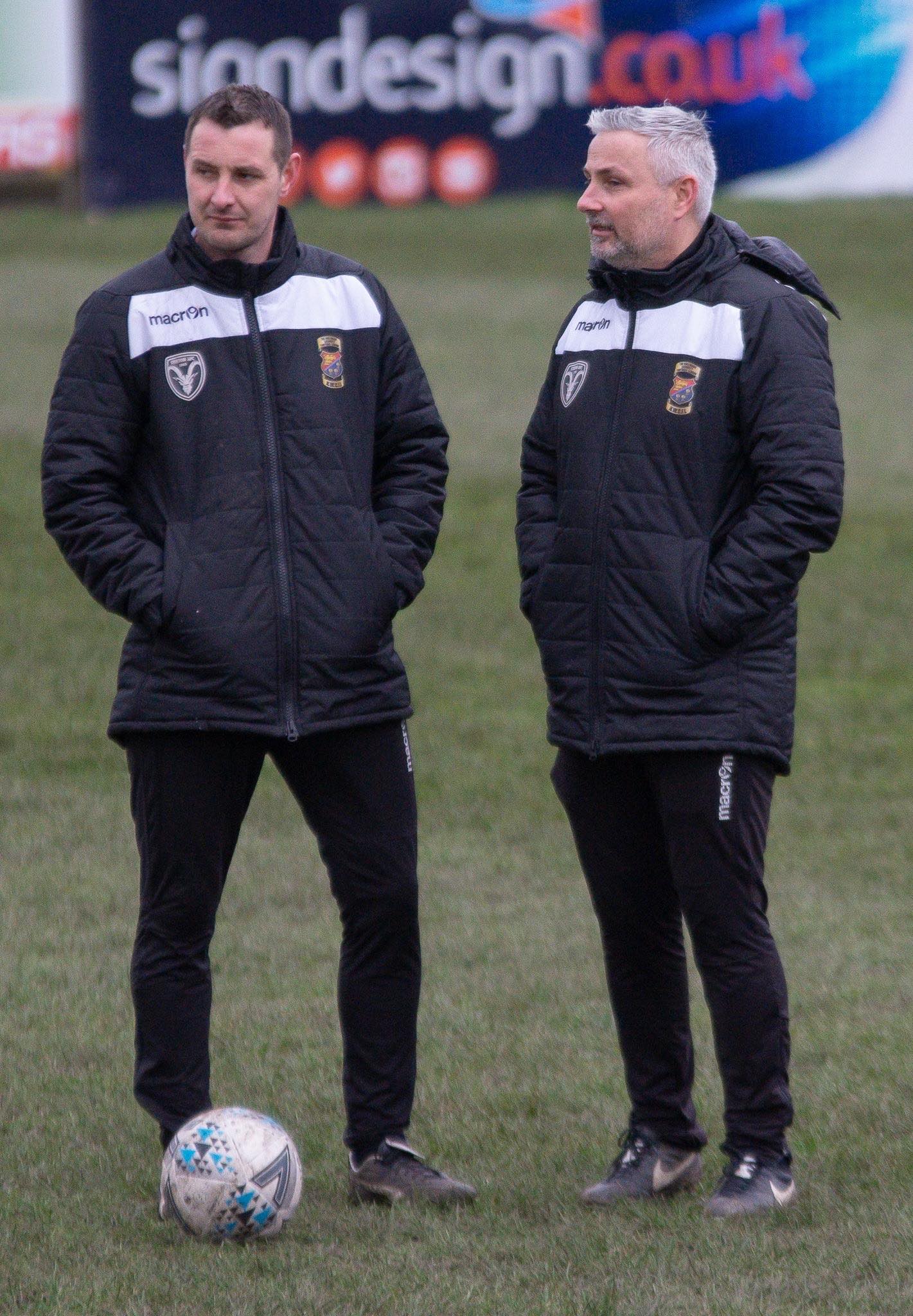 Steeton gained NWCFL status with the restructure in 2018, and not by winning the league, "It did help us. I think we would have gone up anyway because we were one of the few teams in that League who did apply that year. It was quite funny that season because it was between ourselves, Salts and Golcar, these old seasoned grounds. We were 5-0 up against Salts at half time in the game and drew 6-6. Had we won that game we would have won the League. Salts then thought they'd won the League but Golcar played Littletown, who'd used an illegible player and the League made them replay those two games. In the end, Golcar ended up getting the points they needed to do it so it was a bit of a weird season.
"It was nice that we won the Premier Division League Cup that year and to win something in our final season was big for us. We won the Keighley District Cup that year as well, which we don't enter any more now we've moved up."
Mason feels a 15th place finish in their first season in the league was a great achievement, "When we moved into the League last year, we didn't know what to expect. We hit the ground running. We had a bit of adrenaline, we got some points in the bag quite early in the season but our form tailed off from November onwards and we struggled a little. I was always worried at the end of last season that we needed to strengthen the squad massively to improve. Unfortunately, we couldn't do that for one reason or another. I'm not going to put the club into financial difficulties just to satisfy mercenary players; I cut the cloth accordingly. We had the uncertainty of new owners at Cougar Park so it was quite a turbulent summer for us, on and off the pitch.
And on this season, "We started the season with a very good win at Blackpool and the second game we drew with Lower Breck. We then went to Garstang and were 1-0 up at half-time and playing well. We ended up finishing the game with eight men. We had one man sent off and lost three players through injury. Two of those players haven't played since. It's all affected us really and we've seemed to get stuck in a bit of a rut. We had lads in from Burnley on loan, which didn't work out for us. Our Assistant Manager then left so I was left doing the job by myself for a short period.
I managed to bring Chris Reape – the ex-Thackley Manager – in, who are working with me now. Chris has helped to bring a few players in through his contacts and his coaching. Over the last few weeks, I've seen some of the players that we've brought in have a bit more hunger and quality. We're a very young squad and I think when we play well, we play well. Equally, we haven't got that experience that, if things go against us, it's how to deal with it. A lot of the young players have been either successful junior players or academy players and they've not that used to losing games or being on difficult runs.
"It's been key for us to bring some experience in and we've brought a couple of experienced players, like Jerome White from Thackley, who's come in. It's helped us big style. We had a good win on Saturday and I thought last night we were a really good value for the point. Had we taken our chances in the first half, we could have come away with three points at Ashton in midweek."
With many Bradford based Non-League sides just a few miles away, and many other NWCFL and NCEL outfits around the corner, recruitment and retention are tough for Mason's side, "It's massively difficult because we've got Silsden down the road, who are geographically our nearest club. Campion is only twenty minutes away from us. We've got Thackley, Eccleshill and Farsley higher up. Ossett's not so far away, Albion Sports… there are so many. Keighley's a rugby league town rather than a football town so it has been difficult for us.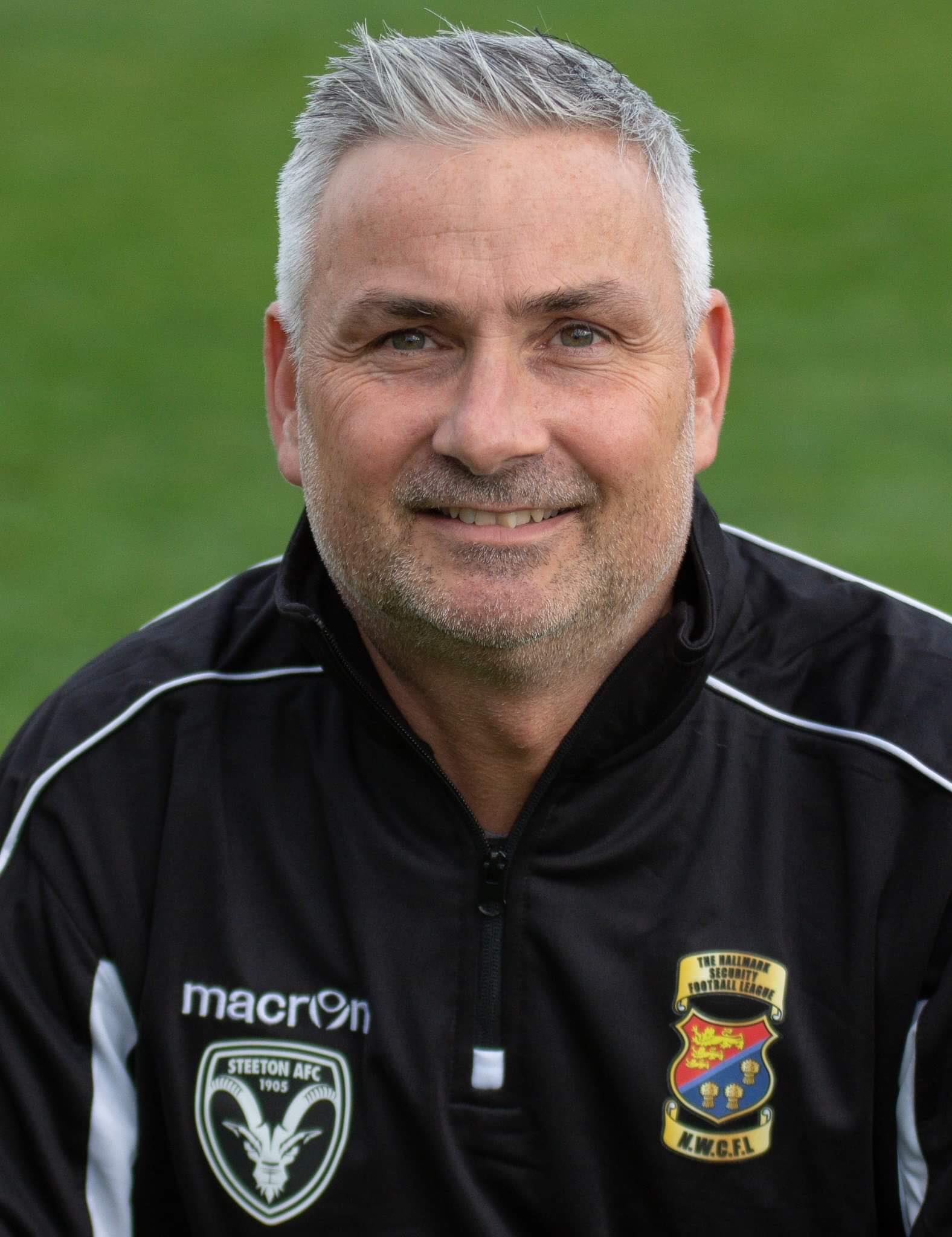 "I knew years ago that the club needed to take this step up because steps up in football are just getting more and more difficult. It wasn't that the lads weren't wanting to play for Steeton, because they liked the way the club was run but what they wanted to do was play at a higher level. They didn't want to play at County Amateur Step 7 football. I think we've got to beg, borrow and steal. We've got to build relationships with clubs at a higher level and see if we can bring junior players in. We spend a lot of time on the phone, ringing round.
"I think one of the things that attract people more to Steeton is they know that young players will get an opportunity. The average age of the team last year was twenty-two. The front three we played last night were only nineteen so they do know if they come to us they'll get game time. We've got to fill the team with young, energetic team players but equally, just get one or two older heads in and around them to help them out."
With nearly 500 games under his belt, Mason recalls a couple of his favourites, "The most memorable game for me… a couple stick out. First of all, the County Cup semi-final at Woodlesford, when we beat Goole 1-0 to get to the County Cup Final at Elland Road. That was an amazing night because the club had never even got to the County Cup semi-final before. In the last thirty years, it's only ever been at Elland Road twice so to get to Elland Road and lead the team out from the dugout there, that was a proud time for us. We took two coachloads of supporters over there, which was fantastic for us.
"The first-ever game up at Holker at the start of last season, when we walked out as a semi-professional club. We were a little bit green about what needed to be done; even the paperwork was being double-checked! When we won the game 2-1, we didn't expect that. The coach journey was a bit surreal! We'd played our first game of semi-professional football and we've won! I stood there thinking, in the time that I've been Manager, we've gone from being a small village club to semi-professional, with no one giving us a cat in Hell's chance to do it. It was an immensely proud moment and that dovetails into your next question…
"If it all ended tomorrow, I would be immensely proud of what I've achieved as Manager of the football club, with no money and how far we've come in that period. Equally how professionally I think we're perceived as well, off the pitch. I think the club's got a very good reputation off the pitch. We were doing a programme for years in the County Amateur League when we were the only club doing one. We've always done things properly and professionally. Even when we were in the West Yorkshire County Amateur League, we tried to have a semi-pro outlook and do things properly. I would be immensely proud because I never thought little old Steeton would be a semi-pro non-league club."
And on the ground situation that they find themselves in, "We had a good meeting last week with Geoff Wilkinson and Bradford Council about developing a facility, which is pretty near to Cougar Park. At the moment, nothing is concrete but certainly, the initial talks that we've had about securing a home for next season are very positive."
Currently residing bottom of the table, however, Mason feels the club is moving in the right direction, "I've said from day one this season, I didn't think that there was going to be any club that was going to run away with this League. Last year, Avro and Longridge were by far the best two teams in the division. I don't think that's the case this year. Anyone can beat anyone in this league and we just need to get on a little bit of a roll, get some momentum going, which I think we can do. I've said all along this season, the team is nowhere near as bad as the results suggest. If it wasn't for bad luck, we wouldn't have had any luck at times. I've never known so many injuries and so many things going against us.
"I'm doing all of this against the backdrop of all this uncertainty about where we're going to play; that doesn't help anybody. Things certainly over the last two games, plus a couple of the lads we've brought in and it's almost like the Liverpool game, in hindsight, did us a favour. It took us to a place where we needed to sort a few things out, a few honest truths between us all.
"The players' reaction since that game has been fantastic. They've got that bit of confidence now and, hopefully, we can go on a run now and start to pick some points up. I don't think we're anywhere near as bad a side as our League position would suggest. We want to make sure that we finish higher up. Chris and I had a chat the other night. This is new territory for us. Chris has managed a lot of games as well and neither us have ever been bottom of the league!
"I said to the players on Saturday that, ultimately, they might not see it now but the ages they all are, going through this kind of experience will make them stronger and improve them."
A huge thank you to Roy for taking time out for the interview and to Ellie Dalglish for her excellent transcribing skills.