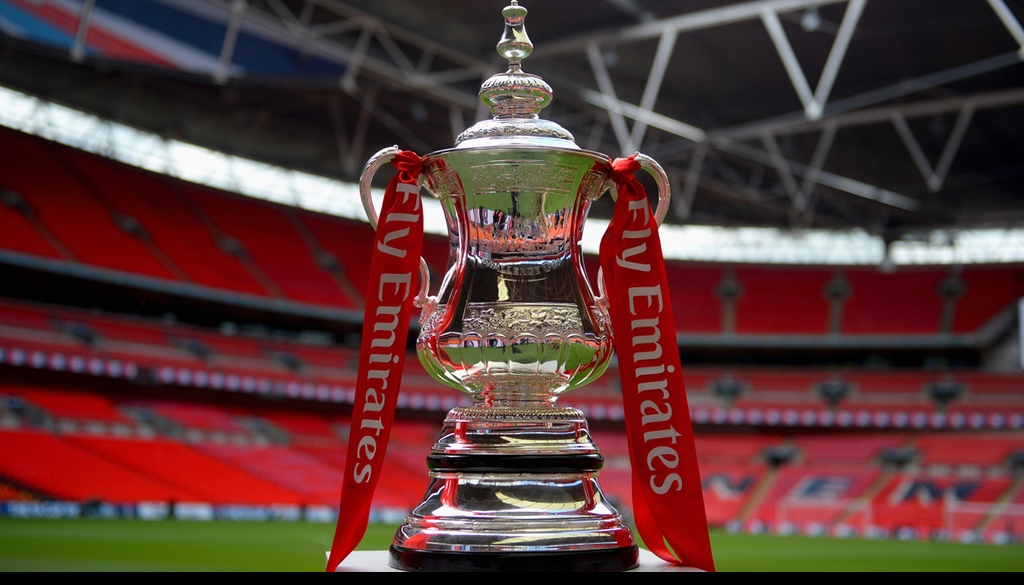 REACTION: To the Emirates FA Cup First Qualifying Round Draw
Tue 27th August 2019 | Emirates FA Cup
By Craig Kendall
At 1:00 pm this afternoon, many fans, players and managers up and down the region were furiously refreshing the NWCFL webpages to find out their opponents in The Emirates FA Cup First Qualifying Round.
Shortly after, each NWCFL was contacted and asked for their reaction to the draw.
1874 Northwich v Pickering Town
1874 manager Wayne Goodison: "Tough one as it's against a team from a higher league, though having a home tie was the main requirement. We will have them watched over the next week and hopefully be as prepared as we can be when the game comes around."
Lancaster City v Northwich Victoria
Northwich Victoria manager Steve Wilkes: "A tough tie, but we're really looking forward to it. There's no pressure on us at all as Lancaster are a couple of divisions higher than us. We've signed a few lads from Lancaster recently, so it should be interesting, but we're looking forward to it as I'm sure our fans are."
Newcastle Benfield v Radcliffe or Runcorn Town
Runcorn Town Secretary Martin Fallon, "It's a trip to the North East which is always difficult, but it's a draw where we have been paired with somebody from the same level as us. That has to be a bonus really.
"We do know about Newcastle Benfield as they knocked us out of the FA Vase last season, so it's a place we've been before and the lads would know what to expect on the day. However, we have a really difficult task before that in the replay with Radcliffe next Wednesday. We played really well in the first tie with them on Saturday so we will go into it with a bit of confidence.
The replay date has worked out well for us as we have a bye in the Vase this Saturday. So it's a good chance to watch them again and see if we can pick up anything that will give us an advantage in the replay."
Charnock Richard or Longridge Town v Irlam
Charnock Richard manager Ryan Donnellan: "If we can overcome Longridge tomorrow night I feel it's a very winnable draw.
"Yes, were not on the best of runs at the minute but playing someone from the same level gives us a big opportunity to progress."
Longridge Town manager Lee Ashcroft: "Obviously we have a massive game tomorrow night (Wednesday) against a strong Charnock Richard side.
"Three meetings in a week and they have been good games. Whoever wins tomorrow night will be happy as it's at home against a team from the same level - saying that Irlam have started strongly."
Michael Dodd, Irlam manager: "Both Longridge and Charnock Richard are very good sides and either one of them will pose a serious threat to us progressing through to the next round. We beat Longridge earlier on in the season but they currently sit above us and are flying, whilst Charnock are an established top NWCFL Premier Division side.
"Having said that, we have been in this same situation before last season and as a group this season we back ourselves against any team from this level and the one above. It is a tricky draw away from home but one which our players should thrive on."
Stalybridge Celtic or West Didsbury & Chorlton v Padiham or Marine
West Didsbury manager Brad Cooke: "I think whoever wins the replay will be more than happy with the draw. Any tie at home is an advantage. We can't look beyond Stalybridge as it will be a huge upset if we were to go through to the next round.
"But we were written off in the first game so we can't be dismissed. Let's hope the magic of The Emirates FA Cup is in the air in the replay! If we were to progress then it would be a special day if we were to meet Padiham. I have a great relationship with the manager (Michael Morrison) and Captain (Dom Craig) so to play against them would be amazing - a great game and a long night!"
No reaction from Padiham yet, we will post on here if it is received.
Maltby Main v Ramsbottom United or Winsford United
Winsford United manager Lee Duckworth: "The draw is another tough one! Every team wants a home draw so to have three away on the bounce makes you wonder who we've upset!
"First we have a very difficult job with the replay against an excellent Ramsbottom side on Monday, but we'll be ready to give it our best shot!"
Whitchurch Alport v Leek Town
Whitchurch manager Luke Goddard: "Obviously a tough tie on paper against a side at step 4 who are flying. However, that's what you expect when you get to this stage and we shall just embrace our first-ever FA Cup game at home and our first ever in the 1st Qualifying Round.
"Leek are a side I know well, it's my hometown club and I have a good relationship with their gaffer Neil Baker. So yes, on the day we are rivals, to do the best for our clubs, but it will be a great occasion to host for our town.
"And I assure we are not just in it for the occasion we know we have a great chance of progressing into the next round if we carry on how we've started the season in August."