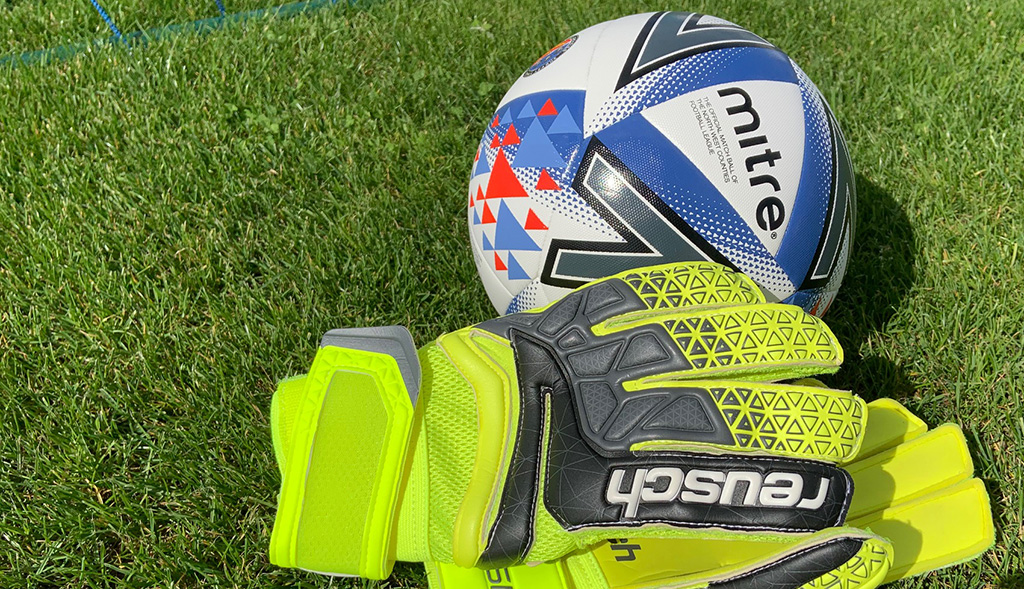 HARRISON: "I want us to be a problem for other teams!"
Wed 10th July 2019 | Nelson
By Craig Kendall
Into his third stint at Nelson, Andy Harrison is approaching the new campaign in a positive fashion after guiding his side to a fourteenth place finish.
The Lancashire based side has a long history in the NWCFL and Harrison wants this to continue. "This is my third separate stint. I initially came to Nelson when Paul Fildes was in charge. I moved with Paul then to Ramsbottom when he got the job there. It didn't quite work out for a number of reasons. Mainly commitment was a problem for me at the time. Paul was a Joint Manager as well with Mark Fell and there were a couple of contrasting ideas with which way they wanted to go and it just wasn't the greatest environment to be in.
"It was a mutual decision to step away from that and it just coincided with Alex Norwood taking over Nelson from Phil Eastwood. Al was new to the men's set up. He'd come from the youth team and I offered to help. It was a bit of a sinking ship that season and Al did all he could to keep them up. I helped him in any way I could as well but it just wasn't quite enough. I think that season was a write-off and the club knew that. It was a case of validating for life in Division One because that was the year they went down from the Prem.
"At the end of that season, I walked away and I wanted to start playing again so I went to Burscough. I played for a couple of months at Burscough then I left for Nelson. Adam Keizer, who was the Chief Executive at the time, got back in touch with myself and asked me if I fancied coming in and doing a bit on the coaching side. There was no kind of set in stone decision on who was going to be Manager. I knew that and that was fine by me but I thought I'll sign as a player and I'll try and do a bit and assist Adam and see where we went.
"The first game back was Cheadle Town away. We won 2-0 in the first game of the season, which was nice. Four or five games passed and they decided to bring in a bit of experience as a Manager. It was Steve Cunningham from Colne. Fayyaz the Chairman wanted age and experience in that sense but Steve asked me to stay on as his assistant, which I did. Unfortunately, we finished the season second bottom of the First Division and we were looking at going down.
"That season there was no budget and I think the pool of players that we had access to just was not good enough. The likes of Padiham, Barnoldwick, Darwen and Colne that year had decent budgets, settled squads and there wasn't really anybody to go at. We were scrounging the East Lancs and the West Lancs and we couldn't even attract the best players from there so we were really struggling.
"The 2018-19 season started and Cunny then decided after three months that he would walk away for personal reasons. I said to Fayyad, give me a chance. We were bottom of the League. I think we'd won one or two and there wasn't the greatest buzz around the place, to say the least. I had people telling me, as a young manager you've got to be careful that you don't damage your reputation before you've got one but it was a challenge. I took it on and I think we did quite well, considering. I think we finished 14th this last year.
"The first job was to shut up shop, stop conceding goals – which was the main problem – and by the end of the season, we had the fifth best defensive record in the League, which I think is half-decent. The problem was scoring goals but, again, last season was just to consolidate. I brought in another two coaches, Marco Blanca and Guy Heffernan. They came in and helped out as best they could and we got the factor of enjoying football again around the place. We got a couple of good results and some good performances against some very good sides.
"It was a case of looking towards this season really. I suppose I pretty much landed the job as a fluke! I keep coming back, keep coming back, keep coming back! Another way of looking at it was I got to know the club. I got to know how the Chairman worked. I got to know how the players that are in that catchment area are mentally, in a sense of what motivates them. There are a lot of clubs round here that have got big budgets. They've got big expectations; ambitious clubs.
"Padiham, Barnoldswick and Colne last season were pushing for promotion and they'll do that again this year. Barnoldswick this year have got Matt Barnes and he's another young manager. Morno and Mozza at Padiham have been given the opportunity. Again another fantastic local club with aspirations of going and doing well. I've spoken to Mozza and Morno. Their aim is to kick on and do as well as they possibly can. They don't want to set their sights too high. They want to just see where it takes them but I've known those two as players. They're both very good, very committed and that's attractive in a manager as well.
"Attracting players is difficult at Nelson. All the volunteers have left so, on a match day, it's three or four people trying to run the place. It's not in the best shape in terms of structurally at the stadium but one thing we have got is an unbelievable pitch. I challenge any pitch in the North West Counties to come and tell us that it's better! It is that good. Again, we have a good group of lads, I'd like to say a good management team who are all on the same page, the same wavelength so let's just see what happens. It's going to be interesting. "
With four sides being promoted from Step 6 next season, Harrison believes it will be very competitive, "Absolutely. Last year it was a two-horse race from the start and anybody who knows non-league football knew that Avro and Longridge were going to be the sides to beat and so it proved. I suppose it was a bit boring really, last year. Weekly, you knew what the results would be when those two were involved but this year they're out of the League. There are only three new teams: Emley, Pilkington, and Golcar. I don't really know much about those three, to be honest, and I'm not that interested this season.
"I put my own kind of stamp on things pre-season and the off-season and I've got my own philosophy. I want to concentrate on us. I want us to be a problem for other teams, not other teams being a problem for us. I think I know what to expect. I've got to know quite a few of the managers in this league as well. I know there are clubs that are going to sit here right now and say we want to get in that top four; we're going to win the League. It's so unrealistic to do that at this point.
"For us, it's just a case of improving on last year. There's absolutely no reason why we can't challenge – absolutely none at all – and I would say that's the same for probably nine or ten sides. I think it will be close this year, I really do. I think, come to the end of the season, there will be twelve or fifteen points split from one to seven. I can't see anybody who's going to run away with it. I'm hoping for an exciting season and hopefully, we're competing at the right end of the table this year because, since Mark Fell left, this club's been a sinking ship, which certainly isn't great for anybody associated with it. We'll see what happens!"
From manager to player, Harrison opened up on the transition, "Sometimes you look at it if you're not playing well and you see some of the decision-making but it's easy to do that from the sidelines. You've got to understand it from a player's point of view as well and I think that's the problem with managers who haven't played the game. There are a few about but it's easy from that little white box from the side. When you're out there and emotions are running, your brain's thinking and you've got to make sure that you're making the correct decisions with everything going on, it's hard work.
"I don't envy the players for that and we are dealing with mounting a lot of pressure on these lads, sometimes unnecessarily. I just think my time is done, as far as I'm concerned – at this level anyway – and this is the path that I want to take. It is a choice. If I wanted to play I probably could if I got myself fit, which is a different story!
"So I think your answer to that question is no, it's not been difficult. It's been a new challenge. It's been a new journey and it's one that I'm fixated upon and I want to see where it's going to take myself and this group that I'm working with.
"On the transfer front, we have kept together probably ten out of eighteen lads from last year. I think we have lost eight and the eight that we've lost I'm not overly bothered about. Good lads, don't get me wrong, but not quite what we need to kick on. We lost our captain, Ash Brierley, to Barnoldswick, who's a very good friend of mine and I wish him well. With the lads, we've brought in in the first two and a half weeks of pre-season, we look a completely different side. We look energetic, we're strong. Going forward last year we weren't a threat but this year we look frightening and that's not even with doing too much. That's just adding square players in square holes, rather than circle players in square holes and vice versa.
"It fits and it works. I'm excited this year, I really am, but I'm not going to get too ahead of myself. I'm just going to see where the journey takes us."