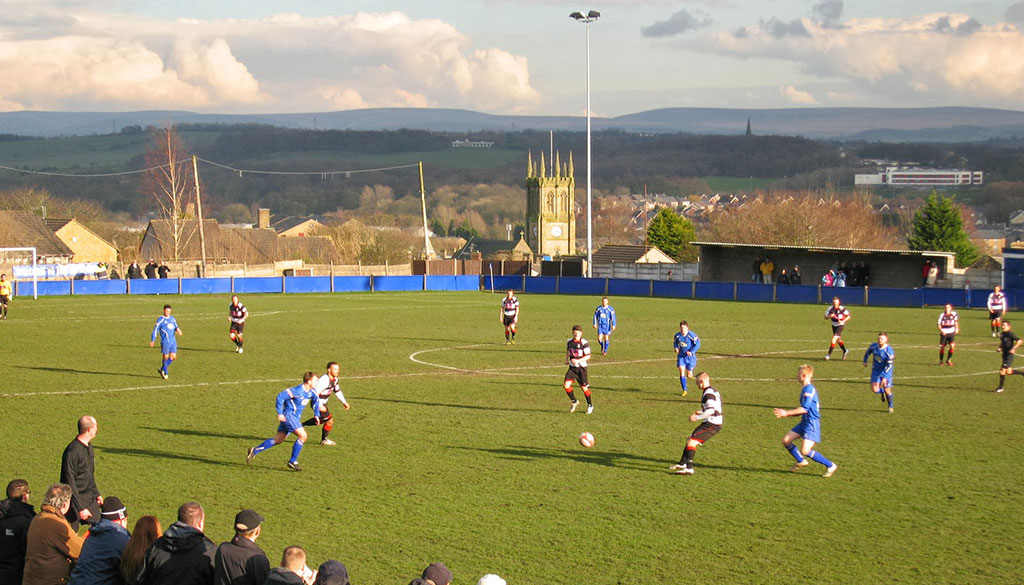 Morning knows big task ahead
Sun 7th July 2019 | Padiham
By Craig Kendall
When Adam Morning and Michael Morrison took over at Padiham in December they knew it would be a difficult job, especially with it being their first managerial role but they guided the North West Counties Premier Division side to safety.
"We took over near the end of December to January time", explained Morning. "The first bit wasn't too pleasant! Especially with it being mine and Michael Morrison's first job, you don't get a job these days in good circumstances so you have to understand that. That was probably the hardest thing for us.
"When we took over – no disrespect to Liam Smith, I know him very well – on the playing side the club was in a bad, bad way. There were no hidden secrets about that. Everyone knew and you could tell by the results. Before we took the job, I think they didn't win one in something like nineteen games, which is criminal. You can't have that!
"Our record wasn't much better but the only target set by us, the Chairman, Shaun, and the Committee was just to stay up. Ideally, I would have loved it to have happened a lot sooner because it stressed me out near the end but we did it on the last day of the season and that was the only target for last year. When we got the job, we had targets because you've got to set yourself targets. The club set us targets; we set ourselves targets. When we were interviewed and when we got offered the job, that was the only target: to stay up. Simple as that.
Padiham flirted for a couple of seasons with the EvoStik, is the target to get back there?
"I'd be silly to say "no" but, realistically, our target this year is just the finish a lot better. Not just finish but play football better, do things the right way and be more organised on the playing side of things. I don't really want to tell the lads I want to go and win it but you set out every game to go and win a game of football. Every other manager will be the same. With some of the signings we've made and potentially other ones we want to do, I'm expecting to do well. The only target between us and the club and the Chairman was to finish around midtable or just build on what's been done.
"They've had two bad seasons now. I think the season before they finished the season really poorly so we need to improve on how Padiham play football. When people come to Padiham it's going to be a tough place because I think it's been too easy. When we took the job, people were coming and running over us so we've got to change the overall playing side of things. If that happens then we won't be too far away but that's up to myself and Michael Morrison. That's where we're up to at the minute.
Morning has found the transition from player to manager tough, "Very hard! At the end of last season and watching us not really playing well and not getting results was tough. I've said this to a lot of people – and even my wife now knows – when you're a player, if it doesn't mean something to you then you shouldn't be a player. As a player, when you finish on a Saturday, I used to go home and think about how I played and think about the team but then Sunday, my head was on for Tuesday. I didn't really think about football too much.
"As a Manager, you cannot do that. It's 24/7, it really is. A lot of people told me that. A few good mates, a few good managers and a lot of people told me it would be but that's been the hardest transition: it doesn't stop.
"I stopped playing last season. I ended up playing one game when we were struggling, at Hanley away. I ended up joining them for one game. Michael Mozza was the same. We had to play because weren't good enough so we had to try and help out that way.
Does Morning miss playing? "Yes and no! Watching the lads in preseason, I don't miss but, on a Saturday when you're standing on the touchline, you'd love to play. I think anyone would say the same. I do miss it when the lads are playing but then I don't miss all the running you have to do, if I'm honest! I was quite lazy as a player so I didn't like the preseason side of things!
"I get it's massive for the club [FA Vase], when you look at Northwich Victoria's run in the FA Vase but that's not a priority of mine. It might be for the club. I've not spoken about it to the club but I think it affects a lot of teams. Don't get me wrong, I'd be stupid to say to go to Wembley isn't a dream for many players or the Managers but the odds of getting to Wembley is a tough gig.
"If we can do well in the League and we don't win any of those games, I'd take that. The priority is and there's a big opportunity in the League this year. Whether the Cup or the option to go up, our main focus, like everyone else, is to try and nick one of them spots. There's not real pressure on us as a club to do that but that is our ambition, plain and simple.
"We've got our own targets and we've got things we want to do. We're not going to shout about things; I want to keep quite quiet. We want to be one of the ones who sneak along and do our business in the right way. If we can do our business the right way and we play our football in the right way, we'll be up there. If you do things right, your position will take care of itself. For the last two years, on the playing side I think it wasn't right and people know that so we've got a job to do. We'll do our best to do it."