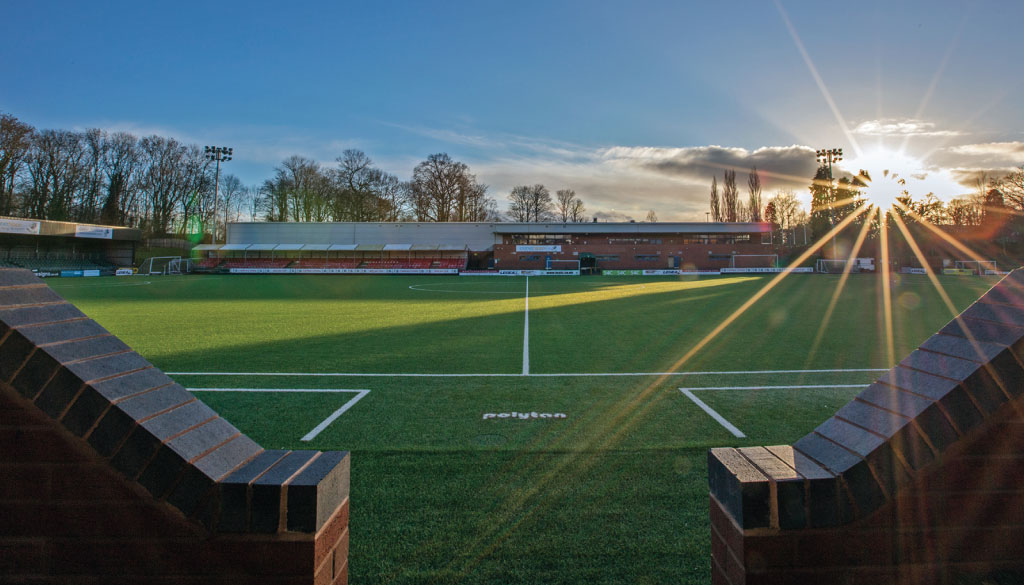 Stronger Oswestry expected by Burton
Sun 7th July 2019 | FC Oswestry Town
By Craig Kendall
Matt Burton is heading into his second season as manager at FC Oswestry Town in the NWCFL First Division South, and after finishing sixth last term - he is in confident mood.
Firstly, he reflected on last season's winners, "I think Rylands were the best team in the league and the League showed that and proved that. I was disappointed with how we finished. It was the worst season for injuries for me. We had a lot of injuries so finishing sixth was a disappointment. I was trying to finish as high as I can and it was really tight up until the last couple of games really. However, in hindsight, finishing sixth gives me a bigger margin for this year's finish in sight."
"We'll definitely be stronger this year. I don't know if you're aware of our links with TNS? The owner of TNS – The New Saints – is the owner of Oswestry so the link is that we get support from their players. There'll be at least five or six staff and players involved with Oswestry next year. Three of them are first-year pros that are all coming on loan to us so that will strengthen us. One of the members of staff has actually played for TNS for the least ten years so he'll be strong with us. We also get to use of all the facilities and the member of staff is part of my coaching team so we've got FA licensed coaches working with the players. Of all the advantages, it's having full-time members of staff, like physios and fitness people, to fall back on.
"If it was the top one going up, we'd want to make sure we'd be pushing for promotion. I think every team who enters a league wants to do as well as they can and finish as high as they can but certainly with the backing we've got with the staff and the players, we'll be striving to be in the mix."
And on recruitment and pre-season, "Last year was a complete rebuild and this year we've got a good foundation. We just want to bring one or two more in to strengthen us. With the support from the TNS players, we're not looking to change it lots so that's good.
"Unfortunately, on Saturday I had to call my game off with Atherton. TNS play Champions League on Tuesday so the First Team Manager at TNS wanted to play an XI v. XI, which then takes some of my players out. I've got a number of players away so I've had to tell Atherton we're not playing, which is disappointing because I've never done that in the nine years I've managed. They were okay. They understood when I rang them but that was disappointing.
"It was completely taken out of my hands and players being away, then picking up a couple of injuries on Wednesday didn't help us. We're not recruiting loads of players. We played against Penycae on Wednesday and they had twenty-four players. That's why the game never really settled. The game was high intensity, which was good for us because they kept changing it every fifteen to twenty minutes.
"Looking forward to pre-season. Got a couple of tough tests. We've got Boldmere St. Michaels next weekend and a couple of League of Wales teams so looking forward to tweaking a few things with the lads we're bringing in and hitting the ground running on 3rd August."
Lastly, Burton commented on their location and the travelling involved, "It is but again there aren't masses of midweek games. The club supports us with travel with minibusses. The lads are pretty good. They're switched on with it and it shouldn't be too bad and hopefully the League has not given us any horrendous journeys midweek. Ellesmere are in our League. St. Martins play at our ground. There are a few Wythenshawe way so it's not horrific.
"I've quite enjoyed it. I thought the standard's been very good. I've never managed in this League before; it's always been a West Midlands side I've managed at Step 6 and Step 5. I'm enjoying the quality of the facilities and the quality of the clubs, to be fair. I think it's been really good.
"All good so I'm just looking forward to getting going!"