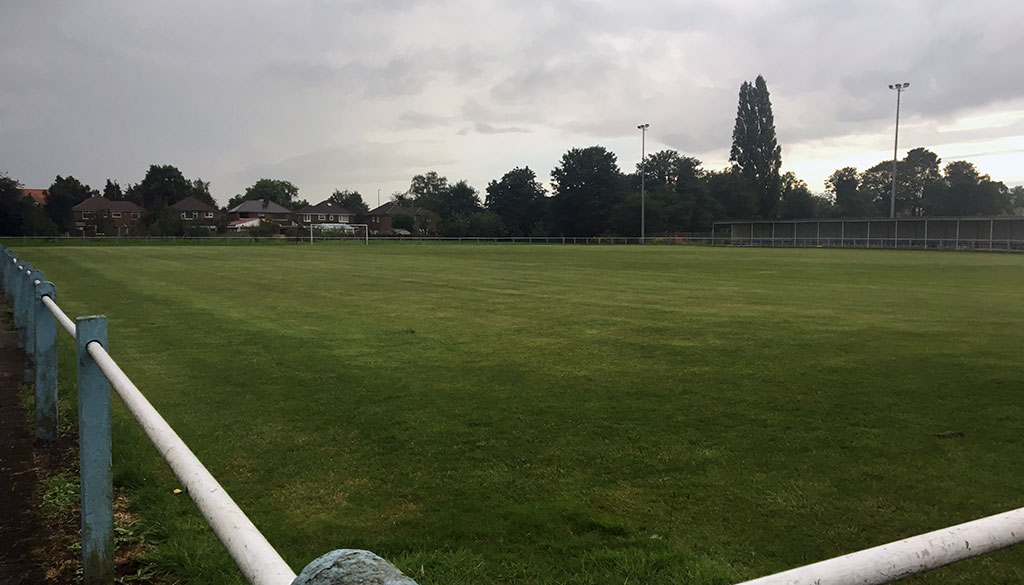 Barnet reveals Maines philosophy
Tue 2nd July 2019 | Maine Road
By Craig Kendall
Ray Barnet and Jeff Newman have only been in charge at Maine Road for seven months, but having taken the club from the relegation zone to finish 14th - it was some end to the season.
After having taken the Reserve side for several years at Maine, Barnet was asked to step up at the turn of the year and since then he hasn't looked back.
"For thirty-odd years now we've always promoted youth", Barnet commented. "We ran the Reserves team, which I've taken for the last six seasons and we bring in 16- to 18-year-old lads, develop them and push them on through into the first team. Maine Road's first team is always usually quite young.
"The last couple of years, we've brought managers in from the outside, who come with different ideas and come with players that they think are good enough. Always a different scope on things: win and wanting to win the Premier Division at some point. We just want to provide a platform for young lads to go and earn a career in semi-professional football. That's how we've been so our ambition isn't to get into the EvoStik. It's just in developing young players.
"When we took over in January, we were in the relegation zone and not looking very secure, to be honest. The club asked would I take the first-team role on and I did it with Jeff. Jeff's been at the club for fifteen or sixteen years and we've brought in a coach that was with the club under a different manager but I've got to say he's probably one of the best coaches I've seen in semi-professional football.
"We went on a good run; we went on a run of six on the bounce. We won Club of the Month in January then we lost a couple, won a couple, lost a couple and, to be honest, the minute we were safe from relegation, the focus went off it a little bit then if you like. You always get a lack of interest towards the end of the season. People are away at Easter… Easter's a killer! Not just for Maine Road, I don't think, but for the teams that have got nothing to play for Easter's a killer because people like to go away."
Having seen the ups and downs at Maine Road throughout the last few seasons, Barnet had this to say, "Yes, we had a good run at it and, to be honest, the year they came second they should have won the League. The club had the finances in place, money to do the ground upgrades to go into the EvoStik but it wasn't to be. That year we did have a really good manager and coach in who weren't for promoting youth. They brought inexperienced players.
"At that time in the North West Counties, there weren't many teams paying weekly wages; they were mainly all paid in win bonuses. That's completely turned on its head at the moment. We pay a win bonus and it's becoming increasingly difficult to compete for the top spots when you've got so much money being bandied around. The desire for Chairmen is to make their clubs get promoted and up through the league system. I think Salford City has done a world of good for non-league football for that dream."
Since taking over, not much has changed on the field at Maine Road, "We did and we didn't change much if I'm honest. We only brought one player in and he was an ex-Maine Road player. He only played three games because he hadn't played for a long time but we just changed the performance, that's all. I took everything we tried to do with the Reserve team players to make them realise how they have to play at the North West Counties level. Because the majority of them were Maine Road lads anyway, it wasn't difficult to do. The majority of the squad had played for me at some point in time anyway.
It wasn't easy to go and just to turn that little bit around. I've got to say we got some fortune on the way; it wasn't plain sailing! There were some games we got three points perhaps we didn't deserve but then there were other games where we dominated the games. It was just about trying to get the club gelled back together, get the motivation and the change in the atmosphere in the changing room back to how we want it at Maine Road and it worked. "
With the Buildbase FA Vase round the corner, Barnet is looking forward to the competition, "Well, yes! It's the old cliché "it's a game at a time"! The FA Vase, the FA Cup, anything like that and they're just one-off days, aren't they? You put your best team out, you go for the win and if you get it it's great and then moves on to the next game. They're just such exciting competitions to be in. It's been around for donkeys' years and the tradition behind it I think is great.
"I think we've missed out on the FA Cup because the first year you get relegated you stay in it. At the end of the day, any cup competitions are good to play in but the FA Vase and the FA Cup are just that little bit more special because the end goal is probably every player's dream: to run out at Wembley.
Barnet believes preparation is the key to success, "I can only speak for the people I've worked with, the people I've seen at other clubs, the people I've seen at clubs my lad's played for, Hugh Devlin is, for me, the best coach at our level of football by a mile. He's bringing all his experience into preseason training. The days are gone now from when you turned up for preseason and just ran and ran, then sprinted and sprinted for two weeks. We've not done any of that. It's all been running but it's built into different ways and you don't realise you're doing it.
We've had a good turnout to preseason. We've retained the players we want to retain. We'll pull through some of the good reserves. Whilst we were fighting to stay in the League, we did what we had to do so I played a few experienced players like Neil Chappell, who has been at Maine Road for a long time but we'll revert to policy this season and if the good lads in the Reserves are playing well they'll get a chance in the first team. We've had good turnouts from new lads that have come along and it's looking positive at the moment.
"The Cheshire Football League is a really good footballing league [for their Reserve development]. There are no poor teams in it and it does them well. They learn the physicality side of it and it develops them. It's the adage: if they're good enough, they're old enough! We know our philosophy's right. We only have to look at the number of players who are now playing EvoStik and above.
"Probably the latest success is a lad called Joel Senior. He got released by Oldham. He trained with us whilst he was fifteen because he couldn't play. In his first season he was doing so well we pushed him up into the first team. He sat on the bench a couple of times then he came back into the Reserves and back to the first team. Then, through injury, round about the November he got his chance and he never lost the shirt. Now he's just signed for Burnley.
We know what we want to do for young lads works and that's the pinnacle of the story. We got immense players who came at sixteen years of age and they're now playing EvoStik football and earning some good money at it while they're playing it!"