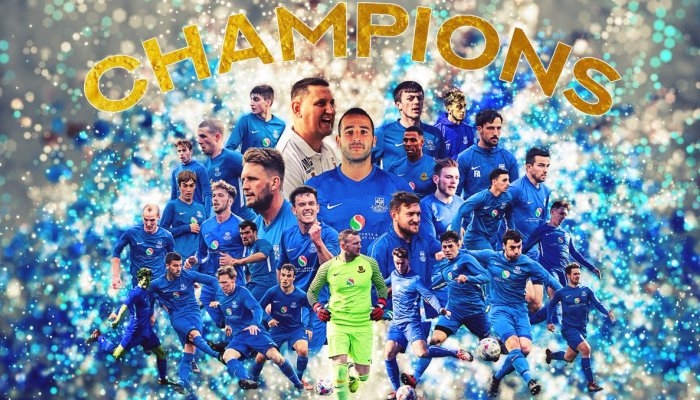 Rylands are Champions of the First Division South
Sat 20th April 2019 | Rylands
By Ian Templeman
Congratulations to Rylands, who clinched the First Division South title this afternoon in fine style with a 5-0 win at Stone Alleynians.
It's been a memorable first season for the Warrington-based club, who only joined the league last summer, and they can now look forward to Premier Division football next season.
Rylands went into the game at Wellbeing Park knowing that one more win would be enough to ensure the title was theirs, and the outcome was never in doubt once they established a two goal lead inside the opening 23 minutes, thanks to goals from Tom Freeman and Andy Scarisbrick.
Ste Wolhuter then added a third goal at the midway point of the second half and two further goals from Jay White late on wrapped up the win and ensured the celebrations could begin.
The squad will be presented with the championship trophy on Easter Monday, at the end of their home game against Maine Road.
Rylands Secretary Tony Bennett said: "It's an historic moment for Rylands Football Club. This is the proudest day in the club's history and also its most successful season.
"When we entered the league this year, our goal was to consolidate our position and plan to build on that over the next couple of seasons.
"What's happened this year has accelerated those plans. A massive amount of credit is of course due to the newly formed management team of Dave & Stu - this is their first foray into management and they've done a brilliant job.
"They've built a team with a strong experienced spine intermingled with some great younger players and we think they've got the balance right and all congratulations to them and the team, they deserve this day.
"We should also thank the other 'team' behind the scenes of course.
"A committee of volunteers who give their time freely every week to ensure the smooth running of the club, not only for the first team but for the other 20 teams we have at Rylands.
"From academy right up to an open aged ladies team, they are all part of the Rylands family and will share in the success.
"We will enjoy our success today, but are also already planning ahead for next year".
Iamge below courtesy of Rylands FC.