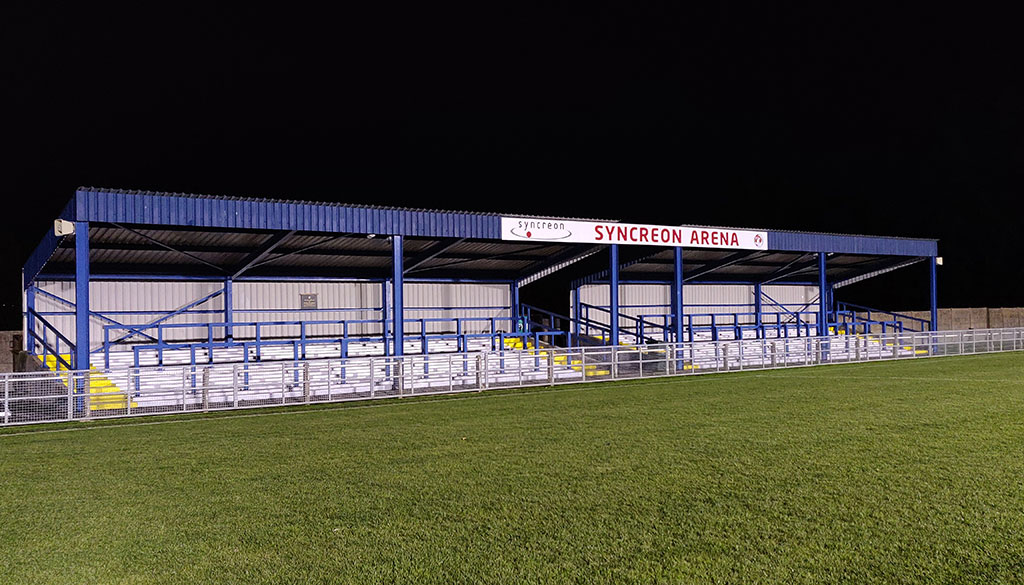 Back on familiar ground for Alan
Wed 13th March 2019 | Vauxhall Motors
By Ian Templeman
Vauxhall Motors Vice-Chairman Alan Bartlam bridges a gap between the old and the new, as far as our league is concerned.
Alan has been at the club since 1995, and has been at the heart of what has at times been an amazing journey for the club.
They left the North West Counties League and progerssed all the way up to Conference North, before the club took the decision to step down into the West Cheshire League.
Now, with the Motormen making the move back to our league for the first time since 2000, Alan is back on familiar ground.
"Next season we will be celebrating the 20th anniversary of winning the North West Counties League, in 1999-2000, and were promoted into the Unibond League as it was then", said Alan.
"It was a great season as we won the Floodlit Trophy and got to the semi-finals of the FA Vase, as well as winning the league. Our reserves won the local West Cheshire League Cup as well, so it was a really momentous season.
"It's particularly nice for me to come back into the league now and see so many old faces
"I used to be on the North West Counties League Management Committee and was part of the ground grading team, and worked with people like Alan Farnworth, Andrew Moffat, Dave Tomlinson and John Deal.
"I was also the Press Officer for the League for a while too, and of course this was in the pre-computer days. I used to compile the weekly newsletter and a results bulletin with upcoming fixtures, that was posted out on a Sunday.
"They were fantastic days, and to be back in the fold again is just great for me, it takes me back. It's amazing to see people at clubs, real club stalwarts, who are still there now".
After being promoted in 2000, the club progressed through the leagues right up to Conference North, staying there for ten seasons.
However, probably the most noteworthy moment after leaving the NWCFL came just two years later, when they beat Queens Park Rangers in an FA Cup First Round replay at Loftus Road.
They were heady days, but Alan explained, the club eventually decided that they couldn't continue to support a team playing at that level.
"We were punching above our weight and in comparison to the other clubs at Conference North level, we had a miniscule budget available to the manager. But by the skin of our teeth, we managed to stay in there for a number of years.
"We were losing money year on year, to the point where had it not been for our amazing FA Cup run in 2002, when we beat QPR at Loftus Road, we wouldn't have been able to sustain a team at Conference North level.
"Without the TV money that came from that run, we couldn't have done it otherwise for as long as we did.
"We just had to eventually say, we can't continue like this, we can't keep losing money otherwise we'll finish up bankrupt, and we didn't want that.
"We had to come out of the Conference North and dropped all the way down to the West Cheshire League in 2014.
"We did discuss even then that it might be worth dropping into the North West Counties League, but we decided not to, we wanted to consolidate so we went into the West Cheshire League.
"Then very conveniently, just at the point when Division One was split into North and South, it became the perfect time for us to pick up the mantle again and move back up.
"We'd had a couple of years of thinking 'shall we or shan't we', and decided we weren't quite ready yet, but this time it was absolutely perfect timing to come back into the fold".
So, now they are back and playing in the First Division South, what has Alan made of the season so far?
"I would say it's been a good season for us, no doubt about that but I think the league is a bit stronger than we anticipated, and tougher than we expected.
"The standard has been very good and I have been impressed with the overall quality of the division, especially when you consider that a lot of these clubs are playing in the league for the first time.
"With the squad we have, we thought we'd be up there and we are up there. I just feel we should perhaps have done a little bit better than we have done.
"Although there are some really good teams out there, I think we have probably under achieved with some of the results we have had.
"We have shot ourselves in the foot a bit at times, and I think we could have really been on Rylands' tails at the top.
"Our manager Mick McGraa knows what the league is always about, he brought in players who were with him at Cammell Laird 1907, along with one or two others from elsewhere and a few who were at the club last season, so it's probably about 85% of the team that is new
"They have performed really well at times, what we have missed the most is a front man who is good for 20 or 30 goals a season but obviously those guys are hard to find".
Looking ahead, with the club now finding its feet in a Step 6 League once again, Alan says they are now focussing on the next stage of their development.
"The facilities we have at the club are probably among the best at Division One level in this league. We have got two floodlit full size all weather pitches, as well as the main stadium, and everything is geared to move up again.
"We have a put a plan together, and we would be looking to move up again in future, perhaps up the Evo-Stik League level.
"That's the target we would like to achieve over perhaps the next 4-5 years, which will obviously take two promotions, but that is where we would like to be
"But as I said before, I have been really surprised at the quality of the league, so we know it is not going to be easy. It will be a tough ride but we're looking forward to the challenge".