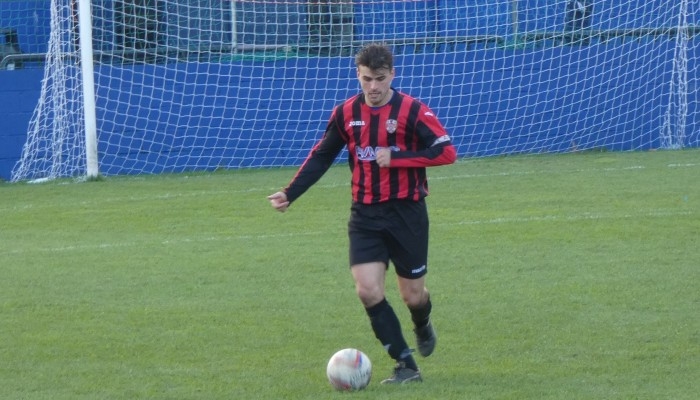 Shelley skipper happy with their start
Tue 20th November 2018 | Shelley
By Doug Thomson
Shelley defender Antony Leech (pictured) knows sport is a likely topic of conversation at any family gathering.
While the 33-year-old is skippering the Yorkshire side in their first season as members of the Hallmark Security North West Counties League, brother-in-law Gareth Lewis is head coach of Huddersfield Rugby Union Club, who play in National Two North.
And while Lewis is a PE teacher, Leech is a partner in the firm Project Sport, which delivers sports coaching to children and young people in the Huddersfield, Halifax and Saddleworth areas.
"There's a bit of common ground," smiles the centre-back, who going into the Saturday, November 17 First Division North clash with Avro at the Stafflex Arena in Huddersfield, was his club's only ever-present this season.
"It's great both sides have made decent starts to the season (Huddersfield RU claimed seven wins from their first 10 matches), and we do keep tabs on how the other is doing.
"The only thing is, we don't get much chance to watch each other's teams, because we're both tied up on Saturday afternoons!"
Leech, whose dad Alan played for Curzon Ashton, Ashton United and Hyde United, is the ideal man to lead Shelley, managed by Ash Berry, in their first season at step-six level following promotion from the West Yorkshire League.
For after starting his career with three seasons as Curzon Ashton, he spent more than eight years at Shelley's neighbours AFC Emley, who play in the Northern Counties East League First Division, also step six.
"I had an idea of what to expect in the North West Counties, but if anything, I think it's a bit more competitive than the Northern Counties East," he adds.
"The First Division North seems tight, and you know that if you fall below par, you are likely to get punished.
"And I enjoy going to clubs around Manchester or Liverpool, because they are real hotbeds of non-league football, and for some reason it's not the same in a place like Leeds, which doesn't have as many clubs.
Leech left Emley for Shelley in November 2015.
"I knew Ash Berry, and I knew the club were ambitious about moving up the non-league pyramid," explains the man who succeeded former Halifax Town forward Andy Farrell as captain in 2016.
"I enjoyed playing in the West Yorkshire League, but the North West Counties is even better, and we're very happy with how we have done to date.
"When we entered the league in the summer, our first thought was to try and be competitive and make sure we stayed in the division, and if anyone had offered us fifth place after playing 16 games, we'd have snapped their hand off.
"We're certainly not getting carried away, because we're not even at the halfway point of the season, but it's so far, so good.
"Of all the sides we have played, only (leaders) Longridge Town have given us a proper going over. In all the other games we have lost or drawn, we have been competitive."