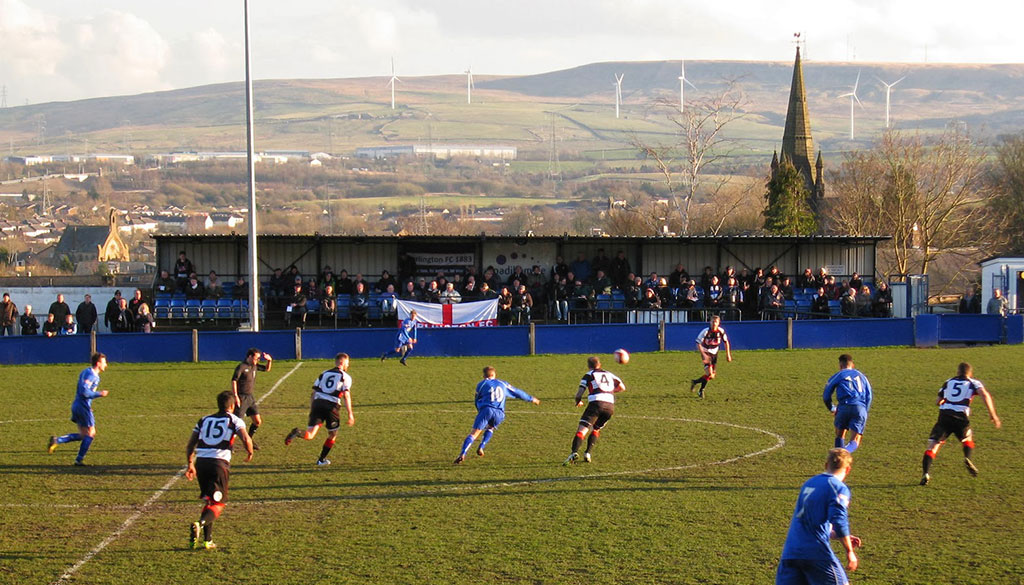 Focus on youth at Padiham
Wed 7th November 2018 | Padiham
By Ian Templeman
Padiham joint-managers Liam Smith and Dixon Lambert take a look at the season so far, and the issues involved in dealing with a revamped squad.
Pre-season preparations
Liam – We were very disappointed with the way last season finished, if I am being honest. It forced our hand into the project that we have implemented over the summer.
We have gone young. We brought in players with points to prove, young and hungry players, most of whom have never been at this level before and are coming and trying men's football for the first time.
Dixon – Last year, we fetched in lads that had been there and done it, and who we were probably a bit too friendly with. So we had to have an overhaul.
Obviously we know players, and got one or two in we had kept our eye on from last season, and you know how football works - players tell you they have a mate who's been here and been there, and we invited them all down pre-season, and we had some trial games where pro clubs were releasing players.
Liam – It's always a risk, and I think during pre-season there were a couple of weeks where we got a little bit twitchy. We were non-stop from the end of last season and we knew what a big job we had on our hands.
We don't want to be recruiting 16 players every season, so the idea was to blood them all in this year, and then have a good go next year.
The start of the season
Dixon – Picking the teams for the early games is a tough one because you don't know how players are going to react, and it can go one of two ways. But we saw signs in pre-season where we thought "I like that and I like that…" although we got a couple of spankings as well.
But looking at the fixtures, we had a tough start. We had Runcorn Town at home, who have made some great signings and I think we were 1-0 down after 30 seconds in the first game. It was a difficult start, and we were looking at the fixtures wondering where we were going to get a win from.
But we won in the second game away at Barnoldswick, in a big derby, and that was a big night for us, it showed we had character as well as ability.
The squad
Dixon - The good thing is the young players are receptive to learning. I'm not saying that older lads aren't, but you tend to find that older lads have heard the same messages over and over. But these young lads are eager, they take it on board.
Liam - There's been a bit of inconsistency in results, but we are building now and gaining momentum with a new, young and hungry side, and I think that has shown in performances.
Dixon - Some of these players who have come in, no one will have heard of them but now there will be one or two people starting to sit up and be taking notice.
The season so far
Liam - I think you can tape our team talks at the moment because they are always coming off the back of a disappointment and we need a reaction and we always seem to get one.
We always seem to turn it on against the bigger sides in the division, so that's a learning curve for young players, as they have got to apply themselves in every single game.
Whether you are playing top or bottom, you can beaten by anyone on the day if you are not at it, and not matching them for work rate. But that will come, and I think they can only learn lessons by failure, which is always a good way to learn a lesson.
We can't keep using the excuse of having a young side, we have had enough time now. We can't just keep saying "oh a young side, they'll be inconsistent" going to December and January because that can't happen.
Dixon - We are scoring goals, but I think part of that is down to youth. We have three 17 year olds, three 18 year olds and a couple at 20 in the squad, all just good enthusiastic lads. As a group they are very attack minded, but we do have trouble keeping them out as well.
I think that defending is a bit of a dying art because everyone wants to be either a forward or a number ten, you are not seeing enough defenders coming through.
Targets and the rest of the season
Dixon - We want to finish as high as we can. We set targets for ourselves, and we want to finish in the top five.
We were disappointed in the early cup competitions, one of the targets always has to be to get through a round in the FA Cup and FA Vase and see where it takes you. I felt we got good draws in both competitions, but on the day we got beaten by teams who were better than us on the day, and that was frustrating.
Liam - Dixon and me are our own biggest critics, we are ambitious and we want to push on and get out of this division. It's an old cliché, but you just to want win every game as it comes and see where that takes you.
We are looking forward to what these young lads can do for us for the rest of the season, and then if we can keep them and maybe add one or two then we can have a real go next season.
We took big risks bringing so many 17 and 18 year old lads into the team, obviously until the first ball is kicked you never know how they are going to be. But now we are giving them minutes on the pitch, we are trusting them, and if we can keep these players I think we will be a force to be reckoned with. Maybe not this season, but going forward.
We won't be far off having our full squad back soon, and with that should come a bit more consistency and we can then push on and climb the table.