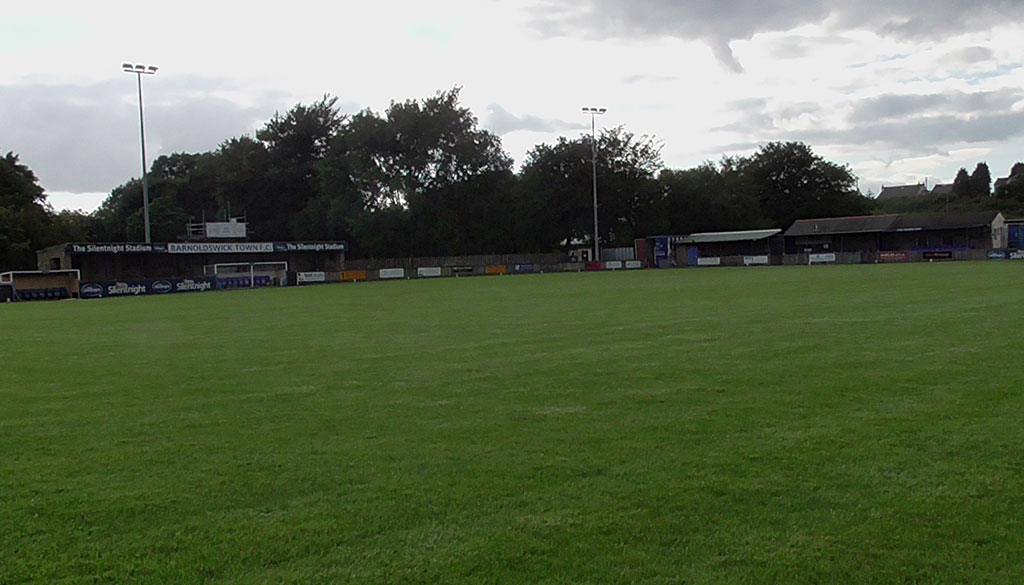 Matt happy with Barlick start
Thu 25th October 2018 | Barnoldswick Town
By Ian Templeman
Barnoldswick Town manager Matt Barnes is looking for his squad to build on their good start to the season, as they target the teams above them at the top of the Premier Division table.
Barlick currently sit in fifth place, nine points behind league leaders City of Liverpool, and having only taken over the managerial reins at the start of the season, Matt says he is more than happy with the performances that he seen so far from his squad.
"My personal target when I went in was to finish top six, and we are obviously on course for that at the moment", said Matt.
"In fact, I was told the other day that the number of points we have picked up in the games so far is the biggest points total after that number of games that Barlick have ever picked up.
"So that's nice to know from a personal point of view and also for my management team. We are enjoying it and we hope it continues".
On his arrival at the Silentnight Stadium in the summer, Matt inherited a squad that had finished in ninth place last season under previous manager Danny Craig, and he says he took the conscious decision not to make too many changes.
"Danny was a tough act to follow, and we just needed to carry on from what was going on last year, and what Danny did well.
"So it was important to go in and keep things similar and not change too much. Obviously you change one or two things to our preference, but in general it was about keeping familiarity for the lads, just keep it going and bring in little bits of our own ideas.
"With the side we inherited I knew we could definitely do something this season, as we kept about 90% of the squad and brought in quite a few more to strengthen the squad, and we are pleased with how it is going".
So far, Barlick's goalscoring record is one of the best in the league, but Matt says he is also happy with the way in which his players have bought into his ideas of adapting different styles of play, depending on circumstances and the opposition.
"Our goalscoring ratio is one of the best in the country at Step 5, which is obviously great for us, but we are conceding more than I would like.
"But as long as we score more than the opposition, I'm happy, the three points is the aim.
"One thing we have tried to impress on the lads is that we are happy to win ugly, and go out there and grind out a result.
"I'm not saying that I want that all the time, because we have a reputation as a nice footballing team and that is what we generally do.
"But sometimes you have just got to go out and grind results out, and we are now able to play nice football, but also revert and have a Plan B and go out there play ugly as well.
"It's nice to have those options, and I don't think every club has that. It's testament to the players and rewarding for the coaching and management team too, to have implemented something that everyone has bought into".
Looking ahead to the coming months, Matt is looking for his squad to keep up the current momentum and put pressure on those above them in the table.
"The aim now is to keep the good form going. We had the disappointment last time out of losing 2-0 to Whitchurch, and we didn't know too much about them going down there, but they will cause a lot of problems to a lot of sides in this league, I'm 100% sure of that.
"We've now go to bounce back with a tough game on Saturday against Bootle, and it's up to us to show we can come back after a defeat and go forward and start a run again.
I am confident that we have the ability to do that, and we are not afraid of anybody.
"We showed that when we beat Runcorn Town 5-1, the guys at City of Liverpool said we were the better side against them, and for me that shows we can mix it with the big teams in this league.
"I do think that we are still in with a shout of the league. OK ,we may be 8-9 points behind but in my personal view we've had our slip ups and some of the other teams haven't had theirs yet, and they will do at some points.
"But it's up to us to just keep picking the points up, keep going, see where we are in December- January time and see what we can do from there".