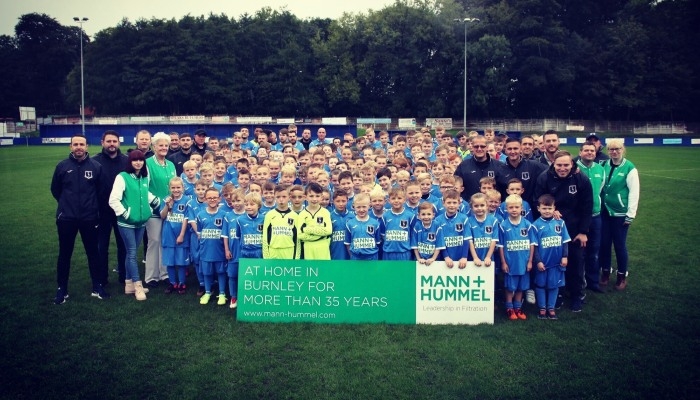 Padiham welcome junior players
Tue 11th September 2018 | Padiham
By Ian Templeman
Padiham hosted over 200 members of their junior teams at a photo shoot before their home game against West Didsbury & Chorlton on Saturday.
It was the first opportunity for players in the junior set up to appear all together at the Ruby Civil Arena since Padiham FC announced their merger with Padiham Saints Junior Football Club back in June.
The integration of the two clubs means that from this season the various teams in the set up will play under the name Padiham FC Juniors.
Announcing the news in the summer, Shaun Astin, Padiham Chairman said: "Since taking over the role of Chairman just over two years ago, it has been an ambition of mine to have a Junior section at the football club.
"During my time as Chairman we have worked closely with Padiham Saints and the merger will have long term benefits for all involved and will provide a pathway for players from under 7 all the way through to adult football.
"The buzz around the ground when Padiham Saints teams have been mascots for first team matches has been fantastic, the children love it, and the parents have also had a great time.
"The club is becoming a real hub for the local community and this merger will help to strengthen our ties to the community".
Over the course of the last few weeks, plans were made to bring all the teams together on a matchday, and on Saturday the first photo shoot with all the players and juniors took place.
Padiham Media Officer Darren Outhwaite explained:
"Padiham Juniors are firmly about equal opportunities and the players are encouraged to'express themselves' and enjoy the football rather than being pushed. They play mostly in the local leagues, both Saturday and Sunday, and some came down straight after their first league games.
"There are several teams ranging from under 7's to under 16s, with as many as three teams in some age groups. We also have a very successful under 11 girls team, we have players wanting to join every week and we are always on the lookout for coaches.
"We had over 200 kids involved on Saturday, all wearing the new kits, which are exactly the same as our first team. We give thanks to our sponsors Mann + Hummel for making all this possible".