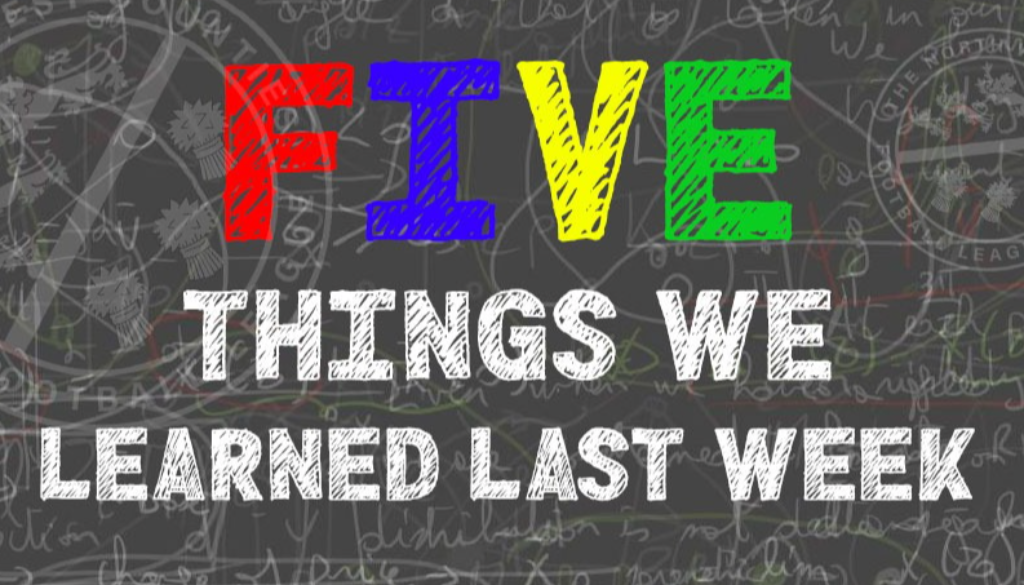 Five Things We Learned 2023/24 - Gameweek 16
Wed 15th November 2023 | Five Things
By Jay Cooper
1. Come to the NWCFL!
There has been announcement after announcement in the 7 days since I last did one of these "Five Things" lists, and this one might not be the biggest of them all, so I've decided it deserves to go in right at the top of this week's rundown of NWCFL news. The application process for Step Six of the National League system is now open!
Any clubs reading this who want to apply for promotion from their regional NLS Feeder Leagues (be that region in the North West or elsewhere) can use THIS LINK to begin their application process. More details are available HERE, and strict closing dates for applications is December 31st, 2023. Good luck!
2. The Groundhop is back!
For yet another season, the NWCFL has announced a Groundhop weekend, and, as always, this a golden opportunity for non-league football lovers to soak in as much football as possible whilst also, ideally, soaking in some golden spring sunshine. Throughout the weekend of March 1st - March 3rd, Lancashire and the Fylde Coast are where you want to be.
Like previous years, there are 7 games within a stone's throw of one another taking place over the course of the full weekend, which will take place at the grounds of FC St Helens; Longridge Town; Garstang; Squires Gate; AFC Blackpool; Charnock Richard and Euxton Villa. Coincidentally (and hopefully I don't dox myself by sharing this), this is my area of the North West, so i hope to see as many people at these games as possible.
3. The FA Vase is back!
Our final large-scale announcement of the last week involves a very important matter - we're down to the final 64 of the Isuzu FA Vase, which means that 2 teams are currently 5 wins away from Wembley. There are 8 NWCFL sides left in the competition, and, given that last year we had a representative make it all the way to the semi-final, I certainly have hope.
And we are also guaranteed at least 1 NWCFL flag-flyer in the 4th round, too, with South Liverpool being drawn to travel away to whoever wins the postponed 2nd-round tie between Ashville and Holker Old Boys. Elsewhere, all of West Didsbury and Chorlton; Ramsbottom United; Irlam; Charnock Richard and Brocton will be in action against non-NWCFL outfits after winning this weekend. Bad weather notwithstanding, December 2nd should be a very tense Saturday indeed.
4. County cup matches, count the goals
Of course, these local games couldn't have all gone ahead - Mother Nature and her youngest daughter Storm Debi are too cruel for that - but where there were games in local County Cup matches in the past week, there were goals. We'll start tame in Derbyshire, with just the 4 goals coming from the game between Glossop North End and New Mills. The former won 3-1 to progress to the next round.
Moving into more interesting territory, both Abbey Hey (in the Macron Cup) and West Didsbury and Chorlton were on the wrong end of 5-1 defeats in midweek, with West's coming against higher division side Bamber Bridge, and Abbey Hey's coming at the hands of Droylsden in a match I speculated may never actually happen at all last week. Finally, Runcorn Town were unfortunately dumped out of the Cheshire Senior Cup by Nantwich Town, shipping 10 away from home and only managing 1 in consolation - Josh Odukomaya got his first goal for the club, which is a silver lining, I suppose.
5. Edward Case Excitement
With little changing with regards to the league table between last Wednesday and today, we can turn our attention to one final cup competition that saw matches take place this weekend - the Edward Case Cup. Unlike the Vase, or even the Macron, this is a great chance for a team from either of the First Divisions North or South to pick up some silverware.
There were statement home wins from the likes of Droylsden (5-1 vs Nelson); Winsford United (6-0 vs Market Drayton Town); and especially Sandbach United (10-3 vs Eccleshall), with Euxton Villa and holders Bacup Borough knocking off Darwen FC and Ashton Town, respectively. Barnton VS Ashville was the only weather-based casualty of the weekend in this particular competition, but they'll get their chance to put their name in the hat for the 3rd round soon enough.