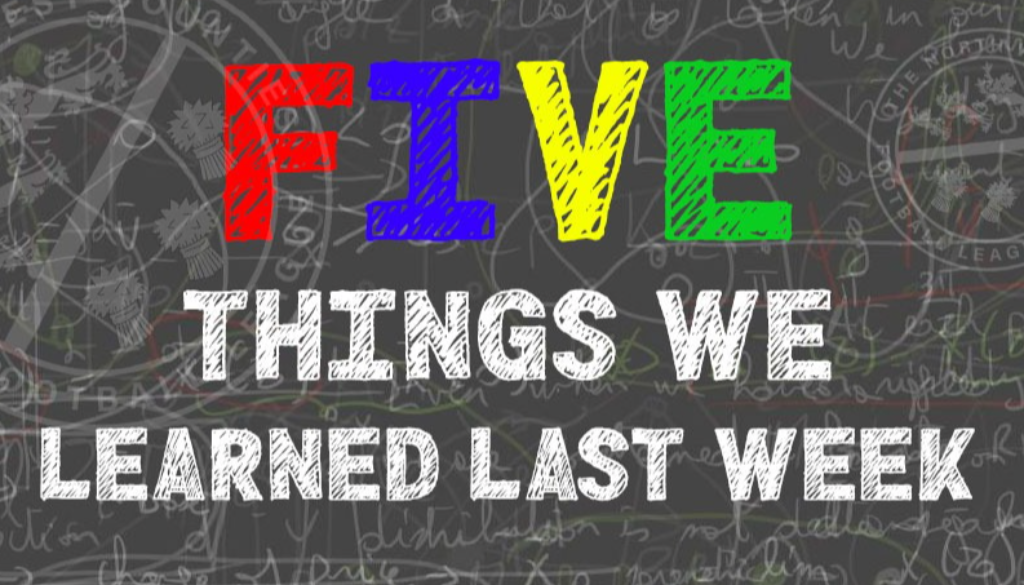 Five Things We Learned 2023/24 - Gameweek 7
Tue 12th September 2023 | Five Things
By Jay Cooper
1. ... of the month!
Our first round of league monthly awards for 2023/24 went live this past weekend. In case you haven't had chance to see who the winners were, here goes: your club of the month awards in the Premier Division and First Division North went to table-topping Kendal Town and FC St Helens, respectively, with currently 2nd placed Brocton taking the plaudits in the South.
For the Player of the Month awards, we have Kendal's James Bailey in the Prem; Atherton LR's Lewis Rawsthorn in the North; and Nicky Parker of Market Drayton Town in the South. Your Goalkeepers include Wythenshawe Town's Greg Hall for the Prem; FC St Helens' Joe Mason in the North; and Brocton's Tony Alsopp in the South. Congratulations to all our winners!
2. A dreadful week for Kendal
It finally happened. In the space of a week, NWCFL Premier Division leaders Kendal Town faced off against 2 sides who were relegated last season - Colne and Ramsbottom United. After a nearly flawless start to the campaign, they've now been handed back-to-back defeats.
Colne kept a clean sheet and were helped on by a Lucas Weaver penalty and an own goal, and then a Matthew Dudley double was enough to see Rammy through. It's the hosts first defeats of the season, and now, given that Wythenshawe FC are 6 points behind with 2 games in hand, their lead at the top of the table is not insurmountable.
3. Barnoldswick are 10th... and unbeaten?
This is a strange little fact that I never would've noticed without the excellent work of our League Statistician, Kevin Lawton. In the Premier Division, mid-table Barnoldswick Town are yet to be beaten in the league in 2023/24. From 8 games, Barlick have notched 16 points, with 4 wins and 4 draws, 3 of which came in one fell swoop between the 8th and 15th of August.
When you consider that the only other side in the whole NWCFL who are yet to have a tally in the loss column are First Division North pacesetters FC St Helens, it's a testament to how determined Andy Harrison and his side have been, to grab draws even in games where they ship 4 goals.
4. Huge pick-me-ups for Cheadle and Gate
Cheadle Town have had a hard time adjusting to life in the Premier Division. Before the weekend, they'd lost their last 5 games, and 8 league games from 11 in total. However, when faced with an away trip to Burscough on Saturday, they brought the smoke. Martin Pilkington, Wealth Dasilva-Olajide, and a brace of penalties for Jordan Lazenbury were enough to see Paul Marshall's side take a 4-0 lead into half time, and it finished 4-1.
The same sentiment somewhat applies to Squires Gate, apart from being new to the league. Before the weekend, Luke Evans' side were at the bottom of the league thanks to fellow strugglers Skelmersdale bagging their first league win of the season recently. Well, Gate are back to second-bottom now, leapfrogging Skem with a 1-0 win away at Padiham.
5. You can rely on Stockport Town for goals
It was a fairly quiet weekend, all things considered, in the First Division South. Market Drayton Town have taken top spot with a 1-0 win away at Stafford Town, and New Mills and Maine Road played out a 5-goal game that went in favour of the latter, but apart from that there wasn't much eye-catching action.
Unless you include the 7-goal affair that went down at Stockport Sports Village. Stockport Town could be relied upon for a goal-fest last season, and it appears this campaign will be no different, with Abbey Hulton United bringing their best to a game that they would ultimately lose 4-3 to their hosts.