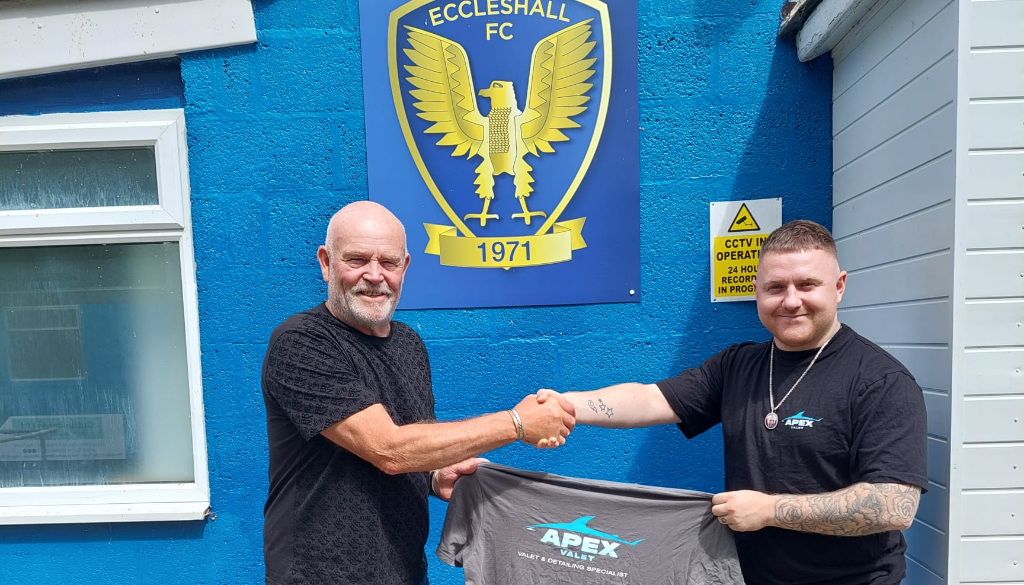 Eccleshall announce new Ground Sponsorship Partner
Sat 26th August 2023 | Eccleshall
By Media Team
Eccleshall FC have this week announced they have a new ground sponsor for the 2023/24 season. In an agreed deal, the Eagles' Pershall Park ground will be now known as the Apex Arena following a link-up with Apex Valet Ltd, a family run business who deliver premium valet and detailing services for both private and commercial customers. The company are locally based in Market Drayton.
Managing Director, Jack Jeys, from Apex Valet came into contact with Eagles manager, Liam Kelly, in late 2022 and had discussions about joining Eccleshall as a player. Having had ten years of experience in non-league football with six clubs including Solihull Moors, Rushall Olympic and Worcester City, he felt he wanted to see out his remaining football years in a good set-up and then progress into management.
Jack said: "After starting the 2023/24 season with Eccleshall at pre-season training, I found my ambitions moving more towards the coaching side. Following a few discussions with club chairman Neil Washington and Liam, it was agreed that I would sign as a 1st team coach and player for the season ahead. Being involved in the management team so early on, I started to build a passion for it and wanted to become more involved in the club itself. Neil has been fantastic and, after spending time in and around the club, I decided I wanted to help behind the scenes as well and become the club's ground sponsor. I have since been welcomed onto the club committee at Eccleshall FC and really enjoy being part of the club. I feel in my short time at Eccleshall that it is a fantastic club full of ambition for further progress and I hope to be able to help out as much as possible both on the pitch and behind the scenes".
Club chairman, Neil Washington, said: "After Jack joined our club as a player/coach, we had a number of fruitful discussions about how he could get more involved in Eccleshall FC. We were delighted when he offered to become the ground sponsor and feel that, working together, Eccleshall FC and Apex Valet Ltd. can jointly achieve our ambitions of moving the club further forward and also promoting his company business".
Jack is a Level 2 coach and, aside from his first team links with Eccleshall, he will also be part of the club's Under 18s set-up, helping team manager Nick Mobley. He has also agreed to sponsor the 1st team training kit for the coming season, showing his commitment to Eccleshall FC.
Jack added: "I have been part of many great sides in the past, but this squad has something special about them and I am really looking forward to working alongside the management, players and committee to deliver success for everyone involved including the club's supporters".
Everyone at the newly named Apex Arena welcome Jack to Eccleshall FC and are looking forward to jointly taking the club forward.
Club chairman, Neil Washington (pictured left) is seen here at the announcement with Jack Jeys, Managing Director of Apex Valet Ltd (pictured right).