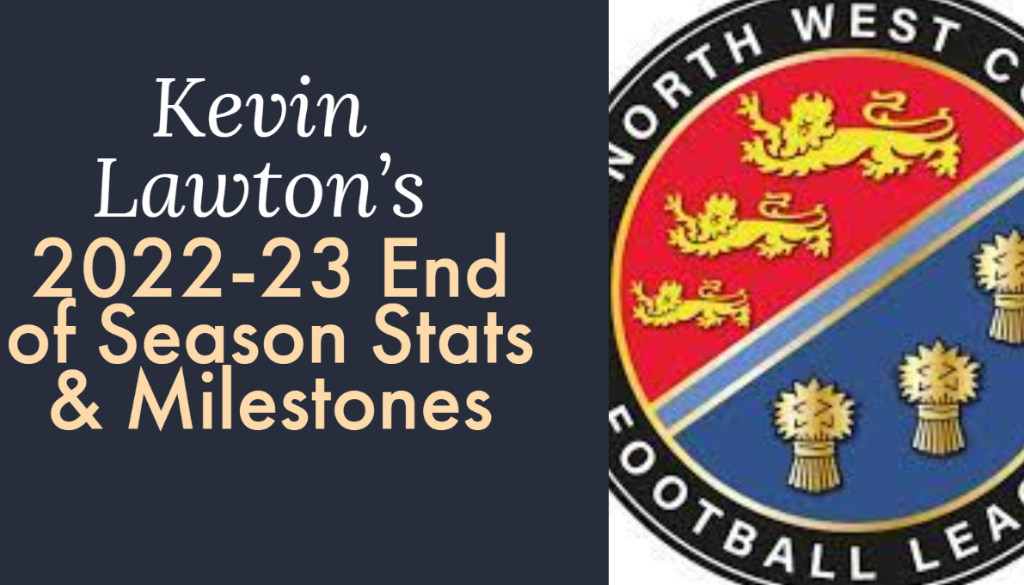 2022-23 End of Season Stats and Milestones Review - Division One North
Mon 5th June 2023 | Statistics
By Kevin Lawton
League Statistician Kevin Lawton has taken an in-depth looks at this seasons Stats and Milestones around all three NWCFL Divisions and in a series of three articles, Kevin has taken a look at the end of season numbers.
Part Two: First Division North
Our smallest division, on number of teams, saw a total of 412 games played, 306 in the league and 106 across the various cup competitions. These games led to 1,473 goals at an average of 3.58 per game.
In league competition, Champions Pilkington topped the goal scoring charts with 78, an average of 2.3 per game. At the other end of the scale, Ashton Town hit just 35 in their 24 games, whilst Cleator Moor Celtic's defence let in 102. Pilkington also had the best defensive record with just 26 goals conceded, seven fewer than nearest challengers FC St Helens with 39, they were the only team to conceded fewer than a goal per game on average.
Pilkington topped the longest winning streak charts with nine, Chadderton just behind on eight, though Chadderton had the longest unbeaten run with twenty two, FC St Helens just behind on twenty one, though the latter did have the longest in all games – a very impressive thirty one.
Pilkington recorded an excellent sixteen clean sheets, with Chadderton and Ilkley behind on nine. Runcorn Town, Daisy Hill and Cleator Moor managed just two each.
When it came to attendance figures, Ashton Town recorded an average of 241 (only 200+ in the division), with a maximum gate of 635 (v FC St Helens) and they were the only team to record a lowest attendance over 100 (129). Darwen FC were in second place with an average of 178. Nelson had the lowest average gate at 71, just two behind AFC Blackpool's 73. The Play-off final between Chadderton and FC St Helens was the biggest in the division with 723 in attendance. The lowest attendance was the 34 for nelson v FC St Helens and the same number at Nelson v Holker Old Boys.
As with the Premier Division, the most common scoreline was a 2-1 home win, occurring 28 times, with the 1-1 draw just one game behind on 27. The highest goals in a game came at Cleator Moor Celtic, as they were beaten 1-8 by South Liverpool, next in the list was the eight at Euxton Villa as they beat AFC Blackpool 7-1.
The league penalty success count was 93. AFC Blackpool scored the most with ten, but also conceded the most, nine. Penalty crown went to Jason Walker of Holker Old Boys who despatched eight followed by Jordan Schofield's seven for Chadderton.
Ilkley Town benefitted to the tune of four own goals, Bacup Borough had three to their advantage. Cleator Moor were the most generous, finding their own net three times.
Twenty two league hat-tricks were recorded, with two players scoring four times in a game, Mason Nevitt (South Liverpool) being the only player to score four times twice. He did it at Cleator Moor and at home to AFC Blackpool. Leon Creech of Darwen also hit four in a big win against ashton Town. Two other players hit two triples; Richard Seear (AFC Blackpool) and Toby Wright (Bacup Borough)
Five players started all 34 league games: Joseph Oldham (Chadderton), Joshua Brooks (Euxton Villa), Will Kitchen (Garstang), Andrew Briggs (Steeton) and Mohammed Farhan Subhani (also Steeton). Amazingly, Farhan also started every league and cup game last season and did the same this season – he now has 82 consecutive starts. Joseph Fallon of Bacup Borough played the most games starting a total of 47, Joe Baker was next with 46 for FC St Helens.
Ian Billington of Euxton Villa played in 32 games, but was a used sub in 25 of them – the division's Super Sub.