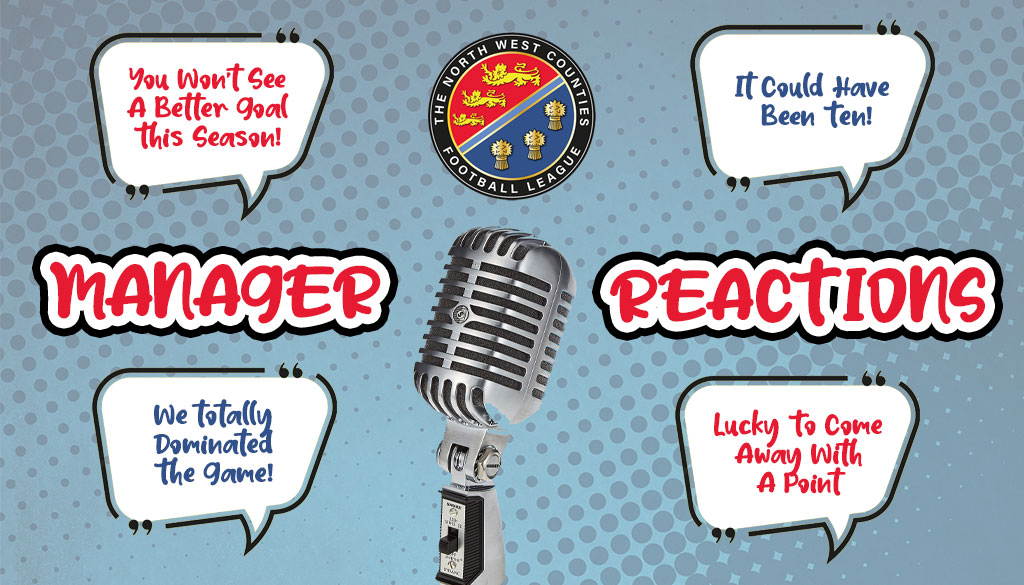 Reactions From The Weekend #17
Mon 21st November 2022 | Manager Reactions
By Martin Fallon
Saturday was a busy day with games in the Macron Cup and all three divisions. We caught up with several NWCFL Managers after the games to give their thoughts on the games.
---

BACUP BOROUGH MANAGER BRENT PETERS AFTER HIS SIDE BEAT STEETON ON PENALTIES
"This was very much a game of two halves, despite us starting very well, Steeton gradually started to get a foothold and did adapt to the deteriating conditions better than we did, Steeton won themselves a penalty but goalkeeper Mason Walker saved well but there was nothing he could do to stop our visitors taking the lead following an excellent cross and equally a good finish. Steeton had opportunities to have doubled their lead but Mason Walker in goal certainly played his part in ensuring their lead was not doubled.
"Half time couldnt come quick enough, and the second half was a completely different story. Bacup constantly took the game to Steeton, Kyle Siddle put a lofted cross into the box when it dropped nicely for Bradley Hancock to produce an excellent finish, and it was game on. From this moment on in it looked like if there was going to be a winner in 90mins this would come from Bacup, when Toby Wright broke through which brought an exceptional save from their keeper, it was destined to go to penalties.
"Penalties are lottery, I still maintain that no games should go straight to penalties, not before another thirty minutes extra time have been played, but penalties it was from which our lads did make up for their loss on penalties last week.
"This was a lot better game than that we had up at Steeton. It was an entertaining cup tie, from which was a tale of of two halves, Steeton controlled the first whilst we got a grip from half time and did control the second half".
EUXTON VILLA MANAGER MATT ATHERTON AFTER HIS SIDES 3-1 WIN AT ASHTON ATHLETIC
"It was a really good win on Saturday against an Ashton Athletic side which surprises me to see is struggling in the league above. Obviously playing each other on Wednesday meant we both had a really clear picture of each other strengths and weaknesses and it meant for a close game. In fact, I felt this was the case in both games with only the quality of finishing from Ashton being the difference then.
"But I was delighted to see the intensity and desire from our players to work hard without the ball. A cracking first goal from Nathan Parish gave us confidence and we were unfortunate not to add to it in the first half. But Ashton, as on Wednesday night, came out and scored within a few minutes of the restart which changed the dynamics of the game. The lads again showed that grit and determination which has served us well this season and we got through a tricky 20 minute spell to then take the lead and we never looked back after that.
"I wish Jay Foulds and his lads all the best for the rest of the season as I'm sure their results will pick up and we look forward to another tough game in the next round versus the in form FC St.Helens".
NORTHWICH VICTORIA MANAGER STEVE WILKES ON HIS SIDE BEATING CHEADLE TOWN 2-0
"We've not been that successful in the cup competitions so far this season so it was important we got through to the next round. We were under no doubt how tough it was going to be having played Cheadle in the Vase already this season, but it was a good solid performance from the lads on the day and we deserved the win.
"I am also really pleased with the clean sheet as we've not had enough of those this season. We've got another tough home tie against Barnoldswick in the next round now".
AVRO MANAGER ALEX FROST AFTER HIS SIDE BEAT STOCKPORT GEORGIANS ON PENALTIES
"We took the opportunity to make some changes and to give some game time to lads on the fringes of the first team. It's hard to do that in the league sometimes. On the balance of the game we probably didn't deserve to win however it was a cup game so someone had to!
"Overall I am probably a little disappointed with the performance but happy with the result and a place in the next round. I'm even happier we've given debuts to four 19 year olds which will bode well for us over the coming months, and that we also managed to keep another clean sheet".
ABBEY HULTON MANAGER RUSS LEADBETTER AFTER HIS SIDES 3-0 WIN AGAINST ECCLESHALL
"I thought it was a very good win against a good Eccleshall side. A tough game was nothing less than we expected and that's exactly what we got. We knew that they had the players to cause us problems if we allowed them the time to do it, but we were strong out of possession and again made our chances count.
"It's another win to keep the momentum going ready for our league game on Tuesday night when Ashville are the visitors".
SOUTH LIVERPOOL MANAGER MARTIN RYMAN AFTER A SUPERB 4-1 WIN AWAY AT CAMMELL LAIRD 1907
"I am delighted to get through to the next round of the Cup. It was a very difficult tie which we handled and managed extremely well on the day. Cammell Lairds started the brighter and once again we gave an early penalty away to go one nil down, something we need to look at as its happened a few times this season.
"But after that I thought we were the better side throughout. We played some decent stuff in the first half without being as effective as we would have liked and deservedly went in level 1-1. We pointed out a few things at half time to the lads which they took on board and second half we were completely in control of the game and totally dominated.
"Performances have improved greatly of late along with results but the hard work starts now trying too sustain it. Although its brilliant to have great cup wins our main concern is the league and we have some massive six pointers coming up which the lads are looking forward to. Hopefully we can start climbing the table with a few wins".
LOWER BRECK MANAGER GARY MOORE AFTER HIS SIDES COMPREHENSIVE 4-0 WIN OVER WYTHENSHAWE AMATEURS
"In all honesty it was somthing of a flattering scoreline against a quality Wythenshaw Amatuers side who it has to be said dominated us for the majority of the first half. The lads came out for the second half with the instruction to get our basics right and once we done that we took the game away from our opponents with Jawad Jebrin bagging a quick fire hat trick.
"That's seven clean sheets now in the last 11 games which shows the lads are working extremely hard to keep teams out. They deserve all the credit for digging deep and kicking on in games since the Longridge away performance".
WYTHENSHAWE TOWN MANAGER JAMES KINSEY AFTER HIS SIDE BEAT AFC LIVERPOOL 5-1
"It was important we had a reaction after the second half on Tuesday. We needed to be better on the ball and we done that. To dominate the game from start to finish was pleasing and proved we have the ability to bounce back after set backs.
"We had a couple of new bodies in the squad and they helped massively. We have a big game on Tuesday night against FC United of Manchester and we know we will be up against it against a team from a higher level. That's something we will enjoy though and will look to cause an upset".
---

VAUXHALL MOTORS MANAGER MICK McGRAA AFTER HIS SIDES 4-0 WIN AT LONGRIDGE TOWN
"It was a great win on Saturday. The scoreline may be one sided, but I thought it was a very good Longridge side we faced on the day. We needed to bounce back after Tuesdays defeat and we did that in style, taking the lead in the very first minute which gave us the platform to go on and dominate the game.
"I thought that we moved the ball really well and defended with real composure and scored four good goals. More importantly, we also registered another clean sheet with the result taking us back to the top of the league".
---

ASHTON TOWN MANAGER KEV TOWEY ON A SUPERB 2-1 AWAY WIN AT ILKLEY TOWN
"To anyone on the outside the result will come as a shock as recent results may appear that we haven't had "the desired effect" since coming in as the management team. However internally, those who have watched the games over the last eight weeks, will tell you we have played well in large parts of the many games and can see what we are trying to do.
"We have been on the end of some misfortune, while never having the luxury of a settled back four, but as with any new group it needs time to settle gain some cohesion, confidence and find an identity.
"I thought Saturday's game against an Ilkley side that are one of the best teams in this division was evidance of the levels we can reach".
CHADDERTON MANAGER BEN GREENIDGE AFTER HIS SIDES 4-2 WIN AT AFC BLACKPOOL
"We knew this would be a tough game at Blackpool with them only losing once at home in the league this season, that being against top of the table Pilkington. So an instruction to the lads was to start fast and get ahead early. We couldn't have wished for a better start! Two goals up in the first 10 minutes from some well worked play. That was the only positive of the first half for us though as Blackpool hit back and they were unfortunate not to be ahead at half time!
"The second half we came out far more focused and together, and went ahead again within two minutes of the second half starting. The game was pretty much end to end for the remainder of the second half, with Blackpool pushing for an equaliser, but the lads showed they have the resilience and got through a tough spell of pressure in the last 20 minutes.
"I think we just about deserved the three points today and we now look forward to hosting Garstang on Tuesday night! There is definitely more to come from this group of players we have, and of course lots for us to keep working on!".
---

ELLESMERE RANGERS MANAGER CONNOR COURTNEY AFTER HIS SIDES 3-1 WIN AT HOME TO SANDBACH UNITED
"I thought that Saturday's result was a great win for the lads. We came out aggressive and killed the game off in the first half hour when we scored three goals without reply. After that it was all about game management which we did well.
"Sandbach are a good side though and made it hard for us in the second half where they defintely had more of the possession. However we dug in well on a heavy pitch and overall deserved the three points".