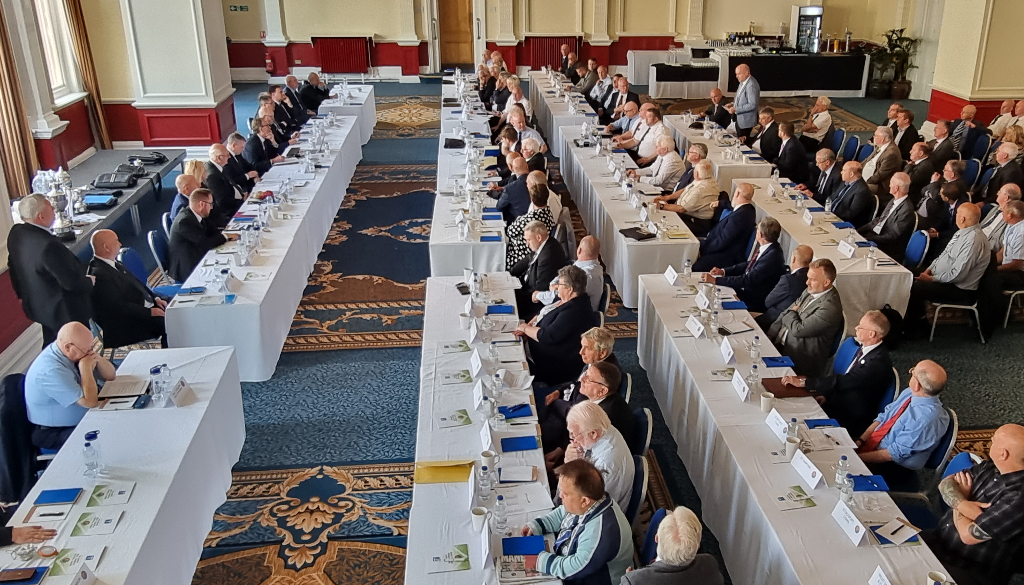 News from the AGM
Sat 18th June 2022 | Announcements
By Martin Fallon
The League's Annual General Meeting took place today and for the first time since 2019, was held at the Imperial Hotel in Blackpool. Representatives of 54 of the 60 member clubs were in attendance as well as the seven new member clubs that have been allocated to the league for the new season.
To open the meeting, League Chairman Paul Lawler welcomed all delegates at 11.00am prompt. The minutes from the previous AGM were raised and adopted prior to moving on to the Chairman's Report.
The report from the Chairman great to see so many familiar faces. Delighted to get in a full season, gave us very few pandemic problems with clubs getting on with things in a sensible and pragmatic way. He said that average gates were well up on previous years, with clubs giving value for money with quality to match. We should be well placed to attract football fans from higher up the pyramid.
He then ran through successes of clubs. Macclesfield won the Premier, finishing with ten successive wins, with Skelmersdale United also achieving promotion through the Step 4/5 Play-Off. In the First Division North, Bury AFC took the crown with Golcar United promoted in the Play Offs. In the First Division South it was West Didsbury and Chorlton who won it, with FC Isle of Man promoted in the Play Offs.
Well done to Squires Gate, who reached the 2nd Qualifying Round of the FA Cup, and Wythenshawe Town and Abbey Hey who both reached the latter stages of the FA Vase. Congratulations to Charnock Richard and FC Isle of Man on winning the respective league cups, and credit to Cammell Laird 1907 for reaching both finals, as well as winning the Wirral Senior Cup. Winsford United won the Mid Cheshire Senior Cup, with Barnton as runners up. Credit also to West Didsbury and Chorlton and Vauxhall Motors who were runners up in the Lancashire and Cheshire Senior Cups respectively.
Sadly lose clubs. As well as Macclesfield and Skelmersdale United, we say goodbye to St Helens Town to the Liverpool County League and St Martins to the Shropshire County League who were relegated from the First Division. It is with much sadness that we say goodbye to both and hopefully they can return to us for 2023/24.
He wished the six new clubs all the best on their new journey, Kendal who were relegated to us and the five clubs promoted from the County Feeder Leagues.
Paul said behaviour on the field continues to be a problem, and asked clubs to read and digest the Respect and Fair Play reports produced. The standard of administration from some clubs is poor and creates significant work. Our league is about respect and friendship which some clubs seem to have forgotten.
Administrative procedures were carried out which included adopting the accounts for the financial year as well as reviewing the auditors report produced by Steve Conway. This technically concluded the league business for the 2021-22 season.
Next was the exclusion of clubs, which in a long-standing tradition at the NWCFL, was a chance to say goodbye. Macclesfield thanked all for the tremendously warm reception received this season. It is a really good standard of football which us and our fans wont forget. Skelmersdale said it was a pleasure being in this league and that they relished the time in the league. Campion said their stay was very brief, but they were made to feel welcome and wished clubs well, whilst Golcar United echoed Campion and thanked member clubs. St Helens Town gave their thanks to clubs past and present, and said that sometimes you need to take a step back to come back stronger. Hopefully their hiatus is a brief one, and they will be back next year.
The constitution of the league was then agreed, but as John Deal pointed out we have no choice these days, it is all set by the FA! The structure of the league was therefore confirmed with all new clubs introduced to their fellow league members. The representatives from Ashville, Euxton Villa, FC St Helens, Foley Meir, Kendal Town and Stockport Georgians all took to the stage to say hello and to give a bit of information about their clubs to the rest.
The full make up of all three of our divisions at this present time is as follows:
PREMIER DIVISION
AFC Liverpool, Ashton Athletic, Avro, Barnoldswick Town, Burscough, Bury AFC, Charnock Richard, Congleton Town, FC Isle of Man, Irlam, Kendal Town, Longridge Town, Litherland Remyca, Lower Breck, Northwich Victoria, Padiham, Prestwich Heys, Squires Gate, Vauxhall Motors, Winsford United, West Didsbury & Chorlton, Wythenshawe Town.
DIVISION ONE NORTH
AFC Blackpool, AFC Darwen, Ashton Town, Atherton LR, Bacup Borough, Chadderton, Cleator Moor Celtic, Daisy Hill, Euxton Villa, FC St Helens, Garstang, Holker Old Boys, Ilkley Town AFC, Nelson, Pilkington, Runcorn Town, South Liverpool, Steeton.
DIVISON ONE SOUTH
Abbey Hey, Abbey Hulton United, Alsager Town, Ashville, Barnton, Brocton, Cammell Laird 1907, Cheadle Heath Nomads, Cheadle Town, Eccleshall, Ellesmere Rangers, Foley Meir, Maine Road, New Mills, Rocester, Sandbach United, Stafford Town, Stockport Georgians, Stockport Town, Wythenshawe Amateurs.
The next item was the Life Members and the Election of Management Committee members. Historically we have had five Life Members but we have four at present, so Paul Lawler was proposed and duly elected as a Life Member. With Paul no longer a Management Committee member, Jeff Voller, Secretary of St Helens Town, was proposed and second to join the Management Committee which he will do until 2024. There were no other nominations, so Chris Stirrup, Craig Buxton, Glyn Jones and Ian Williams who all offered themselves for re-election to serve for a 3 year term will commence another period of office. This will see them on the Management Committee until 2025.
Administration for the new season was addressed with the FA Standardised rules reviewed and agreed. The main change is that there can be five substitutes used from five named for the forthcoming season. No changes were received for any FA and League Competition rule changes.
The fees tariffs was agreed. The only thing not agreed is referee fees, which at our level will be set by North West Counties Combined Pool. Their AGM is in a few weeks. The fines tariff was agreed, with minor details related to ground grading clarified.
Next was confirmation of the League Insurance Scheme, and there have been no proposals for change there. This was followed by the re-appointment of auditors which was agreed.
The Chairman then closed the Official Meeting at 11.42am.