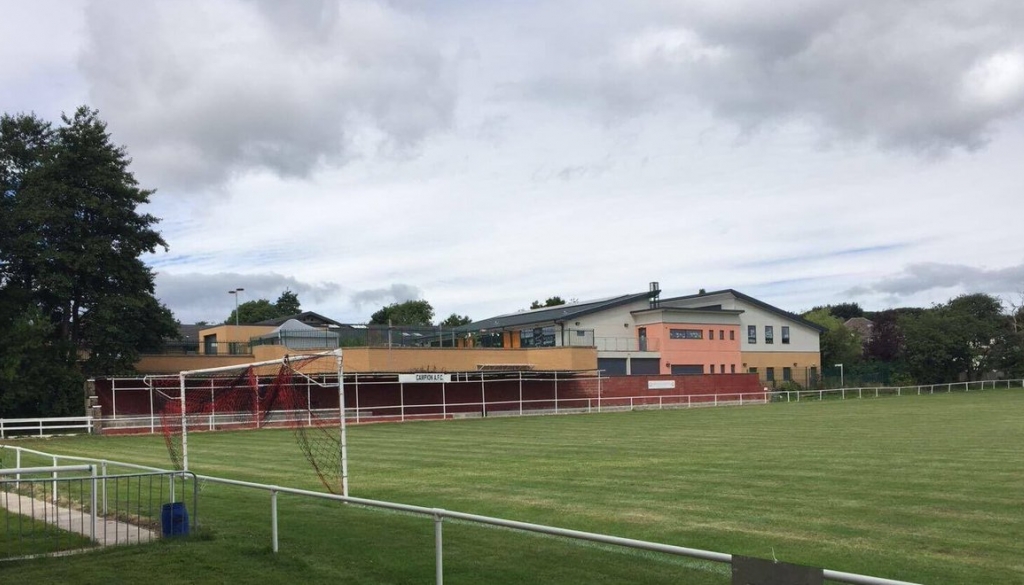 Campion AFC Looking to make an immediate impact
Fri 11th June 2021 | General
By Gary Langley
As we continue our "Let's Meet" series of interviews, we have spoken this week with Dave Keegan who is Club Secretary at Campion AFC. Campion AFC join the North West Counties League this season for the first time, in Division One North, having been laterally moved from the Northern Counties East League in the recent FA re-organisation.
Based in Manningham, Bradford, the Club were formed in 1963 by Michael Mahoney, taking its players from the members of St Edmund Campion Youth club and the name of the club was rounded up in 1976 to Campion F.C. The club started around the local leagues of Bradford until it joined the West Riding County Amateur League in 1983, dipping in and out of that structure for a few years before establishing themselves over a period of 10 years or so from the late 1990's in the highest level of the West Riding structure at Step 7. The club continued to develop on and off the field and in 2006 saw the opening of a £1.5 million club house and community centre under the banner of Manningham Mills Sports Association of which Campion F.C. is a partner along with Manningham Mills Cricket Club and Heaton Juniors F.C.
After a steady period of development and stability the club applied to join the Toolstation Northern Counties East League in 2015 and in 2016 they were accepted into the League at Step Six for the 2016-17 campaign. In their first season they finished 8th with 19 wins from 42 games, in 17-18 they finished in the same position but with three more wins. In 2018-19 they were really unlucky not to be promoted to Step 5 as they finished in second, only two points behind Champions, Grimsby Borough in what was a 38 game campaign. Only one team was promoted from that Division and then of course we arrived at the two seasons effected by the pandemic.
We started by asking Dave to tell us a bit about Campion AFC....
We are two miles from the Centre of Bradford and roughly a mile away from Valley Parade. Locals know us as the club by the big chimney as we were originally creaated as a Mill Workers Social Club. We have been going since 1963 and we are based in a very multi-cultural, diverse community. We have a Committee of around ten people, many of whom have been with the club a long time and in addition to this we have a number of dedicated volunteers that help us out around the club on the likes of match days and so on.
What you would you describe as your clubs normal objectives, would you say you are a consolidation type of club or at Step six are you looking to challenge and have a go for promotion?
We like to have a challenge and go for it, we don't just play to make up the numbers. Over the last 4-5 seasons we have been close, a couple of seasons ago we were top of the Northern Counties East League going into the last day of the season, two points ahead of Grimsby Borough. We were playing - Grimsby Borough that day, just needing a draw. We went 3-0 down and ultimately lost 4-2 on the day and it was only one club promoted from the division. We were gutted! In the following two attempts of seasons we have been in the top four before they were Null, voided, curtailed etc so when we get playing again we will be looking to continue to challenge.
We have aims and objectives, we havent won a game in the Emirates FA Cup or the Buildbase FA Vase yet, they are stats that need sorting too.
Tell us about the fanbase that you have, is it local heavy or do you have an appeal across Bradford.... and beyond?
Well, like all clubs we could always do with more fans. In all fairness we don't have too many fans who are really local to the ground, our fanbase is spread more across Bradford. We have a good number of loyal regulars and on matchdays we tend to get over a hundred through the gate, more depending on the opposition.
Were the club aware that it mayhave ended up with us at the NWCFL or was the news a complete surprise?
It had been mooted a few seasons ago but it had gone quiet, however when it was announced we were shocked and stunned as we were settled in the Northern Counties East League and established. However, we are ready to embrace the challenge and are looking forward to welcoming a number of new clubs here to Manningham and to show what we can do. We are looking forward to welcoming players, supporters and officials from around the league and making new friends. Being a club on the latest version of a league border there is always the possibility that we may move about, however we are looking forward to getting started.
Have you had to do a lot of quick research on the league or were you already familiar with certain aspects of the NWCFL?
We have a good relationship with Roy Mason at Steeton, we have pumped him for some information and the Management Team have been pro-active in doing their homework from the moment it was announced. The League have sent us plenty of information and we will be looking to hot the ground running on and off the park. starting with the Leagues AGM on Saturday.
Are there any clubs that you are particularly looking forward to visiting.... or not as the case may be?
We are looking forward to playing a few, we played Bacup a few years back, they were a decent side and it will be good to play the likes of Steeton. Like Stafford the other week, we are just looking forward to getting playing football again and meeting all of the clubs.
Tell us a bit about your manager?
We have two we have James Bicknell and Lee Ashworth. James was initially solo manager, he took over from a club legend, Delroy Dacres who had been manager at the club for 25 years! Lee joined James a few years ago and he has plenty of experience having been at the likes of Harrogate Railway and Clitheroe. They are a good management team, they play adventurous football, trying to keep the ball on the ground and creating chances. Attacking minded to be fair with an attitude of you may score four but we will score five. We have a few plaudits for the way we play and having finished in good positions in recent years, it has done us no harm.
What should fans expect when we visit the Players Cars Stadium?
A warm welcome, good food, a good view of the pitch and we have a Real Ale on of a matchday. We have a paper programme and are easy to get to. An enjoyable day at the football, people haven't had the opportunity to watch much football in the last year or so but we aim to make matchdays as enjoyable as possible.
On the subject of The Players Cars Stadium, tell us more about that!
They are one of our main sponsors and good friends to the club, theyre an organisation that matches players around the UK to their preferred car. Like many clubs, our business partners and commercial sponsors are in it with us and part of the journey, the likes of Gary at Sondad has backed us by renewing their shirt sponsorship recently, they've been great with us as all businesses have strulled lately. Anytime Couriers and Kalcrest Care have also stuck by us in these difficult times and it's businesses like these that are the lifeblood of any clubs, without their support we wouldn't have the means to play at this level.
All in all then Dave, would you say that the club are ready to go for the new season?
We are all set up and ready to go on and off the parl. Like all clubs at this time of year, it's largely player recruitment thats the last piece of the jigsaw as some players are waiting to see if they will get taken on by clubs higher up the pyramid. Those that don't get a spot at a club, we will try and pick up and give them that platform to show teams what they can do.
A big thank you to Dave for his time and we wish him and Campion AFC well for the new season