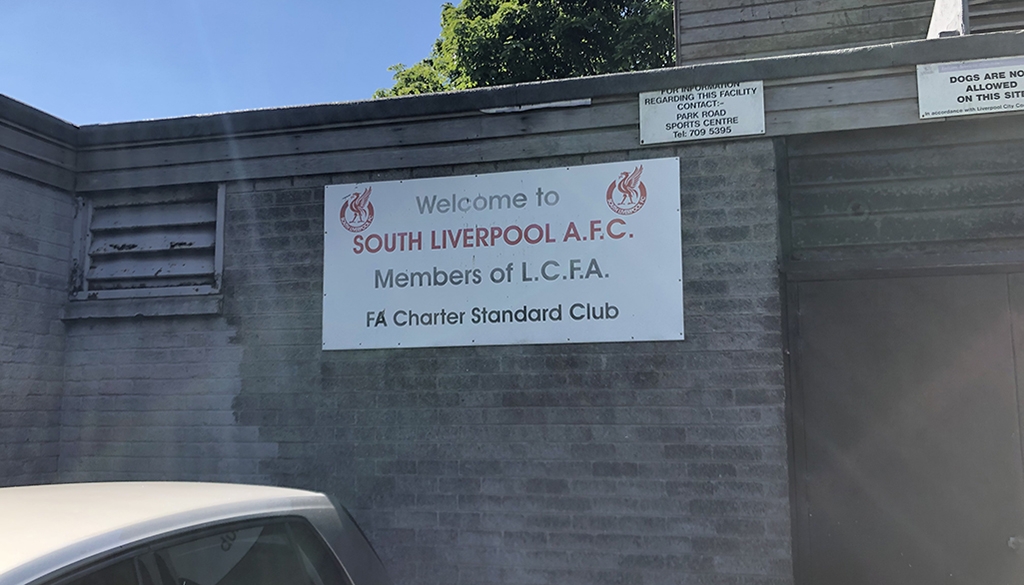 South Liverpool Looking to make their mark on their return to the NLS
Mon 31st May 2021 | Match Previews
By Gary Langley
As the 2021-22 season starts to appear on the horizon, we are carrying out our usual closed season interviews and features with the 'New' members of the North West Counties League. This season sees six clubs make their bow in the league following the FA re-organisation and the back-filled vacancies that arose from it.
This first of this series of interviews us have a chat with a famous name in non-league circles who make their return to the National League System exactly 30 years after they left it. South Liverpool FC are a famous name in non-league circles, initially formed in 1935 the club was the developing ground for a number of players that made their way into The Football League and with some distinction. The club itself had applied for Football League membership in it's time with a number of non-league honours in its trophy case, including the Welsh Cup, which clubs on the fringe of the border were allowed to enter at the time.
With troubled ownership, financial and vandalism issues at the famous Holly Park in the late 1980's the original club disbanded in 1991 and immediately reformed with the majority of its Committee, Playing Squad and legacy in-tact. They left the Northern Premier League and started in again in local Leagues at a number of local sports facilities and re-connecting strong roots with the community and developing into a strong community club example. This strength, combined with the lack of a permanent playing facility, saw them content with their legacy. Their Ground, Holly Park was re-developed into the Liverpool South Parkway transport interchange, however, Merseytravel have given South a legacy tribute by displaying a permanent poster at the site marking the clubs heritage on the site.
In recent years the club had dominated the West Cheshire League, not by default but by hard graft and recent developments in the South Liverpool area included the Jericho Lane Sports Hub, a mere 100m away from the North Field facility where South had played for over a decade. This facility ignited the clubs interest and a seed was planted that has culminated in the last fortnight in the announcement by the FA that South Liverpool's application to rejoin the National League system has been accepted and they will play next season in the NWCFL Division One North.
We have spoken to a couple of key figures at the club, starting with Chairman, Billy Birch who has been at South Liverpool for longer than he cares to divulge. Billy is a former Football League Match Official and well known figure in regional and local non-league football and was a regular referee in the NWCFL until around 20 years back.
We started by askilng Billy about how long the move back into the National League system, had been in the making and if it was a unanimous decision around the club?
"This return is 30 years in the making, when the club made the difficult decision to leave the Northern Premier League and press the reset button in 1991, many of the Committee and players remained with the club and there was a general concensus that we would be back some day at the semi-pro level. I don't think anyone envisaged a 30 year gap, however the reasons behind that at the time have been valid. There was always an association with non-league football and an underlying current that we would get back at some stage. Things really ramped up three to four years ago when The Football Foundation, The FA and Liverpool City Council green-lighted the Jericho Lane Sports hub near Otterspool Promenade in South Liverpool. It ticked so many boxes for us as we were playing only 100m away on the Jericho Lane North Field facility, where we had been for a number of years."
"As a club we got our heads together and a conscious and unanimous decision was taken to be involved in the process and to get a facility in conjunction with all parties incolved, including Leisure United who are the operators of the facility to stage National League System Football in the South of the City. It was a long process, the likes of Jim Stanway, our Club Secretary who was involved in the NPL era was constantly in liasion with everyone in the project. The Committee was regularly represented in proceedings, we brought in the likes of Gary Johansen who had operational experience at club level, The NWCFL had an input via Paul Lawler, Geoff Wilkinson and Gary Langley and over the course of three years we reached a point where we were good to go. Although we weren't banking on Covid to be fair!"
So would you say that the club aren't coming into this without experience or as a work in progress?
"Many of the Committee have been around the club since the NPL days and even those who are not serving are still around as loyal fans and club people. This club has been around for many generations and the fans and volunteers alike are all dedicated to it and to what the club has evolved in to. We are a Community club with many Youth teams under its banner and that includes teams across a diverse range of abilities and participants. We didn't have that back in the day, the South that we are these days is a footballing movement and we have worked hard with many other clubs in the City as a whole to continue to develop players and to provide affordable football for supporters."
"The Jericho Lane Sports Hub is good to go, yes we have seen one or two folk on Social Media say 'it's a cage' and there's no denying that, however The Council, Leisure United and ourselves have worked hard on the facility to give it an identity, we have used our own funds and commercial partnerships to bring in good quality spectator facilities included covered seating, standing and hospitality facilities. Jim Stanway has been speaking with clubs from the likes of Sunderland, Southampton, fellow Division One North side Ilkley Town and clubs closer to home to discuss matchday operations and the likes of Gary J was out painting stansions the other week as we have been putting the finishing touches to the ground. We are ready."
What about on the park? Are the club ready for the physical challenge of semi-pro football?
"Martin Ryman is our Manager, he has been for 20 years and he has brought a lot of silverware to the club in that time. If it had not been for a null and void season, it would have been 5 West Cheshire League Division One Titles in Seven years. He is an experienced Manager who is well connected in the local game, he may have been with South for 20 Years but he is well connected with the semi-pro game and has his black book of contacts which reads like a Merseyside & Cheshire footballer bible! He is relishing the challenge and he will have a strong and experienced squad by the time we kick off on 31st July."
Are the club just as ready off the park?
"We are lucky as we have a strong Comercial Partnership with our lead sponsor, Utilita. James Heyes is the Partnership Manager there and the likes of James and Gary Newbon who is the Utilita Ambassador are strong supporters of Local and Professional football supporting the likes of Glasgow Rangers, Sunderland and Eastleigh to name a few. They have backed us and we have a good working relationship with the utility provider and it's good to have a partnership with someone who stands by and supports the game at Grassroots and semi-pro levels. They get it!"
"All of our Commercial partners are appreciated and they are all part of the journey of this football club as we continue to offer a player pathway from Youth and Junior Football through to open age. Our Commercial side is strong but we dont overstretch our limited resources nor take them for granted. On the admin side of things, we have had a good amount of support from the League and we reckon we will be ready as we return. There will be a learning curve, however we have dedicated volunteers who will chip in at varying degrees and we are aiming to hit the ground running."
Local rivals over the last 30 years have been the likes of Mossley Hill Athletic and Marshalls, all strong Grassroots teams but are the club looking forward to getting going with restoring some old rivalries?
"That's an interesting one, local football on Merseyside and Cheshire has strong rivalries and just because of where it lies in the bogger picture of the football heirachy it doesn't make them any less important. However, South's traditional rivalries with the likes of Tranmere Rovers, Prescot Cables, Marine and Burscough are all back in reach and i'm sure our path's will cross as we return to the likes of the Liverpool Senior Cup and other competitions that put us back on a same stage. We are looking forward to playing clubs like AFC Liverpool, Lower Breck and Litherland Remyca wom we have a good relationship with but have not faced in a competitive arena. These clubs have set the benchmark in recent years and admittedly have likely influenced the catalyst for our own ambitions."
Last but not least, What defines what a successful season for South Liverpool in the NWCFL Division One North in 2021-22?
"Promotion! Well, why not? You have to show ambition rather than just want to turn up for a chat and a cuppa. We have always been a competitive club and our desires aren't dampened just because we are at a higher level? We maybe at a higher level but we will still be competing. In reality we will take consolidation and challenges for cups but it is important for us to represent the White, Black and Red kit of South Liverpool with the same pride that the people involved with the club have done throughout. We are representing all of those folk who have been with the club, some whom still turn up 60 Years plus after their first game, we represent those who went through the difficult times with the club in the late 80's and early 90's whos ambition that it was to get back to a certain stage. It's a big step for us but it is one thats 30 years in the making."
There are a lot of people involved at South Liverpool making the change happen and getting the club in position for its first season in the NWCFL. One of those is Gary Johansen, many will remember Gary from his time at City of Liverpool FC and his short time on the League Management Committee. He left the Committee to concentrate on his work at South Liverpool having been recruited by the club in 2018. A long-term fan of the club and resident of the South area of the City, Gary has been involved in a number of projects at the club in his Operational Officer role at the club.
We asked Gary about some of the work going on at the club and what he sees South doing in the new season?
So Gary, what type of work has gone on behind the scenes in getting ready to join the NWCFL?
"There's been a tremendous amount of work that has gone on over the last 2 years. Firstly, some simple things like charging a nominal entry fee for our West Cheshire League matches to get folk used to and ready for, the step up. I also sourced quite a number of local businesses who are now club sponsors, so that brought in revenue which then in turn, helped other areas of work that were required. We brought out merchandise, season ticket cards, and then obviously, the major work then involved a number of ground improvements in order that we could meet the ground grading criteria. That involved work on our Home and Away changing rooms and 2 officials rooms. Installing a 100 covered standing terrace. Also, after an initial introduction from one of our Committee Members, Peter Mason, I entered into very lengthy negotiations with a company called Pentalver who do container conversions, and through those negotiations, we were able to obtain a 40ft 75 seater container stand for our ground."
"Now having a 40ft container stand hovering 100ft in the air being craned over the fence and into position was certainly something I never anticipated doing! We then needed to do additional work to have some fencing behind both goals removed and replaced with new perimeter fencing. Finally, we then had to create a new secure walkway from the changing rooms to a new pitch entry point at the corner of the ground. Added to that numerous other things like negotiating a 2 year main Club Sponsorship deal with Energy Provider Utilita, new signage and emergency exits etc, plus, we're half way though putting agricultural mesh around our stadium pitch which reduces the wind coming off the River Mersey by up to 75%....so yes, we've been very busy! "
What had been the toughest challenge in getting the club ready for its application?
"I think that would be the rush to complete the works on time by the deadline of 31st March. We were on course to do that in March 2020, albeit cutting it fine, and then obviously the lockdown happened and subsequently null and void. Whilst we were as devastated as many other clubs at the time, especially as it looked like we were likely to win the WCL Div 1 Title last season, it did give us time and the opportunity to take stock, evaluate and give ourselves a bit of a breather in order to go again the following year, which is what we have been able to do. Jim and I have been involved in numerous meetings, conversations, dialogue etc with various third parties in order to get permission for certain improvements at the ground and necessary work completed, so that has been extremely time consuming, but fundamental to our plans."
"Another tough challenge was obviously the FA Re Structure itself. There were so many well run and successful Step 7 clubs across the country who had applied to gain promotion to the Non League Pyramid, that the limited places available became a bit of a lottery in some respect, so it was tough needing to spend all the money in order to do all the necessary ground works etc, in order to gain the grading required, and yet not know whether all that effort, financial outlay and energy had been worthwhile and successful. So the time it took from completing the required works, to meeting the NWCFL grading committee, to then waiting for the FA announcement was tough to sit through. As it turned out even the Step 7 situation changed over the period of the Covid Pandemic and our application was even more complicated as we were invited to Back-fill a space in the league by the FA. A complicated process but we had plenty of support along the way."
Did you have a full understanding of the club and it's ambitions when you got on board?
"Yes, I initially met with Jim Stanway and we discussed the aims and possibilities for the club moving forward. I realised what a brilliant opportunity this was and how much potential there was for the club to grow and develop, so I was on board with it straight away.
Like many folk, I also watched South Liverpool play at Holly Park in the old Northern Premier League days, however, I also realised that again probably like many folk, if you weren't in that specific South Liverpool bubble, you may have thought the club were no longer playing. One of the first things I did was to overhaul the social media platforms to increase awareness of South, and when we put out a tweet 2 years ago stating our intention to apply for Step 6 football, we got so many replies from folk saying how great that was to hear, and lots asking 'where do you play'? , 'are you still going'? etc.... That specific tweet was also seen over 128K times too, so clearly there was a real interest and an appetite for the club, therefore, it was vitally important to let folk know, 'listen, we're still here, we didn't go away', and to engage with local businesses and the local community in order to promote South Liverpool FC, enable folk to know what we're about, what are intentions are and to let then realise we're here, on their doorstep. A club for them to be involved with and to join us in this new chapter of our journey."
"On personal level, I've enjoyed everything about it since my first meeting with Jim! This club has such a rich history and there's no reason why moving forward, South Liverpool FC can't become a very successful semi professional club for the community in an area that has waited far too long for this level of football to return."
What has been the reception like for the clubs return since it was announced? It seems social media went haywire when the clubs back-filling of a vacancy in the division was announced?
"Haywire doesn't even come close to describe the level of response to the news! My phone was literally in meltdown.... From the 3pm announcement until quarter past midnight, I was glued to my phone dealing with all the various responses on our social media platforms, as well as emails pinging away! It's been superb! The tweet I put out confirming our return to the Non League Pyramid has been seen approx 137K times!! For a club playing at Step 7, that is just an absolutely phenomenal reach!!"
"There were so many replies of congratulations and well wishes, lots of fans who used to go to watch South play at Holly Park... Some even saying they never thought they'd see the club return to the Non League Pyramid in their lifetime! When you get responses like that, you realise just how much this means to people and how massive this news was for our club! I believe it's important to acknowledge and reply back to folk who take the time to message you, so my fingers were completely numb come midnight! The locals have waited a very long time to have semi professional football back in the South Liverpool area, so we hope that all this support and interest sees old and new supporters alike coming to Jericho Lane on a Saturday afternoon and get behind the club!"
Are the club ready on and off the park?
"Yes! We've planned for this for the last 2 seasons, and having worked so hard to finally get back into the Pyramid, we are now ready and eager to make the step up. We have a great Manager in Martin Ryman, and he's someone who knows how to get the best out of players and how to integrate new players into the existing squad etc. We have a committee that are united in moving the club forward, we're in a good financial position and we have a great facility at Jericho Lane. We've tested ourselves against a few NWCFL in pre season last year and more than held our own, so in all fronts, I think we can compete and show that we're ready to make the step up to counties football."
Are you into it???
"You bet I am! I'm chomping at the bit to get going. There's so many great well run clubs in the NWCFL, and a number of new ones have joined since I was last doing the rounds..... Having been on the League Committee, I know just what a professional, well run league it is.... and for all the hard work, both on and off the pitch to have paid off, and for South Liverpool to take their place back in the pyramid after 30 years is just absolutely fantastic! So many folk are getting more disillusioned with Premier League football, that they don't realise what beauty and enjoyment there is in the Non League / Grassroots game. I'd advise anyone to go along to their local club and offer your support.... Clubs are crying out for volunteers and you will be amazed at how quickly you become attached and feel a part of things, and that's exactly what clubs need. So yes, I'm into it! I can't wait!"
Many thanks to Gary and to Billy for their time and we wish South Liverpool FC the best of luck for the new season.
We will be interviewing all of the clubs that are new to the league over the coming weeks to get a similar insight as teams prepare for what we hope will be an amazing season.