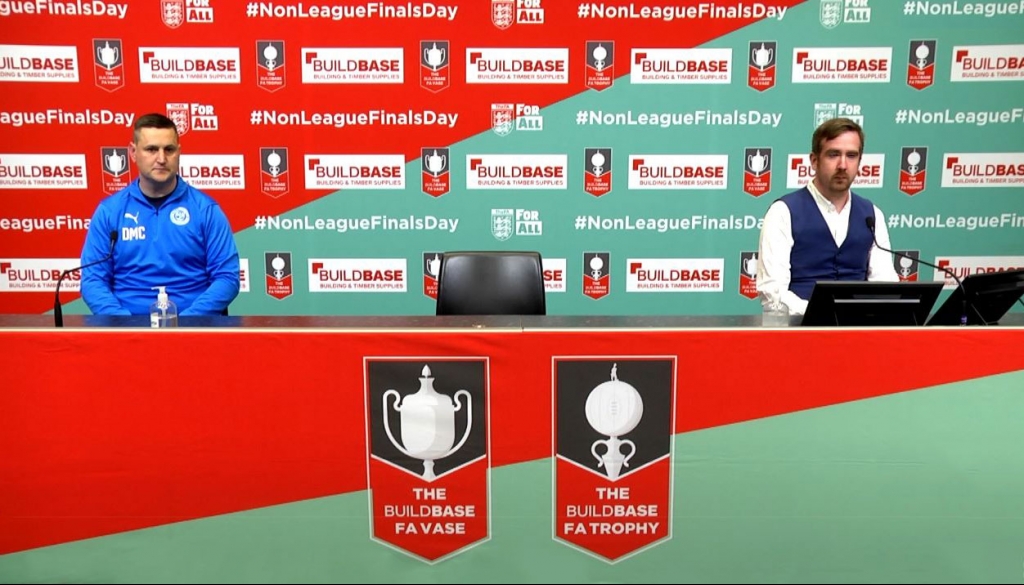 Manager McNabb Speaks After FA Vase Win
Tue 25th May 2021 | Buildbase FA Vase
By Martin Fallon
DAVE McNabb told the post match Press Conference that his Warrington Rylands team's achievement of lifting the FA Vase is "nothing short of sensational."
He also hailed Elliott Nevitt, the man of the match and Rylands hat-trick hero who became the first player to net a treble in the Final since 1979, saying he wa a fantastic player who was a big part of the dressing room.
We take a look at what Dave said at the post match press conference that is reproduced on the league's YouTube channel with kind permission from the Football Association.
SUMMING UP HIS FEELINGS
"It's really difficult to sum up at the minute as I think it's so raw, but I've got so much pride in the club, from the top, the committee all the way through the volunteers and especially the players.
"What that group of players and what they have achieved today is nothing short of sensational. You seen how close that group was in the last 10 minutes of that game, putting their bodies on the line, throwing themselves in front of everything, winning headers when they knew they were going to get hurt. Honestly what a group."
ON THE CALMNESS SHOWED BY HIS PLAYERS
"I think its been a common theme in a few of the bigger games this season where we started a bit slowly, but I think that comes back to the fact that it's a young and inexperienced squad. But they grew into the game from about 10, 15 minutes in and I thought we started to play the ball and move it around a little bit faster.
"Obviously we got the goal and they equalised and fortunately we sort of hit them straight away and got the lead back. Second half I thought we were really good when we came out, we got the third goal and I thought we probably could have had another one. And then of course Binfield scrored a great goal - to be fair to them they haven't stopped - and that's left a nervy last 10 or 15 minutes."
ON GOING STRAIGHT BACK IN FRONT AND MCCALL'S SAVE AT 3-1
"It's that never say die attitude. When you concede a goal, your heart sinks but the lads didn't let it affect them. They've gone straight up the other end and it's a great run by Charlie, it's a clear penalty and Elliott has put it away.
"As for the save, well that's what Podge does. What a goalkeeper he is and he's a fantastic lad as well.
ON STE MILNE DRAGGING BINFIELD ALL OVER WEMBLEY AND CREATING SPACE FOR ELLIOTT NEVITT
"That's what we were trying to work on with the front three. I thought we did force it at times a little early, and we could have kept it a bit longer across the back to wait for a better opportunity but they work really, really hard first and foremost and then the runs and the movement off the ball, not forgetting the quality they had in possession as well.
ON WHAT SATURDAY NIGHT HAS IN STORE
"I think we'll probably have a shandy or two back at the hotel."
ON THE IMPACT ELLIOTT NEVITT HAS HAD
"He's a fantastic player. He's had some week, we've had some week anyway, but he's squashed the Sunday national cup in the middle of that as well (Nevitt hit the winner in the FA Sunday Cup with Liverpool side Campfield FC last Sunday afternoon at St George's Park).
"He's a great kid, really quiet and down-to-earth and he's a massive part of the dressing room. As a player, I think he's got so many raw attributes. He's still got a few things he needs to work on, but what a player he is, and he's so intelligent too. He deserves what he does today."
ON LETTING HIS NEVITT AND OTHER PLAYERS PLAY ON A SUNDAY
"What we have said to the players is that we won't try and stop anyone from playing football. Ultimately we have just come out of a 12 month pandemic so if Elliott wants to play on a Sunday then that's completely his choice, he goes with our blessing. Obviously if he would have taken a knock on Sunday, then that's why we have got a squad like we have got.
"Look Elliott along with other players, they play on Sunday's and if that's what they want to carry on doing then that's what they will do. But when he is with us he gives 110% every single time, and he's capable of performances like that today.
ON COMPLETING A SORT OF DOUBLE WITH A MOVE TO STEP 4
"It's been something that's been talked about and obviously we were invited to make the application as part of the restructure. It was always potentially going to happen anyway but then when it does happen and you get that seal of approval, then it's a massive achievement again.
"It's really strange because that (promotion) was the one thing we really wanted to achieve this season but because of the preparations for the Vase, it's almost got pushed to one side. So today is going to be a massive celebration because we've achieved two fantastic things this season.
"Never in our wildest dreams did we think we'd be sat here at Wembley being promoted and having our hands on the Vase."
ON HOW FAR THE CLUB CAN GO NOW
"Obviously the club is ambitious and we do want to keep pushing up but for what we have achieved so far, next season, Step 4, the Northern Premier League, it is the toughest challenge we have had to date, there is no question about that.
"There's some massive football clubs in there with a massive amount of history in Non-League. We are fairly new, in terms of playing in the Non-League System, so we are going to go there and give it our all. We are massively excited about it as well."
ON GETTING OUT EARLY AND PUSHING THE TEMPO
"In terms of getting out early, we were meant to be out 30 minutes before kick off but the Stadium had asked maybe we could go a little bit early as it gives that little bit of a turnaround when you come in. So we went out when we were advised to do so.
"The lads were eager to get out there though and I think sometimes you can overcomplicate things by giving them too much information, too many messages. We did all that last night back at the hotel, and the lads were just desperate to get out and get on that pitch.
ON RUNNING OUT IN FRONT OF FANS AND LOVED ONES
"I think that's the bit that is the hardest to put into words. The support that all those players get, from friends and family, from the club and the fans, is second to none.
"The support I get personally from my other half Rebecca and from my daughter Daisy – the sacrifices they make with me going to games on a Tuesday night and being on the phone to players all the time, I can't thank them enough.
"We've sold the best part of 1,500 tickets for today's game, with four or five days notice before people have to start making their way down here. "People have been up at five in the morning to get here. Honestly, I can't thank each and every one of them enough."
ON HIS EMOTIONS AT THE FULL TIME WHISTLE
"Funnily enough I didn't actually hear the full time whistle go. I was actually listening out for it for what felt like an eternity but I didn't actually hear it go. I just seen people running around and I thought 'what's going on' - it actually took a few seconds to click.
"When it did click, the emotions were just too much."
ON FA VASE OPPONENTS BINFIELD
"They are a fantastic side. I spoke to a couple of players and the manager at the end. Really, really good side, It was two good sides trying to play football in the right way.
"And not just on the pitch either. They've shown a massive amount of class both before and after the game. Very respectful before the game, like ourselves, and after the game, a touch of class. The whole team stayed, watched us lift the Vase and shook each one of our hands.
"That goes above and beyond what you expect. They are bitterly disappointed but I really do wish them well, and good luck for next season."