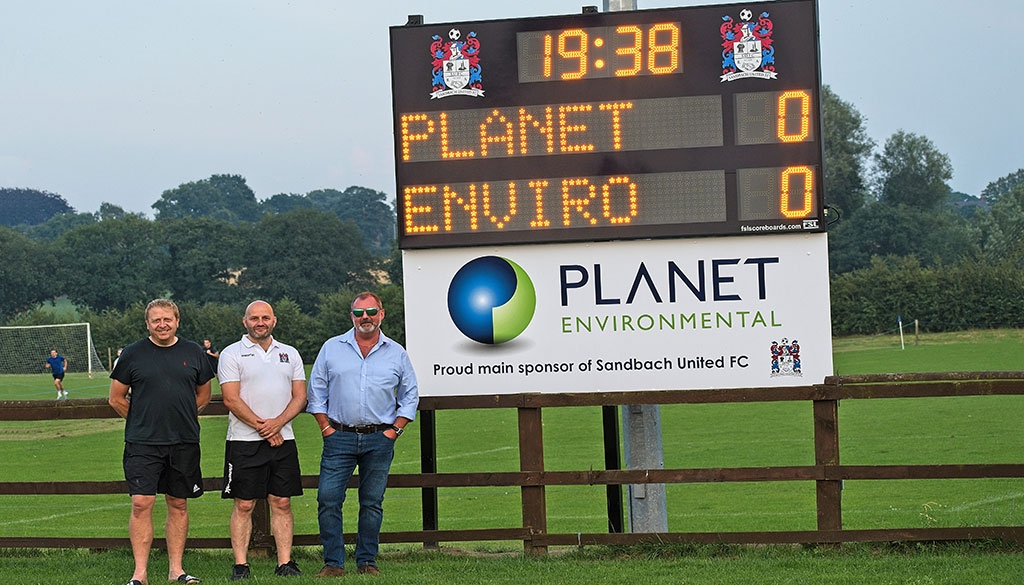 Sandbach United Continue Long-Term Commercial Partnership
Sat 15th August 2020 | Sandbach United
By Gary Langley
Sandbach United have this week announced an extension to a long-term commercial partnership with local Waste Management and Environmental Solutions business, Planet Environmental. The football club and the Company have been commercial partners since 2012 and Sandbach were delighted to announce an extension to that, stating:
"A wave of change has swept through Sandbach United over the lockdown period. People who visit us this season and have been before will be sure to spot the differences as soon as they arrive both visually and in the attitude of the club towards progression.
A key factor in this forward momentum of the team over the last 9 years has come from local Sandbach based business Planet Environmental who are experts in waste management and environmental solutions. www.planetenvironmental.co.uk be sure to check them out for your business needs.
People will have noticed that we have kept the same main sponsor on the front of our playing strip since entering the NWCFL in the 2016/17 and the keen eyed Cheshire based teams will recall the business having sponsored us for 4 years prior to that as well, in fact it is safe to say without the support of this incredibly supportive and community focused sponsor we simply would not have had the resource and backing to enter the league in the first place. The new sponsorship deal will help to ensure a good level of football is present in the town"
Club Secretary, Mike Senior adds.....
"I am pleased to announce that after some very constructive negotiations we have agreed a new four year significant sponsorship deal with Planet Environmental which will see them as our shirt sponsor until the conclusion of the 2023/24 Season. In addition the company sponsors the team tracksuit, supporter shirt and provides us with a rather special technical upgrade in the form of an LED scoreboard which is impressive at this level of football. The team will look smart and uniformed and this will help to provide the mind set to progress as a team on and off the pitch, lots of things are starting to fall in place now.
Sponsorship at local level is paramount to the survival of teams at our level, and as a market town and demographic we are not blessed with a great amount of resource to pursue for sponsorship, so having this kind of working partnership, in fact friendship as well with Planet Environmental and its owner Wayne Burton is a dream come true for a step 6 club. We can't thank Wayne enough for his input and partnership it is simply astonishing what he has done for us and we would love to repay him with a successful season"
Planet Environmental can be found at www.planetenvironmental.co.uk or contacted by phone on 01270 750461 or email sales@planetenvironmental.co.uk