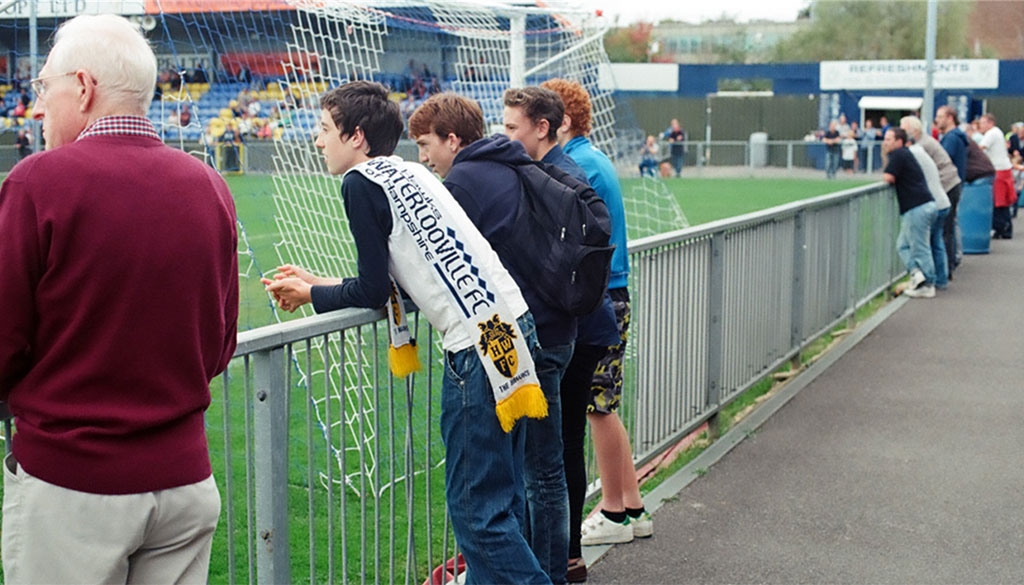 National League System Covid-19 Scenario Planning
Fri 19th June 2020 | Announcements
By Martin Fallon
Earlier today, the Football Association's National League System held their latest Step 5 & 6 Meeting conference where Covid-19 Scenario Planning was discussed.
The meeting opened with some remarks from Mark Frost, Chair of the Leagues Committee, who emphasised that we are in total unchartered times and as such we have no precedence as to how we should deal with the circumstances that we find ourselves in.
The FA Leagues Committee, at their meeting held earlier this week have confirmed that the decision previously made by FA Council, that there will be NO promotions or relegations between Steps 3 and 7. In fact to clarify, the only movement of clubs within the steps permissible for the 2020-2021 season will be as follows:-
To receive at steps 5 and or 6 any Step 4 or Step 3 Clubs that have sought voluntary relegation. In addition, such clubs will not be replaced at Step 4 via any promotion from Step 5.
As per FA Regulations, the FALC will consider applications from any New Clubs for allocation at Step 6 – at present the North West Counties League are the only League to have made such an application – being for AFC Bury and FC Isle of Man – both applications currently sit before the FALC.
Lateral Movement will be considered within a step – but only where such is appropriate – ie that Clubs are swapping Leagues, with the agreement of the two clubs and their Leagues, or that the FALC feel that lateral movement is imperative for this season to assist with the allocations, this will only be considered in a scenario of real need, as major lateral movements will take place at the end of this season in the planned but now delayed restructure
It was also pointed out that the FA are facing a £300 million shortfall in its income over the next 4 years, and yesterday announced a package of cuts that form the revised National Game Budget for the next four years. This affects the Non-League game as follows.
The National Game have been given a £22 Million cut in its budget allocation and all areas of the National Game have been cut. This is a cut amounting to 38% of its allocation.
One direct cut affecting Steps 1 to 7 with immediate effect is that there will no longer be any League Development Grant funding. However, the League Admin Funding remains unchanged.
FA Cup Prize money reverts back to the levels as they were two years ago. Thus down from £3,984,000 to £1,992,000 for those rounds that affect Steps 3, 4, 5 & 6 – ie up until 1st Round proper.
FA Vase and Trophy will see a 6% cut, being £10,000 from each prize fund. This is to be used to allow the FA Sunday Cup to continue.
There then followed a presentation where Covid-19 Scenario Planning was discussed. Contrary to what is publshed elsewhere on socal media, a September start for the resumption of football has not been agreed. It is simply too early to say given current guidelines.
There is currently only two Government 'sport' strategies, these being the 'Return to Elite Sport Framework' and the 'National Sport and Recreation Policy'. The NLS sits between these two levels but may not receive specific Government guidance. The Department for Digital, Culture, Media & Sport are fully aware of the NLS, and there has been continuous dialogue from initiation of Lock Down to discussions on resumption.
From the FA's perspective, they have considered a variety of potential scenarios. The principles to this planning are that they must consider starting at any point from the usual start of the season to the extreme (ie. Jan 21). They are planning to achieve as full a season as is possible and they want to achieve as much inclusion in FA Competitions as possible. If a full season isn't possible, then consistent alternatives are key.
Alongside this, they understand that clubs in the NLS cannot resume their Season 'behind closed doors', that Clubs need bars and food outlets and may want flexibility, that we all need to be mindful of the impact on Volunteers on managing 'a COVID-19 environment, and that players and officials may have other commitments post lock down.
Mapping of potential fixture programmes & key assumptions
Commence in August – this would equate to a usual season
Commence in September – it would appear that Steps 1 to 6 could complete a full season (particularly if consideration to County and League Cups are revised for a year)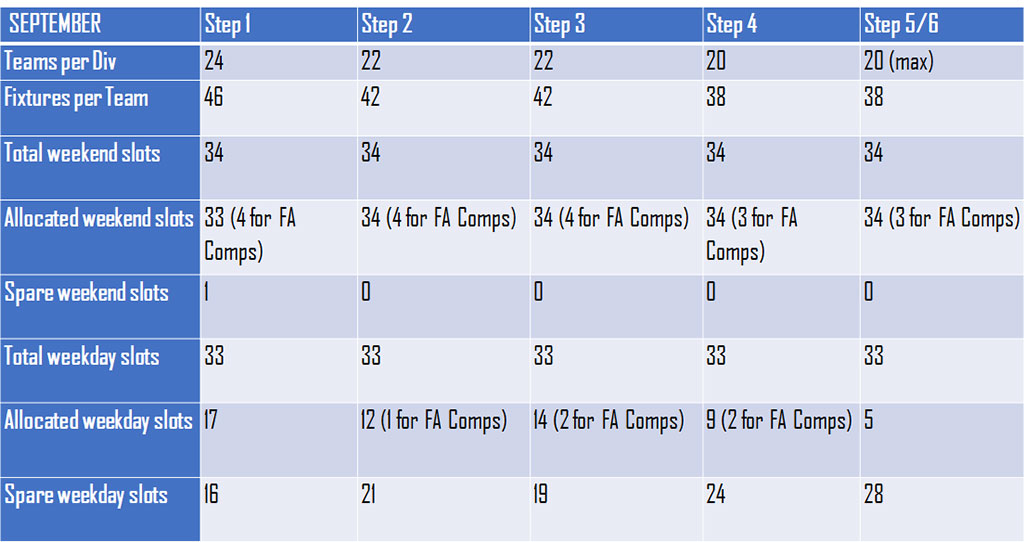 Commence in October – if the start date was in the first half of October Step 1 could just about complete a full season, although an extension into May could be required. Steps 2 to 6 (particularly Steps 4-6) appear to be able to complete. Clearly this is more difficult in the higher echelons due to the team count per division.
Commence in November – whilst there are enough physical dates in the calendar, this would appear to be unsuitable due to the lack of fall-back dates and tight schedule (i.e.lack of breaks for players).
Commence Post-November - There are a number of options available for a post November start which would see reducing the number of games within a season to attempt to complete on time. These include play the league by half, playing home or away once instead of twice, split the league into two geographical divisions, split the divisions based on a 'draw'.
Geographical divisions provide simple solution supports travel for clubs, but could inadvertently provide varied divisional strengths in certain geographical areas, despite being the same Step level. Playing home or away once provides potential sporting integrity issues, and dividing the divisions by draw provides a solution to negate human process of dividing leagues. To draw divisions may provide unnecessary travel at this time. Some clubs may be more adversely affected by travel.
Regarding FA Competitions, the FA knows the importance of FA Competitions to Clubs in the NLS.
FA Cup: Must remember Competition Contractual obligations, and this income is vital to FA investment into the game. 1st Round must be played by the first/second Saturday in November and 3rd Round must start on time. This does inevitably cause an impact.
FA Vase: Working to include as many clubs as possible and less impacted, but a Wembley final is constrained by EURO 2021.
Other Options
The FA have an agreement where is appears that playing behind closed doors is not viable. Consideration could be given to 'streaming' but costs could be prohibitive, especially at Steps 5 & 6.
Could there be an ability for restricted capacity or restricted crowds – the DCMS are leading ths. How could this be managed, advance tickets, season tickets etc. Could the NLS run at (for example) 30% of Ground Grading capacity?
Other condsiderations are in regards to Sporting Integrity. Need to ensure consideration given to how Clubs interact with the new era of Football. If regional splits, ensure Promotion & Relegaton is 'normalised'.
There also could be local Lock Down / Second Spike Considerations. There may be local issues i.e. South West, if possible, fall into League specific planning. If local lock downs, could we consider League splits on Geography. Need to consider a pre determined policy if we achieve 25% 50% 75% of season – this is currently in planning.
Club Guidance on being Covid-19 Ready
The FA are aware they need to assist clubs on preparing for a return. As stated, the previous statement is that we only have 'Elite' and 'Recreational' Government guidance, neither is 'wholly' applicable to NLS Clubs. Also the Government guidance is not 'granular' – equally, granular guidance to Clubs would not work as no one club is the same,
Guidance is to give 'direction' to Clubs of what and how they should consider how to modify their club accordingly.
Each Clubs MUST undertake a Risk Assessment and/or Action Plan on how it has modified and considered the implications of COVID-19 on their club. The Club MUST publish this on their Club Website (Gov Guidance) to give reassurance to other Clubs that they have made their Club 'safe'. Clubs should notify the League that they have published their Guidance to ensure Members have complied.
Regarding timescales, Grassroots guidance has been released via TheFA.com, and this covers actual current Government guidance which will support initial thoughts. NLS club guidance will go beyond specific Government Sport guidance i.e. balancing what we learn from the Elite guidance. This needs cross departmental approval – Medical, Legal, DCMS etc, and the FA are aiming to get to clubs to start preparing for potential new season by end of June 2020.
From a financial perspective, the FA knows how impactful this has been on Finances. They undertook a large scale piece of work to understand 'no games' impact with Government Support and Sport England. The FA is continuing to explore ways to support Clubs.
The most delicate time for a club will be when they return from COVID-19 'hibernation'. There may also be a lack of income from remaining matches, a lack of summer activity and an increased cost to modify their grounds.