As you will all be well aware, we are nearing the business end of the season and with that a lot of speculation as to where Clubs will be placed for the 2020-21 season.
At the outset, it is important to understand that we cannot possibly know the final outcomes until the final ball of the season is kicked but what The FA are committing is that they will provide as much information as practicably possible in order to best prepare Clubs for the 2020-21 season.
To that end, they have conducted a mapping exercise (and will do so again in April) – this mapping exercise creates a simulated version of Club allocations at Steps 5 and 6 and is calculated using the following conditions:
The tables as they were at 31 December 2019.

The Clubs are then ranked on their points per match average – this avoids the situation of a false simulation for those Clubs that are catching up on fixtures due to cup runs or postponements

The promotion and relegation Regulations were applied

o Note: the simulation has assumed that the winners of the seven Step 4/5 Play-Offs will be the Step 5 Clubs. This decision was taken on the basis that it would create the most movement and would be a 'worst' case scenario in terms of changes to League boundaries

The divisions are then arranged into groups of 20 at Step 5 and 18-20 at Step 6. It is the aim of The FA's Leagues Committee to create divisions of 20 at Step 6, where possible. However, in geographical instances, some divisions may operate with 18 or 19 for the first season.

As mentioned above, The FA will be performing the simulation again during March for circulation in April. This will no doubt provide The FA's Leagues Committee (and in turn Leagues and Clubs) with a greater understanding of where the boundaries may lie. When circulating the mapping in April, Clubs who could be at risk of lateral movement will be given a notification to that effect. But, once again, they stress that the final outcomes will not be known until the end of the season.
STEP 5
The originally predicted boundaries are the shaded polygons, with the simulated Club allocations being highlighted with a marker in the corresponding colour to the polygon (the same principle applies to Step 6, although the polygons are transparent, not shaded).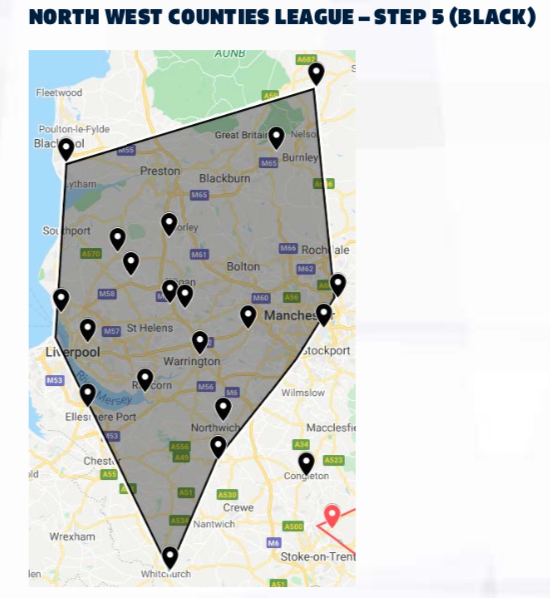 STEP 6
At Step 6 the landscape is more challenging in so much that we do not know at this stage which Clubs will be promoted from Step 7. The following maps are drawn from existng clubs who are already playing in the National League System at Step 6 or above.