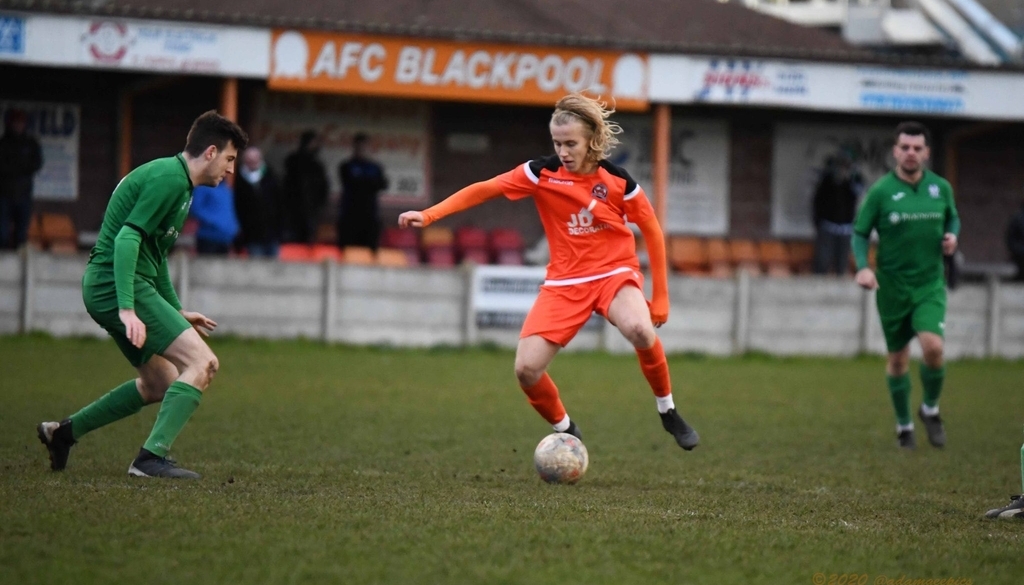 McCaragher jets off back to Sweden to continue professional career
Fri 14th February 2020 | AFC Blackpool
By Craig Kendall
It is not every day that a professional footballer plays in the NWCFL, but for AFC Blackpool, they have been lucky enough to have had Ytterhogdals IK's Greg McCaragher on their books - signing for Martin Baird's side at the beginning of December.
The 18-year-old from Lancaster spent his youth with Burnley FC's Academy before being offered a two-year scholarship with Fleetwood Town. At the end of his scholarship Greg was given the opportunity via the LFEs Player Placement programme and with the help of Ian Flannery (Football Development Agency) to play in Sweden for the last 3 months of the 2019 Swedish season with Ytterhogdals IK.
The team went on to finish second in Norrland Div 2 (4th tier of Swedish football) qualifying for the end of season Play-offs to Division 1, which they narrowly missed out on. They also won the 2019 DM Cup Final 2-0 and Greg scored the second goal in the final.
"At the end of the season I was offered a full-time professional contract for the 2020 season", Greg explained. "And I will be flying out for pre-season in the next week. Ytterhogdal is a small village in northern Sweden, about 5 hours drive north of Stockholm.
"We have a playing squad of around 18-20 players, the majority of whom are full time and live in Ytterhogdal, in the clubs apartments. Whilst back in England I have been playing and training with AFC Blackpool, which has been a great learning experience, everyone there has been great with me, and welcomed me from day one. Bairdy's got a very good squad together so hopefully, they'll finish the season strongly.
"It's my first taste of mens football in the UK and the league has some very talented players. The style of play is quite different in Sweden to what I've experienced in the North West Counties, over there the play is very technically based and there's more of a patient build up to the final third.
"I'm very excited about the upcoming season, Sweden is a great place to be and I'm looking forward to continuing my development and making the most of this great opportunity, before returning the to UK at the end of October and continuing in full-time football."
AFC Blackpool manager Martin Baird only had positive words about the youngster and spoke about how the deal came about, "We were contacted from Ian at FDA to see if it would work for both parties and we are really glad he did. He is perfect to manage doesn't miss a session or game and wants to learn all the time.
"I'm delighted we crossed paths, would love to get the opportunity again someday you never know but for now we wish him every success in Sweden.
"He came into the club just before the December if I remember rightly and got on really well with the lads from day one which tells you what a brilliant lad he is. Technically Greg gave us more of an edge in games due to the pockets he could drift into.
"I can't speak highly enough of Greg and Ian from FDA on how well this has worked and we have no doubt Greg will do really well in Sweden and thank him for being part of the family at Mechs."
Manager of Ytterhogdals IK Tony McNally, originally from Glasgow, is a vastly experienced coach, working his way up to the first-team coach with Annan Athletic then Dumbarton before heading to Sweden, and is pleased to welcome Greg back after a successful time with AFC Blackpool.
"Greg and his agent spoke with the previous manager to arrange for him to keep playing in the close season and they got him the opportunity to play at NWCFL First Division North side AFC Blackpool.
"Greg is fantastic player to work with, very easy lad to get along with and is very coachable, he is open to learning and works extremely hard, he's got great qualities to be a top player and needs to be exposed to first-team environments and playing regular which I am sure he will get out in Sweden."
Greg played ten times during his two-month spell at Jepson Way, scoring once and gaining two man of the matches in that time.
The main photograph is by @adamgeepics.