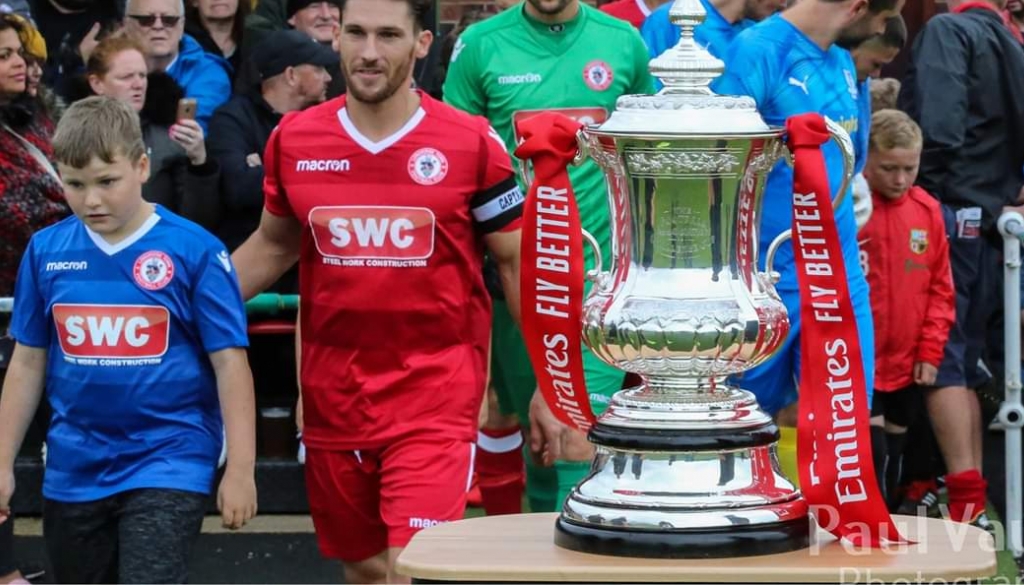 TROPHY ARTICLE SERIES: The Emirates FA Cup
Wed 8th January 2020 | General
By Craig Kendall
As we reach the final article in this series we arrive at the one trophy which has never been won by an NWCFL member club and probably never will. A bold statement perhaps but one touched with realism although it is quite possible that at some time in the future the FA Cup could be won by a former NWCFL club - Fleetwood Town, Salford City, AFC Fylde anyone???
It's a well-known joke that followers of football at the very highest level believe that the FA Cup starts in January. We, of course, know different in that it is not unknown for an FA Cup tie to be the first competitive match of the season for those clubs which enter at the very beginning of the competition in August.
And, as with many things over time, attitudes change. It is often said and frequently seen, that top-level professional clubs take the opportunity to field their lesser-known talents in the FA Cup whilst preserving their star players for the Premier Division Championship challenge. Many commentators call this disrespectful to the competition and a competition with a 148-year history at that. No such attitude amongst NWCFL sides of course for several reasons but the opportunity to win a couple of rounds and get a good draw against, possibly, former Football League opposition, think Irlam v. York City this season, for example, means a high level of commitment and, if successful, a good few quid in the coffers.
Having said all of this, it remains the case that an NWCFL side has not won the FA Cup so we have no past glories to write about. No story to tell then? Not really, as we have this final opportunity to tell the history of a trophy and what a history it is too!
The original trophy – known as the "little tin idol" was made by silversmiths Martin, Hall & Co of Sheffield in 1871 and cost the princely sum of £20. This trophy lasted until 1895 at which time it was stolen from the window of a shop in Birmingham whilst under the care of the current holders Aston Villa. Much later there was a claim that the stolen trophy had been melted down to make forged half-crowns but this was never substantiated.
Having been "lost" whilst under their care, Aston Villa were obliged to fund a replacement trophy which they duly did. This replica trophy remained in use until 1910 and was presented to FA President Lord (Arthur) Kinnaird. This trophy was put up for auction by the family of Lord Kinnaird in 2005 and realised a sale price of £420.000 when the hammer went down in favour of Mr David Gold. Mr Gold is well known in football – and other spheres – as the current co-Chair of West Ham United having previously held a similar position at Birmingham City. This trophy was the one presented to the Royal Engineers after they overcame Wanderers in a repeat of the original 1872 final played at Kennington Oval in 2012.
The current design dates back to 1911 when, having realised that they did not hold the design copyright for the original FA Cup Trophy, the FA commissioned Fattorini & Sons of Bradford to supply a new design which is instantly recognisable as the design we see today. Maybe it was meant to be but the first winners of this new trophy made in Bradford were Bradford City.
This trophy had a great history in use serving for 80 years until the FA considered that it was getting a little fragile. Accordingly, a replica was commissioned in 1992 from Toye, Kenning and Spencer – a historic silversmith company based in the Jewellery quarter of Birmingham. A copy was also commissioned to act as a back-up trophy in case of loss or damage – if this sounds a bit unlikely we need to think about the history here!
The 1992 trophy had a disappointingly short lifetime of a mere 22 years until, again citing fragility, the FA commissioned the latest manifestation in 2013. The chosen manufacturer this time was Thomas Lyte of London.
Throughout this series of articles, we have delighted at the history of most of the manufacturers of football trophies – the majority with histories going back well over 100 years. Thomas Lyte is different in that the company was formed as recently as 2007 and rapidly built a reputation at the luxury end of the precious metal and leather industries operating from premises which have been described by one visitor as reminiscent of what we might imagine a Victorian workshop to have looked like. The company currently hold a Royal Warrant as Goldsmiths and Silversmiths to Her Majesty the Queen.
Recognising previous issues of "fragility", the current trophy, of which three were made concurrently, is somewhat heavier at 6.3 kgs than previous versions – all the better to withstand any heavy knocks.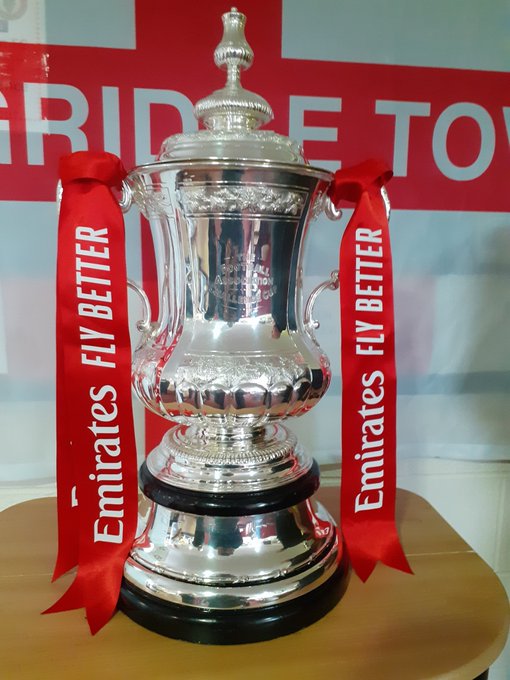 The current trophies spend much of their time out on the road allowing the general public to get up close and personal with one of this country's most iconic sporting trophies. Our photograph this week (shown above) shows one of the 2013 trophies at Longridge Town before the Extra Preliminary Round tie between Longridge Town and Barnoldswick Town played on August 10th 2019.
This article brings us to the end of this series and all that remains is to thank all of the individuals and organisations who have supplied information which has been invaluable in getting down the stories of these trophies and competitions.
Our final thanks go to you – the regular reader of these articles – and we hope that they have provided at least some information and entertainment.