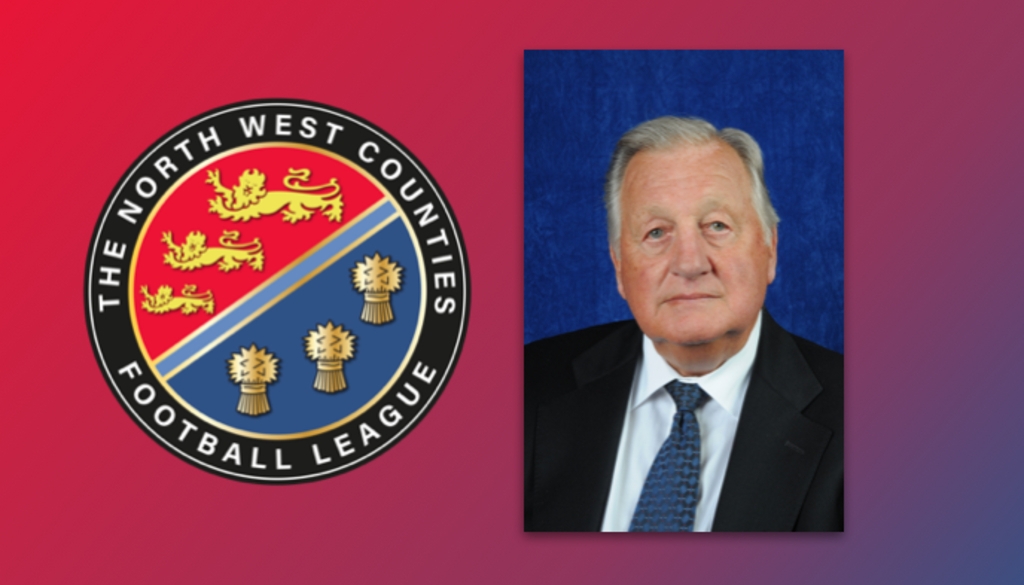 NWCFL deeply saddened as former President Bill King passes away
Wed 20th November 2019 | Announcements
By Craig Kendall
The North West Counties Football League announces with deep regret and sincere sadness, the passing of Bill King, who served our Competition with immense pride for many years as our President and Representative on Cheshire County FA. He first became involved the League as Managing Director of Bass Brewery, setting up the Leagues first major sponsorship in 1986.
Bill had been Chairman of Northwich Victoria FC, Runcorn FC and then afterwards in a similar role with Altrincham FC.

He had worked with the late Jim Thompson of Maidstone United FC to establish the newly formed Football Alliance in 1979, later changing its name to The Football Conference, then the National League as its known today. He was involved in laying the foundations of the Football Conference Ltd as the top echelon of the game below the Football League.

Bill became their Vice-Chairman in 1985 and then assumed the coveted position of Chairman in 1989 when he succeeded Jim Thompson. This role he held for a staggering 17 years becoming known as the 'King of the Conference'. His leadership was instrumental in developing the League from the original 22 Clubs to the current membership of 68. Along the way, he oversaw the rise of the North and South regional leagues and importantly automatic promotion from one club to two clubs. He was a champion of 3 Up and 3 Down.
Bill became President of The North West Counties Football League in 1999, succeeding Eric Hinchliffe, who in turn had succeeded Rev Cannon Reg Smith the Dean of Bury, Vice Chairman of Bury FC and former player of Atherton Collieries.

He supported the League's Management Committee, with his wisdom and astute advice. Due to the onset of ill health, he felt it was the right time to step down as President in 2017.

Besides his undoubted business acumen, management skills and knowledge of football, not only has this been beneficial to past and current member clubs, he also used these qualities to serve the game across a whole spectrum of other roles and would regularly be seen at games across the country, especially in and around his beloved home in Cheshire and nearby North West.

Paul Lawler, Chairman of The North West Counties Football League paid a glowing tribute to Bill. He said: "Bill King was a respected figure wherever he went in the game and he certainly made his presence felt and had a disarming way of securing many things which people in the game now take for granted. Certainly, his advice over many League issues was greatly appreciated. Despite his involvement with The National League, he never let it get in the way of getting involved in our League matters, and was a fantastic supporter for our level of the game, bringing an authoritative voice to the top table when it was needed. My condolences to his wife Jane and all of his friends and family at this difficult time."

John Deal the Secretary of the North West Counties League was deeply moved to hear of Bill's passing and commented "I first meet Bill in 1986 and his advice and vision for the game knew no bounds, he was devoted to The Conference and gaining promotion to The Football League but never let that diminish his alliance to our League, he will be sadly missed".
The North West Counties Football League extends condolences on behalf of all current and past member clubs to his wife Jane and all of his family. When the funeral arrangements are known they will be circulated for publication.