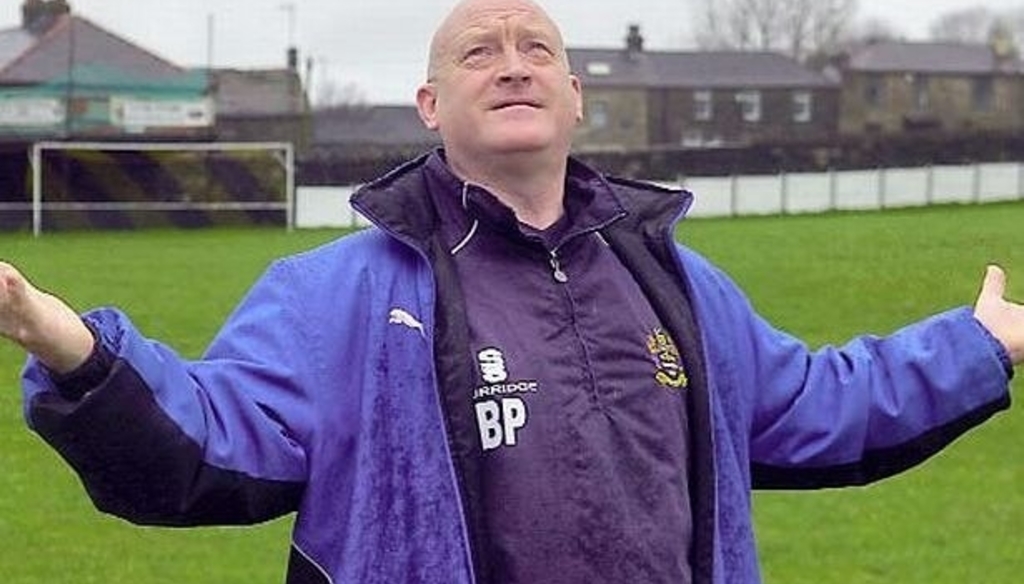 Brent Peters opens up as he racks up 1000 games in charge at Bacup Borough
Thu 14th November 2019 | Bacup Borough
By Craig Kendall
Last week marked a momentous occasion for Bacup Borough and their manager Brent Peters, as he clocked up 1,000 games in charge of the NWCFL First Division North side - an unbelievable feat.
Brent first started at OL13 on 1st September 1997, some 22 years ago when the game and players were a lot different to those of today.
He is known throughout the Non-League seen for his honesty and humble approach to the game as we sat down on a cold and blustery midweek morning and congratulated him on his achievement which puts him as one of the longest-serving current managers in the world, "At the end of the day I don't look at it that way. I came to Bacup Borough twenty-two years ago from Doncaster Rovers, where I was the Assistant Manager to Kerry Dixon."
Brent came in from the EFL two decades ago and spoke about his time there, "It was the first year that the teams who finished at the bottom of the Fourth Division dropped out. We escaped relegation; that was what I was brought in to do. I was brought in to work with Terry when they were already in a bit of a mess but we had to avoid relegation.
"There were a lot of problems at Doncaster, which I soon came to find out. The club then eventually went into administration. Although there was a contract on for me to stay, it started messing about with payments, not just for me but for the majority of staff. I was commuting every day from the Rossendale Valley up to Doncaster. There were only two days I didn't go: Thursday and Sunday. In addition to that, I had a furniture removal and storage business I had to run so it was proving to be a bit of a task and not worth my while, even though it was a bit of a gut wrench to be dropping out of the Football League.
"I was in between jobs and that's when some of the lads who had played for me at previous non-league clubs – like Rossendale United and Glossop North End – were at Bacup at the time and they had no direction. The club full stop had no direction and they were in a state. There were problems with the league where they were being threatened with being thrown out of the league because there were problems with the facilities. They weren't meeting the ground-grading criteria. On the football pitch, Bacup was always one of those teams where, if you were a manager that was ambitious and wanting to go a long way in the game, no disrespect to Bacup but Bacup wasn't one of the clubs you would go to. Bacup never had the tools: I'm talking about the finances. They didn't have the money; it was as simple as that.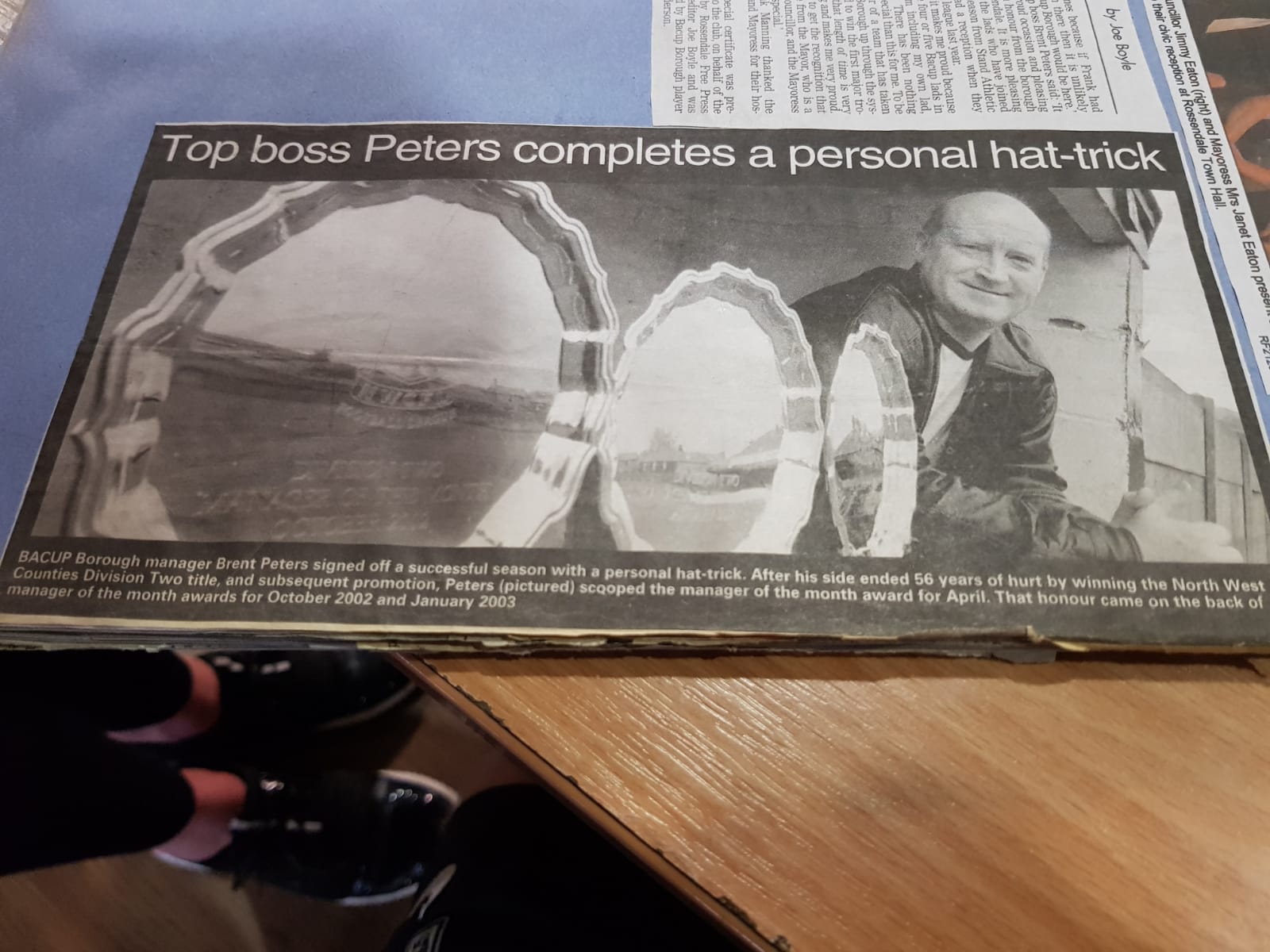 "Any manager coming into Bacup who was ambitious and wanting to kick on in their career, it would have been a thankless task. You'd have taken two steps forward and probably three backwards because they didn't have the infrastructure, the finances or anything. Although the club had a lot of history and it was one of the Rossendale Valley senior clubs, along with Rossendale United, it had nothing going for it. The facilities weren't the best. The pitch, which is on a slope, was like playing on the roof back in the days, it was ridiculous. The floodlights were non-existent; they were terrible. It was just a bit shambolic in every way, shape or form."
Brent took over at the Brian Boys West View Stadium after one of Bacup's heaviest ever league defeats, "They'd just suffered a 10-0 defeat at the hands of Tetley Walker in mid-September. They had no points on the board. They had some very good players here at the time but they were going nowhere and some of the players turned around to the committee and said, "We're not going anywhere. Brent Peters isn't doing anything at the minute. Why do we not get Brent in? He'll stable the ship." The then-Chairman – God rest his soul – Frank Manning and his Co-Director, Graham Schofield said, "No way is Brent Peters going to come here! Not when he's been Football Director at Accrington Stanley, Youth Team Coach at Bury, Assistant Manager at Doncaster Rovers, Manager at Rossendale United… he's not going to come to Bacup!" The lads said, "Just talk to him! You never know because he loves football."
"That's exactly what happened. They came and spoke to me and I said at the time, "I've got a lot of affection for some of the players up there. I don't want to see a club struggle. I'll come in and I can only do my best. Let's see where that takes us. If anything appeals to me, I will be looking for jobs to progress my career."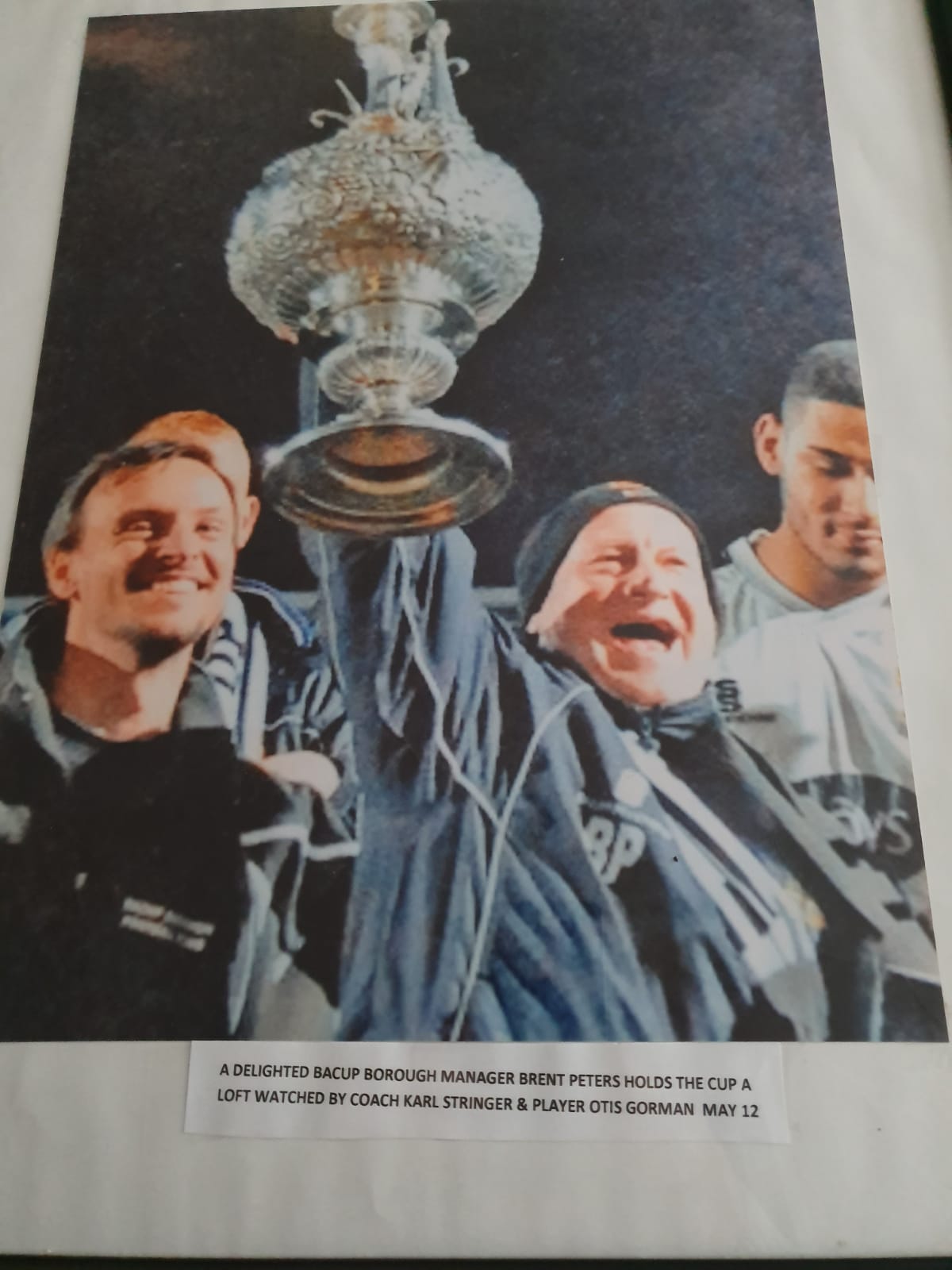 "I came in. The first game I had was a baptism of fire on paper. It was Oldham Town and they were flying at the top of the League at the time but I got them organised, we put in a creditable performance and got a result against them. We didn't beat them; I think we drew with them. From then on, I managed to get them from off the bottom to finish in a creditable mid-table position. Then, I thought I've had enough. I'd come in to do what I did and I was walking away at the end of the season. Frank Manning said to me. "It looks like the end of the club!" and I said, "What do you mean by that?" I wasn't privy to all that goes on behind the scenes. "Nobody's interested in the club. Nobody wants to know. There's only a couple of us. We owe money here; we owe money there." At the end of every season, that's when all the payments have to be in for the next season, to enter into the League, the FA Cup, the FA Vase and all the cup competitions. It's not for me but I'd just sold my furniture removal and storage business so I said, "Whatever happens, I'll make sure that there's a Bacup Borough Football Club. I'll make sure you're in the competitions but, to be honest, I don't want to stay on as Manager." The club had no ambition and it had nothing going for it.
A man of his word, Brent continued, "I stuck to my word and paid some of their debts off but that was the beginning of where I am today. You know what it's like: you make a financial commitment and the rest of it is history. I've been here ever since. The first ten years, up to 2010, was horrendous. A lot of skeletons jumped out of the cupboard and there were a lot of problems. I feel for what's gone on at Bury Football Club in a lot of ways because, unless you're on the inside looking out, the people on the outside looking in won't have a clue. There are a lot of things going on that never come to the table and I didn't have the first clue about a lot of things. I didn't want it to come out into the open because I believe that football's not like any other business: you've got to be as positive as you can. You don't want people out there thinking doom and gloom are going on and the club's on a rocky road. If you can get support coming through the door, that will make things better.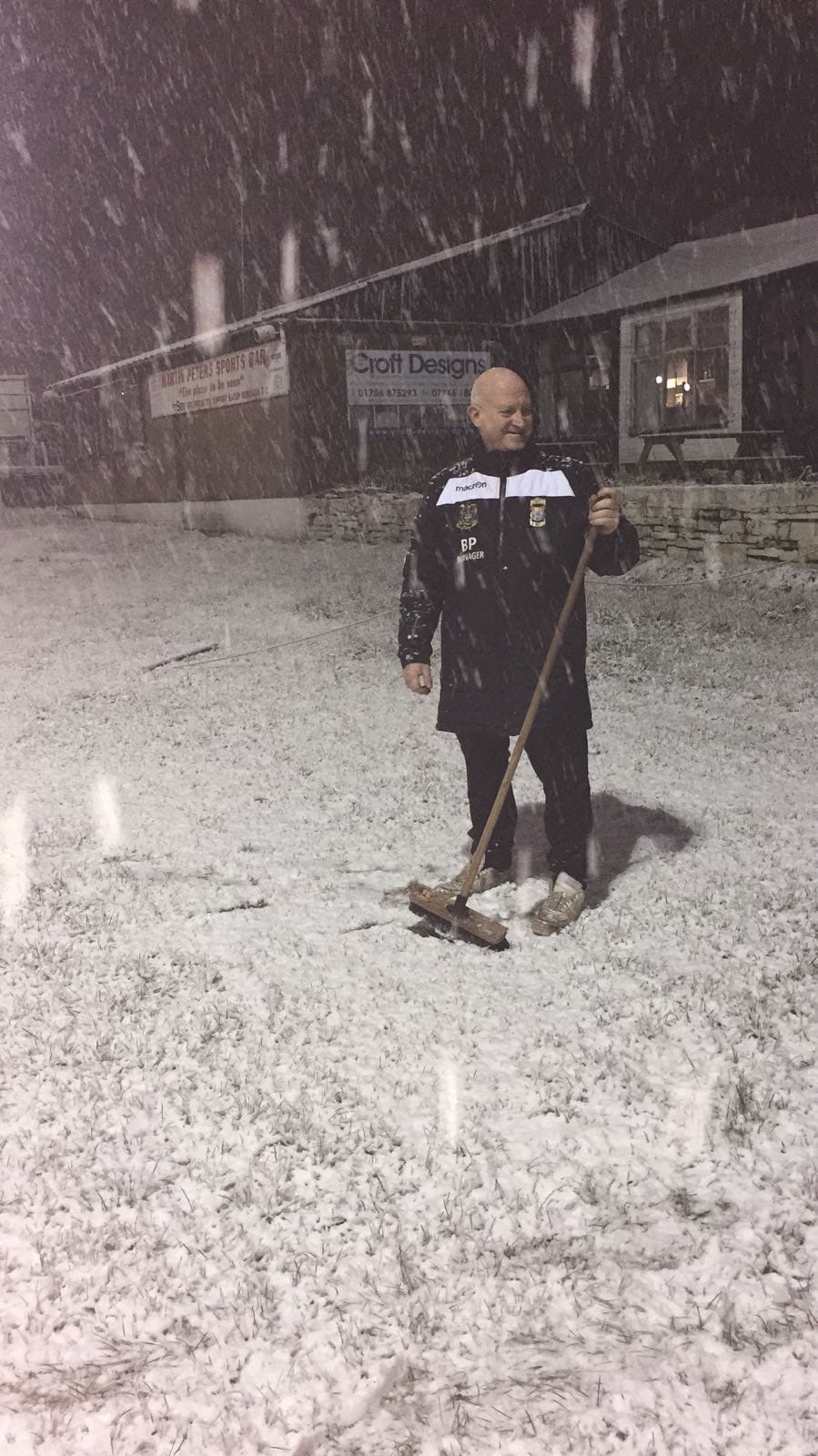 "There were a lot of things coming to the fore that I couldn't even begin to think about. It was creating a lot of problems on the football side but I'm a winner. That's what the late Frank Manning said: "He's a winner. He's not a quitter. If anyone can get this whole mess sorted, it'll be Peter." In that first period, from when I came in in the late 90s up until 2010, it was horrendous. We were successful at that time. I attracted some tasty players, quality players, but a lot of that was down to the fact that I was here. I attracted Ree Anderson, who was starting his football career at Bury and I was his Youth Team Coach. I attracted Ian Hughes, who again was starting his football career at Bury. Ian went on to captain Blackpool when they first got into the first play-off final. I think he scored the goal at Leyton Orient to put them up a division.
"They've always kept tabs on me. I've always kept tabs on them. When it was coming to the end of his career, I tempted Ian, even against Accrington Stanley. He'd done all pre-season at Accrington but they didn't decide on whether the injury on his knee would sustain him at Accrington. I got onto Ian about helping me at Bacup and, thankfully, I got him here. It wasn't about money because we had no money but I sold what we had and he came."
Always philosophical, Brent looks back on what he set out to do in the first place, "I think that people buy into what we're trying to achieve and – I keep saying it – Rome wasn't built in a day. It was a bit naïve on my part when I did come in because I did come from a decent Football League background in terms of coaching and managing. What happened was the press was onto me and I made some quite sincere comments at the time, saying with my contacts in the game and the people and players I know, there was no reason why, within ten years, this club could be knocking on the door of the National League Conference. Little did I know at the time that people still hold me to this day where Bacup are. That was an innocent comment based purely on football but I didn't know the issues that were going on in the background. I hadn't the first clue and, if I'd have known about those issues, I wouldn't have made such a bold statement. Seriously, the problems proved a task but I got on with it, I fought them as much as I could and every week I had to put a team on the park with credibility and try to maintain our position within the North West Counties League."
A look at Bacup's successes under Brent include winning the Second Division title in 02-03, twice winning the Challenge Cup (03-04 and 11-12), and finishing runners up in the play-off final of 2015-16, "Not only did I manage to do that in adversity, but I also managed to get some success. We won a league at that time. We won what is now the Macron Cup. We beat Newcastle who was flying in the League; we put three or four past them in the final. We finished runners up in the Division One Cup against Squires Gate; we narrowly lost that game. Nevertheless, we were always thereabouts when it came to the business end of the season. I was quite pleased with how things were going but I wasn't quite pleased with how things were away from the football pitch.
Then nine years ago Brent got what he had always dreamed of, a secured home, "In 2010, all my hard work came to fruition in terms of where the club could go. It was in 2010, after all the in-fighting I had with the local authority, I managed to secure the club a 75-year lease. In 2010, I sat around the table with the leader of the council, which didn't go too well at the beginning. I didn't get 100% what I wanted for the club and 75 years is a success in my eye.
"That was a time when we could structure the club. We could get more people involved and asked businesses if they'd like to become partners in the club. That's where we are today. We're still building. There aren't enough of us here at Bacup Borough but we have some excellent business partners that have bought into the vision that we've got. We've just got to take each step as it comes. Sometimes we have a lot of setbacks, where you take three giant steps forwards then you take four back.
"In the geographical location where we're based, we're one of the three highest grounds in the country so, when you're talking about bad weather in the Pennines, the storms and the rain, we get it. We took a battering last year. I arrived at the ground one day and the changing room roof was in the middle of the pitch! We took a battering in the past when the stand roof was doing a Mexican wave and the houses behind were frightened to death! Everybody was trying to get hold of me because the stand roof was going to blow. There were cars there, children were there…it was horrendous.
And onto today, "Even this season we've had setbacks because we've had that much water come down the hill. It's absolutely overflowing and where does it come? It comes into our stadium. The thousands of pounds that we've spent every year on the playing surface and facilities! This football pitch gets maintained at the end of every football season. We have the same contractor, Richard Peel Groundcare, who operates on several football league grounds, like Wigan Athletic and Bolton Wanderers. They come onto the pitch as soon as the season finishes. He does a great job but it's not cheap for a non-league club-like Bacup Borough. We spend thousands a year on that, then we get the setback because of where we're located. It breaks the flood defences there, breaching onto our pitch and causing carnage. It's not the easiest place to manage by a long chalk but, twenty-two years on, I'm still here.
With the high's, always comes some lows and in 2014-15 Bacup were relegated back to the NWCFL First Division after a difficult season both on and off the pitch. "It's not only the games and twenty-two years I've had at Bacup, but I've also had a lot more games out there. Going back to the relegation season, I was proud of my CV. Of all the clubs I'd been at, I had never been involved in a relegation. Something happened at Bacup Brough that was happening off the park. We made a bad decision. We took on full-time a Development Manager. The club couldn't have a full-time business. The Manager at the beginning came in and ticked all the boxes and everything said he was ideal for the job. We gave him the backing and, the next thing, certain things started coming to light and he was being naughty. Serious things were happening that we're going to financially cripple the club. I ended up taking my eye off the ball on the football side and the players and coaching staff at the time were just running the football team. I was still there. I was still a part of it but my main concern was to try and save the club because there was a big issue going on. Sadly, when we took the hit, we got relegated and I must admit I had bigger fish.
"It hurt me because I was proud of never having a relegation on my CV. It did hurt – of course, it did – but the most important thing was the club was bigger than anything else. As I said at the time, I am not going to allow the history of such a great little community football club to be in jeopardy for an ego trip from Brent Peters. Yes, I want my CV to look good and I want my kids to be proud of what I achieved in my football career but, when it comes to a situation where the club itself is in jeopardy and the club could go, that still is more important than any success and that's how it remains with me today.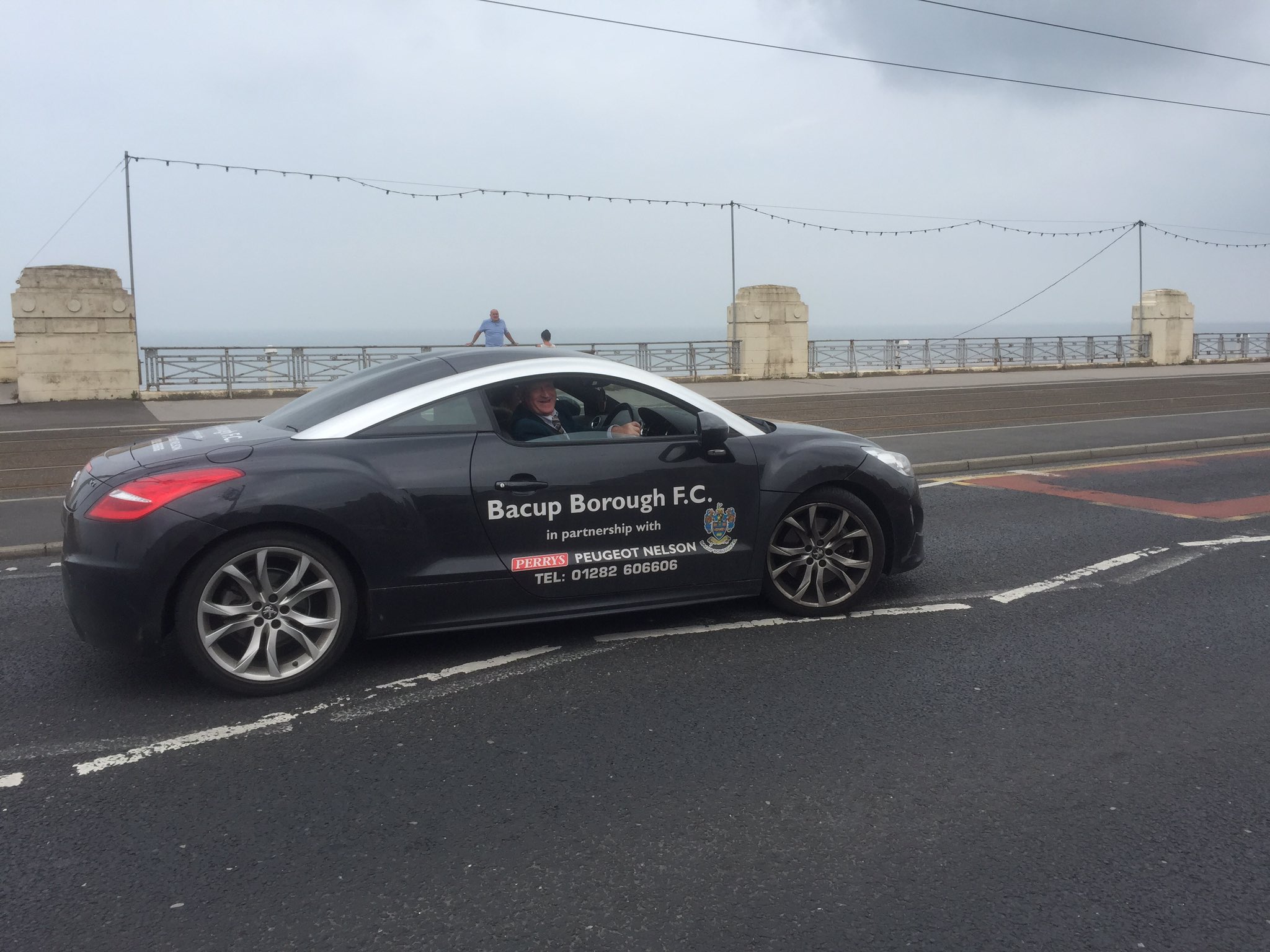 Brent arriving for the 2016 NWCFL AGM in Blackpool.
Currently, lying 16th in the standings, Brent opens up on the reasons behind this, "This is the youngest collective squad in all my football career, not just at Bacup. There are lads in this squad who are seventeen, eighteen years old. The three oldest players in this team are Laquan Esdaille-Biney, who's a vastly experienced non-league player, Matthew Bryan and Peter Monteith. They're the most experienced players. The rest are extremely young lads. Five of them have progressed through our youth structure, which we only started five or six years ago. They've progressed through and they're doing very well.
"This last weekend on TV, the experts in the gantries were talking about young players. They were saying what you get with young players is their consistency levels aren't just there yet but you'll get them. With young players, there are no grey areas so it has been a bit challenging because of that. Going back in my career, Walter Joyce once told me it's either black or it's white. If they're great, they will be fantastic. If they're bad, they will be bad. What I've had this season at Bacup with them is that they've been consistently okay and in some games, they've been really good.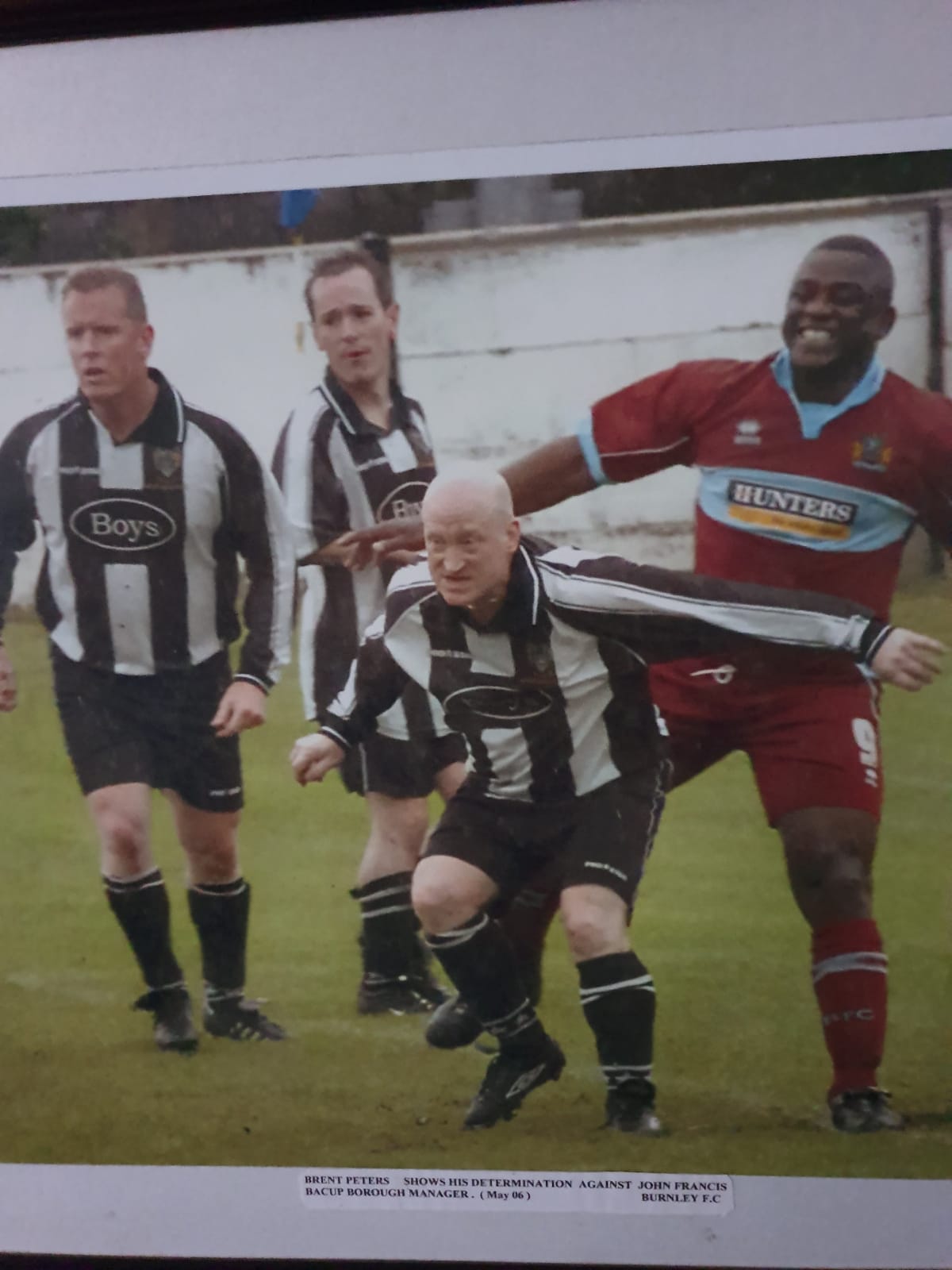 Brent in action in 2006.
"It's decision-making. We've got punished when they make what I consider to be the wrong decision and it's a tough league, the North West Counties. It's a great league but it's a tough League. It's difficult and it's demanding and that is what happens to us. If I went through most of the games we've played and the times we're conceding, we've conceded just bang on half-time. That tells you are they've put a lot in and they're tiring a little bit and they might need a rest. What happens then, you don't think straight. Coming up to full-time, we're usually conceding late in the game and there's a sign there. We've given them a challenge where they've got to get to the forty-five minutes and not be conceding. The next challenge is getting to the next forty-five minutes and not concede. There have been games where they've achieved that but we need to be more consistent in achieving it."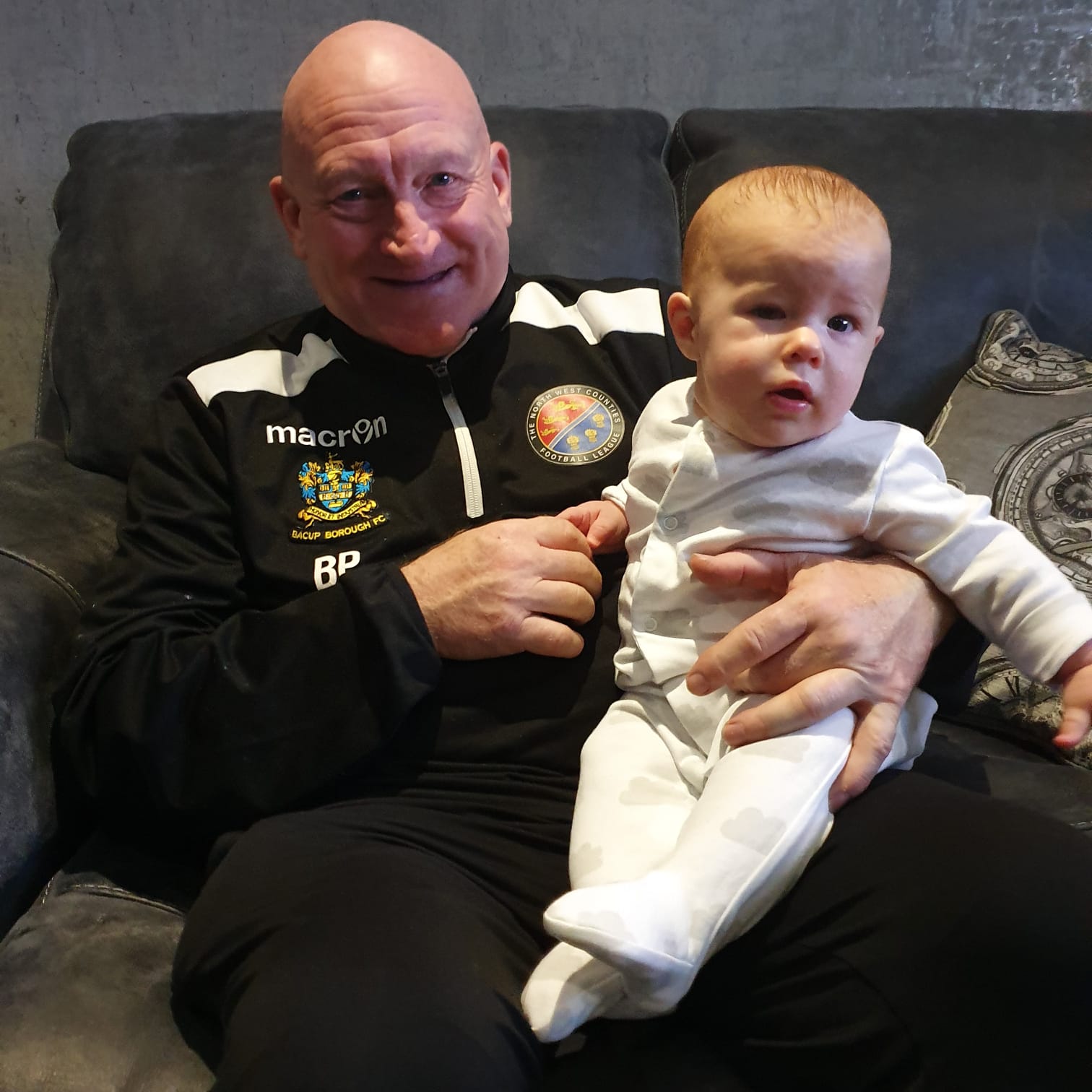 Brent the grandad taking some time out recently.
Brents 1000th game was last Saturday in the Macron Cup Second Round against Abbey Hey and he broke down why his side went down 2-1, "On Saturday in the Cup, against a very good Abbey Hey side, we lost the game and the first goal came from nowhere. I didn't even see it coming. The had been a mix-up. Our goalkeeper had shouted – a bad shout – so our defender had left it but the goalkeeper was never going to get it and the lad's nipped in and scored. We could have had forty-five minutes of absolutely superb quality play but, when somebody makes that decision, that doesn't make Bacup Borough a bad team. That makes Bacup Borough's player making a bad decision, which has cost them a goal. Equally, the second goal right on half-time, we had enough bodies around the ball before the lad scored an opportunist goal. What it seemed to look like to me as nobody wanted to make the decision. An experienced player just puts his head on the ball and puts it out for a corner. Nobody made a decision. While they were thinking about it, their played puts his leg in the middle of them, directs it towards goal and it went in. We're 2-0 down. A guy, a staunch Liverpool supporter, sent me a text after and said to me, "The way that you had your lads playing in the second half, it won't be long before you're playing the way Liverpool play". That was a compliment to me, even though I'm not a Liverpool supporter because we had pace, we had power. In the first ten minutes of the second half, we should have been 4-2 up.
"Going forward, we're out of all the Cups now. I know this League and the Cups can drag you down a little bit. If we can put a run together, which we've done in the past, we could be right up there in the play-off positions. Then we'll see where that takes us. I never look at a League table before January. We're playing non-league football. One week we could have this team out. The next week a team could have this team out because lads are at work or suspended. Things change. The League table will tell me in January where we need – as a club, as a team – to be, what we need to do. When it gets to January, that's when I will be fully focused on a League table. Until then it means nothing."
Brent's 1001st game in charge is on Saturday when they face an away trip to Garstang as he hopes to secure his 347th game as manager of Bacup.
A massive thank you to Brent for taking time out to talk to the NWCFL after a busy week. And a huge thanks to Ellie Dalglish for her excellent transcribing skills and the quick turnaround.