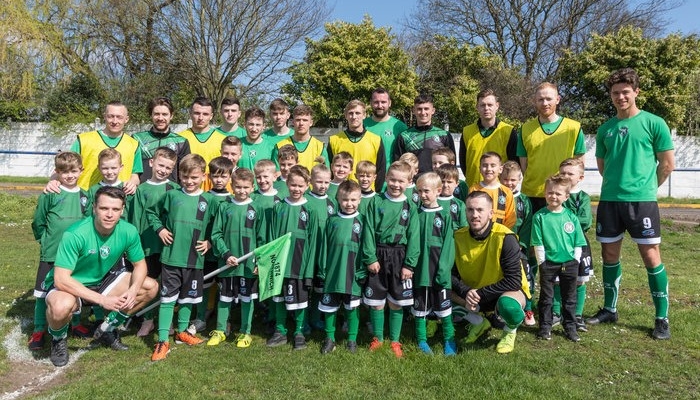 Great effort by 1874 juniors
Tue 9th April 2019 | 1874 Northwich
By Ian Templeman
1874 Northwich's junior players turned out in force at Saturday's Macron Cup tie against Congleton Town.
The reason for their attendance was twofold - to act as mascots for the game and also raise funds for a new defibrillator.
Club Secretary Vicki England explained: "Everyone at 1874 was delighted to have our Junior teams along for the Macron Cup Semi Final second leg.
"They held a bucket collection at half time and also sold some of their Summer Raffle tickets. Thanks to the generosity of both 1874 and Congleton Town supporters, they raised a huge £312.63.
"This was absolutely fantastic and is such a help as they work hard to purchase this very important piece of lifesaving equipment.
"As everyone knows, 1874 is still a young football club. It was always our aim to start a junior section but with so many wonderful junior clubs in the area, we wanted to carefully manage how we did this.
"We started last season by creating an Under 7's and now have U8's and U7's teams. It is hoped that our Little 74 will keep growing in the coming years.
"They are such a joy to have around and we are very proud of them and what they are achieving".
The juniors are pictured below along with members of the first team squad before the game.
Photo courtesy of Ian Dutton.