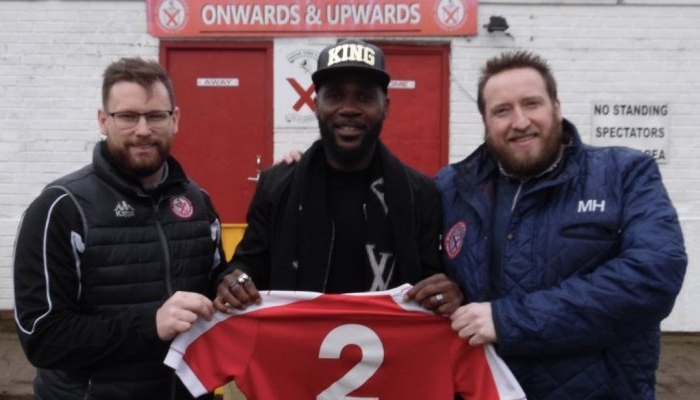 A winning start for Pascal
Sun 27th January 2019 | Ashton Town
By Ian Templeman
Pascal Chimbonda made a winning start to his career at Ashton Town, playing the full 90 minutes in Town's 6-2 win over Bacup Borough at the Ashton Town Stadium.
The much publicised signing of the former Wigan Athletic and Tottenham Hotspur full back, who was also a member of France's 2006 World Cup finals squad, had made national headlines during the week.
The news was covered in the national press, and on radio and television, and Chairman Mark Hayes found he was in demand in the aftermath of the signing being announced
But the former French international said he was happy to respond to Mark's invitation to play for the club, even though he is based up in the North East, and has to travel down for games in the coming weeks.
"He (Mark) said it was for a good cause, and it's football and he is a Wigan fan, so when I can give back I always do", said Pascal.
"When I left Wigan, some people thought I go in a bad way, but I loved my football in Wigan, the fans always supported me when I was there".
Although he is now 39 years old, Pascal says he had no trouble in playing a full 90 minutes, although it had been a couple of months since he last played.
"I have been coaching with kids and sometimes I play football like this to help because I enjoy it", he said.
"I keep fit with coaching, and I played games a few months ago up in the North East, so for me playing 90 minutes is no problem. I am training every day, and when I am doing my coaching I keep myself fit".
As for the game itself, Pascal was more than happy with the way the afternoon's events unfolded, and is looking forward to his next Town game.
"I enjoyed it. It's always good to play. it was a pleasure to come here and play some football with the lads. When you enjoy it you want to stay, and if I wasn't happy I wouldn't stay.
"I am looking forward to the next game. I hope the weather is good and the game doesn't get called off and I can come down and do it again.
"I said I would come here for one month and I will keep my promise".
Meanwhile, Town manager Dave Dempsey says he is enjoying having the talents of a former Premier League star at his disposal, but admits he was a bit taken aback when Mark told him the news last week.
Dave said: "The reaction was excitement and disbelief really, it's something that you wouldn't expect would happen at this football club, but fair play to Mark, he's tried and it's come off.
"I'd like to say I was surprised, but Mark tries so many of the cuff things that one day something was bound to come off.
"I told the players in the changing room when we were all together before the Steeton game last weekend, and I don't think they believed me at first.
"There had been a little bit of noise knocking about and a few rumours, and they knew there was someone coming in but they didn't know who he was.
"When I told them it was Pascal Chimbonda, some of them started to laugh, and to be fair I don't think some of them believed me until he turned up today".
Once Dave knew Pascal was in the ranks for the game, he had a few decisions to make about his team line up.
"I initially had thought to play him at right back because that was where he played before, but he asked if he could play in the middle of the park.
"Obviously he has got such quality, we shuffled a few things about and put him in central midfield.
"As the game went on, with the boggy pitch we moved him to right back and he finished the game there.
"He's agreed initially to play four games for us and three of these are at home and Atherton LR away, and those only clash with one Wigan Athletic home game. So hopefully a few Wigan fans will come down and watch him.
"He's quality, a good addition to the squad and he was passing on a few tips at half time. He's been alongside some top players, in the French squad with the likes of Zidane and Henry, so having him making points is great for us.
"He's a really nice man, he's not got any ego, and you obviously think 'could he have?' because of where he has been and what he has done, but he is really good fella.
"He was chatting to all the lads, talking all through the game, and I loved it at half time with his input, it was really good. It was a really good day, and the lads' efforts overall were good".
Dave is now hoping that the boost of having Pascal in the squad, and the good result against Bacup, will give them a good base to build on for the coming weeks
"We are just over halfway through our season now and we have struggled with consistency in the squad, as we've had lads working and so on.
"But recently we have had the same 16 or 17 players and now with Pascal coming in, it's the perfect time for him to come in.
"Three months ago he would have been playing with different players every week, but now we have a settled squad so when he comes in next time it will be the same lads he is alongside, and it will be great for us to have him in the team".
Pascal is pictured below with Town manger Dave Dempsey and Chairman Mark Hayes with the number two jersey he wore during the game against Bacup.