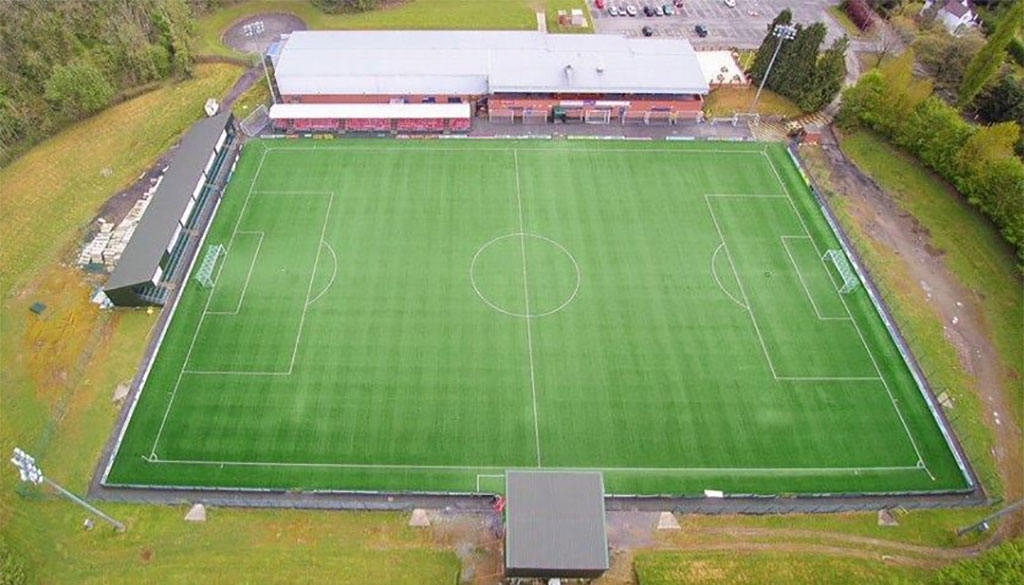 Town looking to the future
Thu 24th January 2019 | FC Oswestry Town
By Ian Templeman
FC Oswestry Town director Matt Williams says that important lessons have been learned from their first two seasons in the league.
Town joined the First Division in the summer of 2016, and have experienced something of a roller coaster ride, with some good results in league and cup competitions mixed in with spells in the lower reaches of the league table.
But while Matt accepts there have been some difficult moments, he also feels the club is now in a position to build on the foundations that have been established.
"I think the first two years have been a very steep learning curve and have been a little unsettled, and that has hampered our progress", Matt admitted.
"We found that in order to be able to compete at this level, you need a fairly settled squad that are committed to the demands of the league, such as the regular training and travelling and the professionalism that is involved at this level of football.
"I feel that this year we have got the right manager in place in Matt Burton, and that has helped steady the ship a bit, and we are making the progress we felt we were capable of making.
"We had problems at the start of the season with international clearance, player eligibility and getting players signed on, all sorts of issues and it was a bit of a nightmare.
"But from October it's been steadily improving, and since the start of December we've had a very settled squad, who are working well together and have bonded well, and I think that is reaping rewards
"We are sitting in a position in the league that pretty well reflects where we are at the club at the moment, and the aim obviously now is to finish as high as we possibly can.
"We think that the stability we have now have built on the playing side will help us move forward".
One change that Matt believes has been a benefit to the club this season is their move to the First Division South, with the club having faced some long away trips in their first two seasons.
"I think it has definitely helped this season that we haven't got such long journeys north of Manchester", he said.
"We have got a pool of players that comes from both Oswestry and the surrounding areas, and the reduction in travelling has made a massive difference.
"That has helped us attract players from the Shrewsbury area for example, and other areas that are still within fairly close distance to Oswestry, and it's allowed us to spread our net a little bit wider because the travelling isn't as far.
"It's helped us attract players that had previously been playing in the West Midlands, and has given us a great scope for recruitment. It's been a huge advantage to us.
"Even with the matches on the Wirral and in the Stoke area, there are not great distances to travel and we can get to the majority of our matches within an hour, which has been great".
Form wise, a six match unbeaten run was ended by a last gasp goal at Maine Road last Saturday that delivered the first defeat of 2019, but Matt is confident that the squad can pick up its winning habits quickly.
He said: "We have played a very difficult run of away matches in December and managed to win all of those.
"What we have got to do now is make sure that we continue that form, and climb as high up the table as we can before the end of the season.
"We feel that we have a pretty solid squad that can hold their own at this standard of football, and it's about fine tuning that and adding a little bit more quality".
Looking further ahead, Matt is upbeat about the prospects for the club, and is convinced that they can continue the progress they have made so far.
"We are not looking for promotion this season, it's about building for next season, and giving it a real go from the start", he said.
"It's harder this season than before, with just the one guaranteed promotion place to get out of the league.
"But we feel that what we have built this season, there's no reason why we shouldn't be somewhere near the top end of the league pushing to move up, having built a team to compete at the next level.
"We have seen this season an increase in our support as our results are starting to improve, and we are working on the premise that if we can get crowds up to 100 on a regular basis, that will allow us to push on.
"We have the facilities and the capability to host a good crowd and are working hard to get the people of Oswestry to get behind us as their local football club, alongside TNS as the professional club.
"We are both on the same page and are both trying to get people down to watch football.
"The fact there are local derbies have definitely added a bit of spice and some local interest this season. We have had two, and have another two to look forward to.
"With St Martins, and Ellesmere Rangers within a short distance, it brings a little bit more interest and competition in league games, which is something that we have enjoyed.
"It's a gradual process and there's no reason why we can't continue to increase attendances".
But there is one other ambition that Matt has for the club, which has so far not been achieved.
"We always said when we founded the club that our first goal was to get ourselves into a nationally recognised league, and playing at a good standard of football", he said.
"But after that, it was to bring FA Cup football to Oswestry, that was one of our major targets.
"The old club had a great tradition in the competition and if we could bring that back it would attract a lot of the old Oswestry Town supporters, and that would give us a real boost in support and attendances.
"I'm not sure how high up the league we'd have to finish in order to qualify, but that is one of our goals - to achieve a position in the league that would allow us to enter and play in the FA Cup.
"Being able to look forward to FA Cup football would be really exciting, and it would be great to be playing FA Cup football again in Oswestry".