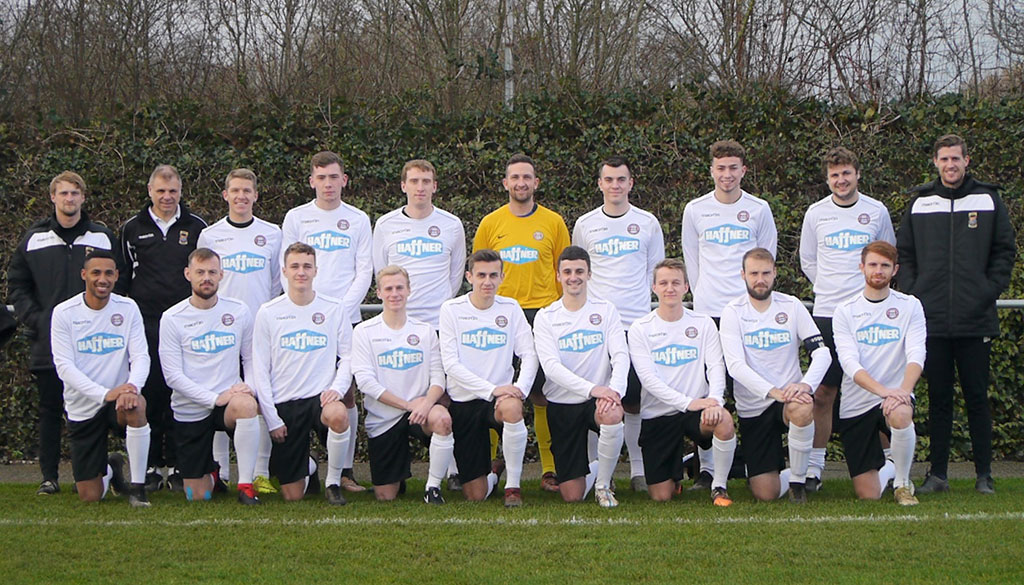 A good move for Stone Old Alleynians
Wed 23rd January 2019 | Stone Old Alleynians
By Ian Templeman
Stone Old Alleynians Life President Dave Mardling believes that the club's decision to move into our league has proved to be a good one.
The club made the move laterally from the neighbouring Step 6 League, the West Midlands Regional League Premier Division, in the summer, and Dave says he is enjoying the new league and the way the team has risen to a new challenge.
"We are doing better than we thought we would", said Dave. "We thought we would maybe be mid-table at this stage, but at the moment we have exceeded our expectations.
"We won the December Club of the Month awards, we have two players who are first and third in the goalscoring charts, and also one at the top of the man of the match table.
" We have been playing well recently, and scoring lots of goals, and it's as good a time as any I can remember at the club, although we did win plenty of trophies in the 1970's It's certainly very different to when I started, when we were just playing in local leagues".
The decision to make the move has therefore paid off well, although Dave admits that the main driver behind the decision was to try and cut down on the travelling they were facing in the West Midlands Regional League.
"Travel was the main reason we wanted to join", he said.
"We didn't want to come in when you just had the one division, because obviously we have Eccleshall just up the road and we saw how far they were having to go, up to the likes of Carlisle and Barrow-in- Furness.
"But once this league went to north and south, the furthest we have to go is up the Wirral or the south side of Manchester, which is not too bad.
"Before, although most of the clubs we played were in the West Midlands to be fair, we had three clubs down towards Hereford and Malvern, and the travelling to some of them was a near 200 mile round trip.
"Now I think our furthest round trip is probably not much more than 100-110 miles, something like that.
"It's funny though, we used to head south on the M6 for most of the journeys in the West Midlands League, and they were doing a lot of road works down there, and they've just about finished it.
"Now we have moved leagues, we are going north up the M6, and of course we've got all the road works there now".
Roadworks apart, Dave says there have been many reasons why the move has worked well for the club.
"One thing we do like about the league is that we have more local derbies.
"Last season our nearest club to us was in Wolverhampton, but now we have Eccleshall - we got our best crowd against them of 226 - and there's Abbey Hulton and Stone Dominoes of course, who we share the ground with, although we haven't played them yet.
"Generally the grounds are better too, especially for me, I am disabled and have to use a wheelchair, or a scooter if I can, and I have found that the facilities for me are better at the vast majority of the clubs than they were in the West Midlands.

"Most places have had disabled toilets, and I can get up and walk about with a frame, but some places were a bit challenging in the West Midlands League.
"As far as standard of play goes, I don't think there is a lot of difference to be honest. Sandbach United are the team I've been most impressed with, but all the games have been tough.
"We went away to Ellesmere Rangers who are down near the bottom and we drew with them twice, and in the cup game lost on penalties.
"That's what you want, everybody giving you a good game".
Dave has been with the club continuously since 1963, just one year after it was formed - "I joined as a player in 1963, and missed the first season as I had just signed for someone else" - and although he has enjoyed the season so far, he admits that he is very much looking forward to one upcoming game in particular.
"We have a big game coming up in the Staffordshire Senior Cup on 5th February, when we play Stoke City's Under 23 side, so we are hoping for a big gate then", he said.
"We have never been drawn against them before, and we are hoping that will help to get people down and see us.
"We only get an average of about 40-50 at the moment, and obviously a lot of other clubs in this league are getting over 100, so hopefully that will be a game that will help to raise the profile of the club.
"I'm not saying we are going to win it, but in the first two rounds we have defeated clubs from higher leagues, one of them being Hanley Town from the Premier Division, and the other was Sporting Khalsa who are in the Midland Premier Division.
"We are keeping our fingers crossed for the weather really. We have advertised it well, a lot of flyers have gone out and we have been in touch with all the local media people, so hopefully it will all go well.
"To have the local football team that I help to run, playing the team that I have supported all my life is just such a great thing for me".