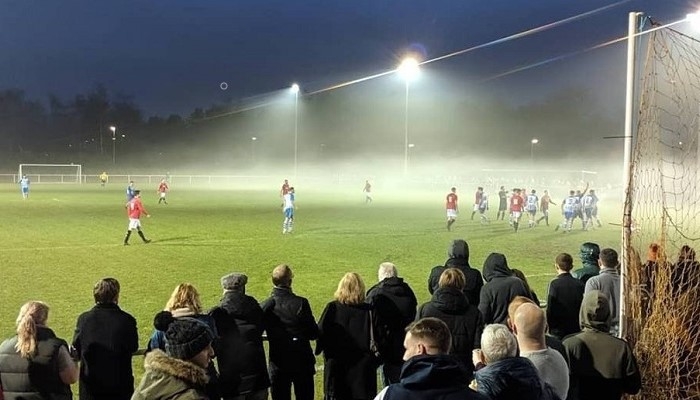 Record crowd watches the Wythenshawe derby clash
Thu 27th December 2018 | Wythenshawe Amateurs
By Ian Templeman
The first ever Wythenshawe derby in the Hallmark Security League proved to be a popular Boxing Day event for football fans in the area.
A club record crowd of 583 turned up at Hollyhedge Park to watch hosts Wythenshawe Amateurs defeat local rivals Wythenshawe Town 1-0, proving that there is certainly an appetite for local football in the town.
Wythenshawe Amateurs Secretary John Cotton said that they had had an inkling that there would be a good crowd for the game, and had prepared accordingly.
"When the fixtures came out in the summer, we were delighted to be hosts to the Wythenshawe Derby on Boxing Day", said John.
"Boxing Day has always been a traditional date for good crowds with many derbies, and we had an idea, or more realistically hoped, it would be a record crowd. The official gate was recorded as 583, but I was then told that over 20 more people arrived later.
"We are very fortunate to have an abundance of volunteers, and we were very well organised. We were comfortable with operating the turnstiles and car park, and the crowds started to arrive around 1 pm.
"We always have a rush from 2.30, and a queue developed outside, but our efficient operators made sure they didn't wait long. Some spectators arrived shortly after kick off and it reminded me of years gone by, when people would walk from their homes to their local club and watch a match.
"Bar staff and volunteers got to the ground around 11 am in order for this occasion to be a success, with some giving up their Manchester United tickets to be here.
"We had a marquee put up, and our Vice Chairman, Carl Barratt served drinks, therefore missing the match, and he then became the DJ for the after match and evening entertainment".
As for the match itself, the icing in the cake for the hosts was to emerge with a 1-0 win that moved them to the top of the First Division South.
"The match itself was a good typical local derby, end to end, and played in a great atmosphere", said John.
"The only goal was a controversial one after 12 minutes, when a corner from Jordan Burton reached Joel Aikenhead whose header appeared to go over the line but Town cleared the ball.
"The referee, who had a great game, consulted his assistant and the goal was allowed.
"Mist started to descend but not near enough to affect the game, and Town had their moments, coming on strong near the end.
"Wythenshawe has a population of over 100,000 and has been crying out for a semi-professional team for many years then like buses, two come along at once, Amateurs and Town.
"From our side, we believe we can take this club further and satisfy what Wythenshawe needs in terms of high level quality football, higher in the pyramid.
"We are a Community club and we are determined to deliver, and this game proved that the local community are increasingly showing their support".
The photo below shows the mist descending over Hollyhedge Park in the second half of the game.