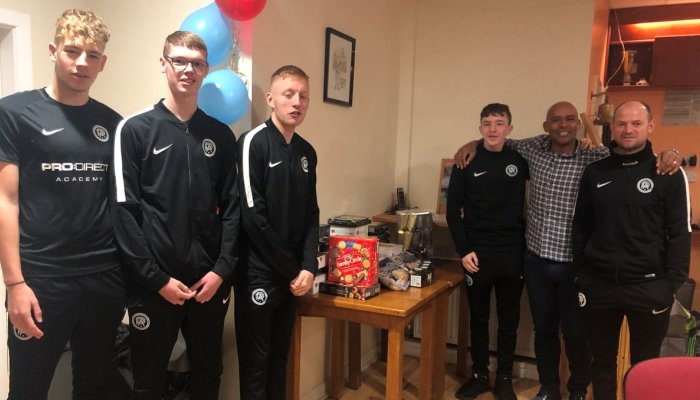 Christmas Day party at AFC Blackpool
Wed 19th December 2018 | AFC Blackpool
By Ian Templeman
The club house at AFC Blackpool will be alive with the sound of party celebrations on Christmas Day, when the club hosts a Christmas dinner for local senior citizens.
The event has been organised by staff and coaches from the club's junior section, and the intention is to deliver some Christmas cheer to people who might have otherwise been alone on Christmas Day
Kallan Green, one of the junior coaches involved in organising the event, explained how it all came about.
"The idea came from the junior committee, and we are always trying to come up with ideas for fundraising, community events and things like that", said Kallan.
"We thought that as the club house was going to be empty over the Christmas period, there's elderly people on their own at Christmas, so why don't we organise something for them.
"So we began publicising the event on social media, the Gazette (Blackpool's local paper) did a piece for us, and then people like district nurses have found out and have contacted us, and it has all gone from there.
"It's the first year that we have done it and I've been absolutely blown away by the donations that people have given and the stuff they have sent, for example, someone is dropping three turkeys off on Christmas Eve.
"The whole community has rallied round the whole idea".
The event also received backing and donations from friends of the club at Pro Direct Academy Lancashire, which offers school leavers a football education under the guidance of Jamie Milligan and the former Blackpool, QPR and England international Trevor Sinclair.
"We've got good ties with Jamie Milligan and Trevor Sinclair, they come down to our club anyway, and Trevor's son used to play for us", said Kallan.
"They wanted to get involved and teach the lads they have on their courses that sometimes at this time of year, it's not just about giving and receiving, it's about those that haven't got".
With the donations flowing in, plans are now in place for an afternoon of entertainment for all those who attend, and Kallan says plenty of volunteers have come forward to offer help on the day.
"Junior committee members will be there on the day, and we have got volunteers coming in too.
"Members of the public have contacted us to say that they can't stay all day, but would be able to help in giving lifts to people.
"We have got about 25 people coming to the club house for dinner and we will be picking up people from around two o'clock and bringing them down. We will watch the Queen's speech and then serve dinner.
"After that we will play some games, some bingo and the Scrabble board will be out. There will be a bit of music on in the back ground and those that are able to have a drink can have one, as the bar will be open.
"Then everyone will be going home between about five and six o'clock.
"We hope that other teams local to us will pick up on the idea, and if they see that we are doing this sort of thing, hopefully it might spur them to do something too, and it might have a positive knock on effect.
"There's 25 coming this year, and no doubt if we do it next year, it will be even bigger. I don't see why it shouldn't become an annual event".
Jamie Milligan, Trevor Sinclair and students from the Pro Direct Academy Lancashire are pictured below, dropping in their donations at the club.