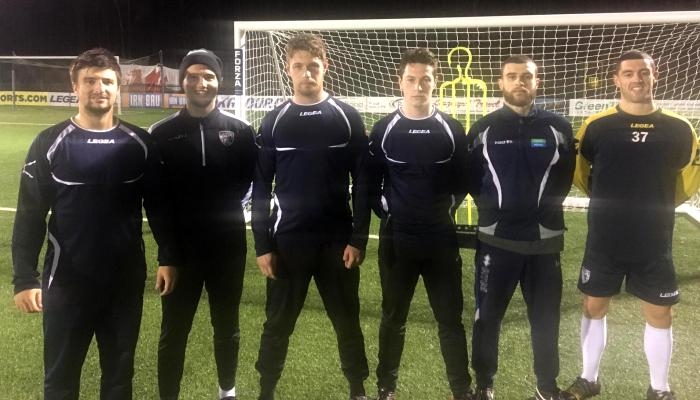 Brothers to the 'four' at FC Oswestry Town
Wed 12th December 2018 | FC Oswestry Town
By Ian Templeman
There's a family flavour to the FC Oswestry Town squad this season, with no fewer than four sets of brothers enjoying first team action so far.
Matthew and Sean Jones, Edward and Louis Moss, and James and Michael O'Reilly have all been in the starting line up together in recent Town games, most recently at Sandbach United in Town's 3-1 on 1st December.
The brotherly theme in the squad is completed by twin brothers Adam and Oliver Hailes, who have both made first team appearances this season.
Town director Matt Williams gave a run down on how the brotherly element in the squad has built up.
"Sean Jones joined us this season, and has links to the area having played with The New Saints in the past, and his brother Matthew has been with us for the last three seasons since we joined the league.
"James and Michael O'Reilly are local boys from Oswestry who have been playing at Chasetown until recently, and joined us in September. They have played at a good standard, and have also played for Market Drayton Town and Newtown too.
"Edward and Louis Moss both came to us halfway through last season around January. Louis is a Barbados international who went to Australia to play but picked up an injury there.
"He came back to us this season and has been building up his match fitness, so he hasn't added to his international appearances recently".
As the brothers all gradually began arriving at the club at different times, Matt admits it wasn't until a few weeks ago that he realised that there was such a family theme in the first team.
"They have all played together in the starting line up on numerous occasions now this season, and it's funny really, I didn't really think about it being unique to begin with", he said.
"But now, we have been wondering at the club if this has ever happened in the North West Counties before now.
"I'd think it must be pretty unlikely. One or two sets of brothers maybe, but to have six brothers in your starting eleven I'd think must be very rare, if it's ever happened at all.
"They are all good squad members, they don't particularly stick together, they all just mix in with the other lads, and it obviously helps with a bit of cohesion in the team when you have three brothers in there.
"We must also remember that we also have the twins, Adam and Oliver Hailes, who haven't been regulars, but have played for us several times this season, so we have actually had four sets of brothers play in the first team since August.
"Ideally what we need to do now is get a game where we get Adam and Oliver in the team, alongside the others - it really would take some beating to have four sets of brothers in the starting eleven".
Let's put this out there - can anyone ever remember four sets of brothers playing in the first team for a club in our league in the same season?
If you think it's happened before, e-mail ian.templeman@nwcfl.com with the details.
Pictured below left to right are:
Ed and Louis Moss, James and Mike O'Reilly, Matt and Sean Jones.