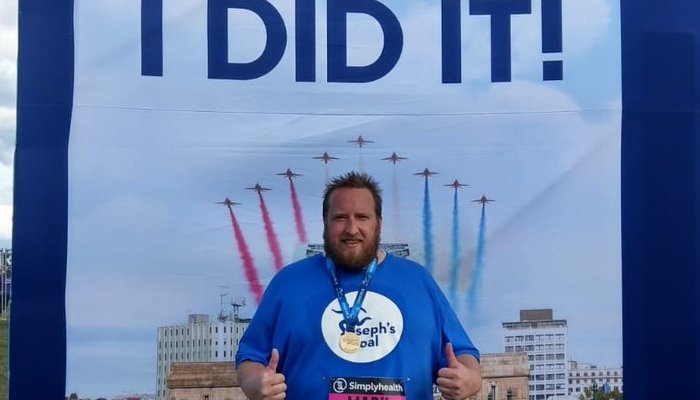 Great North Run success for Mark
Wed 12th September 2018 | Ashton Town
By Ian Templeman
Ashton Town Chairman Mark Hayes is recovering after completing the Great North Run on Sunday, to raise funds for the Joseph's Goal charity.

Joseph's Goal is a Wigan-based charity, set up in October 2012 by Paul and Emma Kendrick, which aims to raise funds for research into NKH (Nonketotic Hyperglycinemia), the life-limiting genetic condition that their son, Joseph, was born with. NKH is caused by an excess of glycine on the brain.

Mark took part in the run along with other volunteers from the charity, and although by his own admission he found it tough going, he managed to make it to the finishing line, and his final finishing position was 42,022 out of 57,000.

"I am far from designed to run but I could not resist the challenge for Joseph's Goal, Ashton Town's chosen charity, and one I am a trustee for", said Mark.

"I have helped raise loads of money for charity, however I haven't personally challenged myself and so I chose to test myself and enter the run along with several other Joseph's Goal supporters.

"Unfortunately I didnt manage to fit in any training which could have been costly, but I have a great mind over matter mindset.
"My only training came last week when I went to Ashton Town in the dark on my own so nobody could see me and I ran, walked, ran, walked around the pitch 5 times just so I knew I had some form of capability.

"Doing the Great North Run is such a wonderful experience, however at just 2 miles in, I did actually think that it was beyond me to complete it.

"I started at the back so psychologically it would give me the incentive to carry on by aiming to the next person and over taking them and so on.

"I hit the pain barrier many times but the whole day and the atmosphere somehow gets you through it.

"I raised £625 and as a group it currently stands at £5242. However, the donations page is remaining open until 23rd October 2018 and any further donations for this fantastic cause would be more than welcome".

Mark is pictured below at the finishing line. Donations to the fund can be made by clicking here