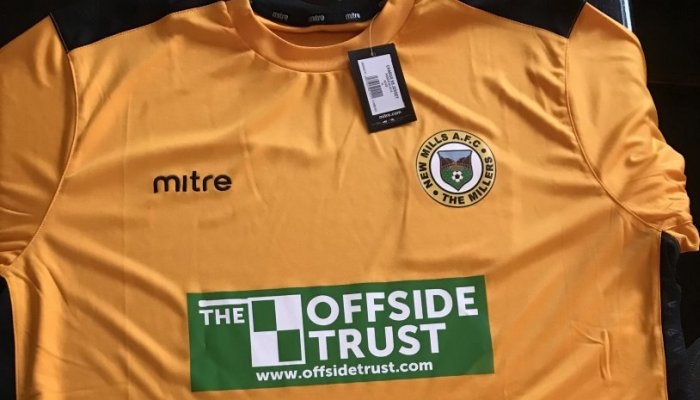 Millers support the Offside Trust
Thu 16th August 2018 | New Mills
By Ian Templeman
New Mills are showing their support to The Offside Trust for the 2018/19 season, by wearing the organisation's logo on the front of their first team shirts.
The Offside Trust was established in November 2016 in the wake of a series of high-profile revelations regarding child sexual abuse.
Several former professional players bravely waived their right to anonymity to speak out about their past abuse, and the Trust now operates as an independent body to work alongside clubs, organisations and other charitable bodies to further enhance safeguarding at all levels of sport.
The Trust is committed to supporting survivors and working to make sport safer for children, and is led by ex- footballer Steve Walters and former professional golfer Chris Unsworth.
Chris also spent time as a player at Church Lane, and as Millers Programme Editor Chris Culkin explained, the club have been in touch with Chris regularly since they became aware of his involvement with the Offside Trust.
"This is a story that we have followed as a club for a while, obviously with Chris being a former player", he said.
"So we've maintained dialogue with him for over a year now I'd say, and things have developed from there
"Then last season, when the Trust was created we spoke to him and promoted the Trust on our website and in the match programme.
"As the court cases came to an end earlier this year, the club decided that they would like to donate the shirt sponsorship to the trust and approached Chris, who was delighted with this.
"Chris was welcomed back as a guest of the club at the season's opening fixture against Vauxhall Motors, and a number of former players also attended the fixture in support of their team mate and the Trust".
The Millers shirt bearing the logo of the Offside Trust is pictured below.
More information about the work of the Offside Trust can be found on their website by clicking here.