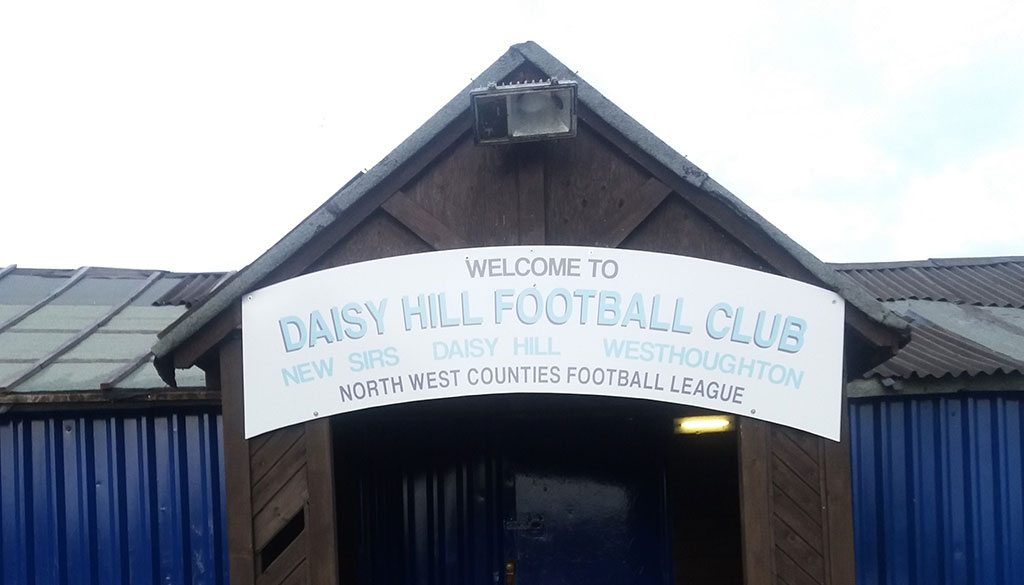 Youth is the way ahead for Daisy Hill
Thu 9th August 2018 | Daisy Hill
By Ian Templeman
Daisy Hill manager Brian Hart believes that his newly shaped squad has the necessary attributes to make an impact this season, despite the youthfulness of the group.
Since returning to the club to take over the managerial reins in the summer, Brian has focussed on rebuilding a squad based around young players, many from the club's youth ranks, which he believes is the way ahead for the club.
A handful of players still remain at the club from last season, but there are some familiar faces in the newly shaped coaching team headed up by Brian, who first cut his managerial teeth at New Sirs in the 1990s when the club was briefly known as Westhoughton Town, and was part of the backroom team that began last season at the club under Craig Thomas.
This season Marc Thomas will be Brian's assistant, Craig Thomas and Tommy Burtonwood will have coaching roles, along with goalkeeper Craig Haynes who will operate as a player/coach.
Over the past weeks and through pre-season, the new playing squad has begun to take shape, and Brian says he is happy with the progress being made.
"Daisy Hill are always thought of as being the underdogs and we are quite happy with that, and we will do our best to prove people wrong", said Brian.
"We have a new squad of players that have not been fully assembled yet, so it's work in progress, and we have to be competitive while we are rebuilding.
"This league is a great platform for all our young players to showcase themselves and move up a grade. That's my job to do that, to introduce and develop players so that they can play at a higher level".
So far, the team's opening two games have delivered a 2-0 defeat on the opening Saturday against Garstang, followed by a point from an incident packed and highly entertaining 3-3 draw at home to Longridge Town on Monday night where Daisy battled back from being two down to lead 3-2, only to concede an equaliser in stoppage time.
Brian admits that he was happy with the way in which the team bounced back after an away defeat and going two goals down at home early on to Longridge.
"At Garstang we had a very young side, as we had 11 players missing from the squad, and after just over 20 minutes when we'd seen two goals go in it wasn't going how we wanted.
"But at half time we changed the personnel around a bit to give us a bit more stability, and the second half was much better and I wasn't too down after the game because of the second half performance when we really scrapped.
"Against Longridge, they had won well on Saturday and started well in the first 15 minutes, but after that, our lads got the measure of them a bit, even though we introduced three more players that hadn't played together.
"We were really pleased with the point although the lads were disappointed as they thought they had got there, and did well in the second half under a lot of pressure. We can only ask for 100% effort and the lads did what we asked of them, although we gave away two sloppy goals.
"We are a young side, still learning, but the work ethic was terrific and I couldn't have asked any more. We will learn from that and will get better, especially as we have players to come back in".
Daisy now have a break until a week on Saturday before their next game, a home league clash with Avro, but Brian says the break has come at a good time for them.
"Not having a game on Saturday is not a bad thing for us because we have had so many players missing, and we need to get the group together", he explained.
"We've had players training all through pre-season and then gone on holiday and missed the first two games of the season.
"It's now about getting our players minds set on what we are about, and the next 12 days are all about building and making sure they understand.
"We'll work on set pieces, patterns of play, understanding starting positions and then hopefully when we train again on Tuesday next week we will have a full squad available and can start looking at the shape.
"I'm pleased now that we have nearly two weeks and three training sessions where we can work on passages of play and for the lads to get a better understanding of what I am asking for".