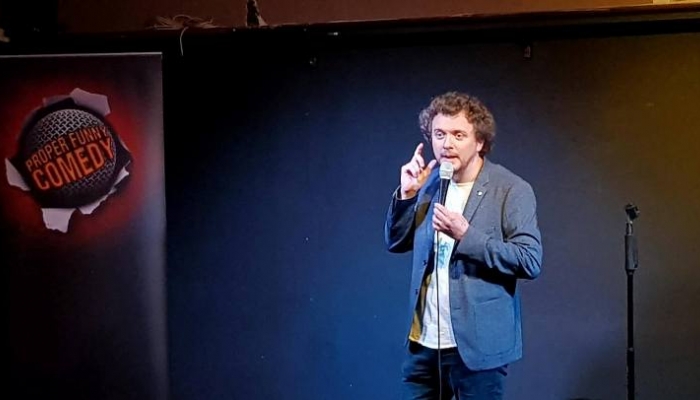 Comic seeks backers for book about New Mills AFC
Thu 14th December 2017 | New Mills
By Ian Templeman
Derbyshire comedian Carl Jones is looking for backers to help publish his debut book about First Division side New Mills AFC.
Carl, 32, is a writer and stand-up comedian, and has numerous credits across BBC Radio's comedy output. He was a regular face at Church Lane during 2016/17 when he spent the season following the Millers' progress after relegation from the Evo-Stik League.
"Winless: My Year With Football's Ultimate Underdogs" takes a light-hearted, in-depth, fan's eye view behind the scenes at a semi-professional football club as the High Peak side attempted to bounce back from a winless season and damaging headlines. The project has been picked up by digital crowdfunding publisher Unbound.
Speaking on the launch of the project, Jones said: "I've always had an affinity with 'the underdog' and that's what first attracted me to New Mills. I was gigging in the town in the autumn of 2015 and checked to see how the local football team were getting on. It was clear at that stage that they were in for a long season."
A difficult season would see New Mills go on to draw three and lose 39 games. "Winless" picks up where the previous season left off.
Jones continues: "It was clear that the club were hesitant about allowing me in to follow them at the outset. They'd suffered from a lot of negative publicity and allowing a stand-up comedian through the doors might have seemed like an invitation for that to continue.
"I made it really clear that my aims were to tell the real story behind the headlines of a club at the heart of the local community. Teams at this level are simply unsustainable without the tireless dedication of volunteers and loyal fans. This book is their story.
"I'm delighted the Club are pleased with the first draft but this project simply won't happen without the wider support of the non-league community."
Speaking on behalf of New Mills AFC, Club Secretary Sue Hyde said: "We've really enjoyed having Carl around the Club and, while unfortunately the season didn't quite have the Hollywood ending we were all hoping for, we've had an opportunity to read the first draft and really enjoyed it. Running a Non-League club is a 24/7 job and this book captures that.
"New Mills AFC and everyone personally involved have met a friend for life in Carl, and his wit and humour will be demonstrated one evening early next year, when he will host a comedy night at the Club. We hope fans of New Mills, and the wider Hallmark Security League, will support this project through to publication."
Jones added: "Crowdfunding struck me as a really great way to get this book to its audience. Football is a shared national passion, and nothing demonstrates that more than our love of non-league where football can be found in its purest form.
"This book is as exciting and funny as it is heart-warming and inspiring and provides a time capsule of a club persevering through adversity to build a brighter future. It's been a pleasure to be a part of this special club, and I'd love to share it with as many people as possible."
Pledges towards the limited first edition of Winless start at just £10, which includes each pledger having their name printed in the back of the book as a supporter. To find out more, click here.