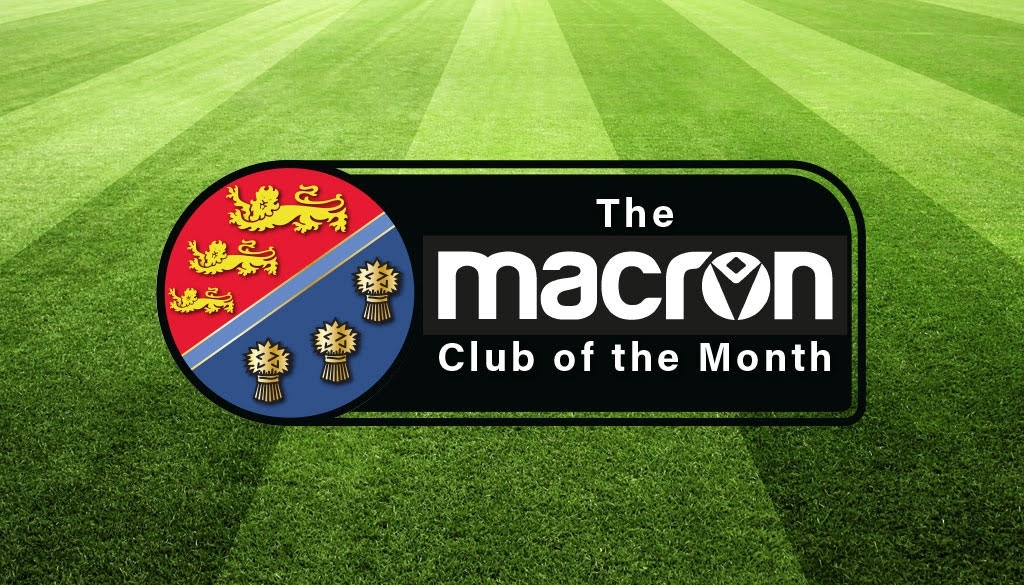 February's Macron NWCFL Club of the Month Awards Confirmed
Thu 5th March 2020 | League Awards
By Martin Fallon
The North West Counties League's Macron Club of the Month Awards for February 2020 have today being confirmed. With the postponed games due to the weather putting 17 teams across the league out of contention due to not playing the minimum three games, it was a non-starter for many clubs. However we had clear winners in all three divisions.
PREMIER DIVISION
The Premier Division saw just four teams register an average of over two points in the monthly calculation for club of the month. The first of these was Runcorn Town who had an unbeaten month, but four draws from their six games put them down in the final scores.
Whitchurch Alport have stopped their poor run of form by recording an unbeaten month, but like Runcorn Town, two draws from their three games counted against them. Irlam can count themselves unlucky, winning both of their league games with their one defeat coming at the hands of Northern Premier League side FC Unted of Manchester in the Manchester Premier Cup.
The best team by far though in February was RYLANDS, who romped to the Club of the Month award with four wins and a draw from their five games.
They started the month with a 2-1 win over Squires Gate, Lewis Buckley hitting a late winner after Freddie Potter had put them ahead. Another late goal came at Skelmersdale United, where Sam O'Halleron hit the winner in a 3-2 win, a Lewis Buckley and an own goal also contributing.
Their best win was in their third game, with Kane Drummond hitting a hat-trick in a 3-0 win over Bootle. And a quick fire double followed over Skelmersdale, Andy Scarisbrick and Drummond scoring in a 2-0 win. Their final game saw a 1-1 draw at home to Litherland REMYCA, captain Gary Kenny netting for Rylands.
PREMIER DIVISION - RYLANDS
Results:
01/02/2020 - Rylands 2-1 Squires Gate
04/02/2020 - Skelmersdale United 2-3 Rylands
08/02/2020 - Bootle 0-3 Rylands
15/02/2020 - Rylands 2-0 Skelmersdale United
22/02/2020 - Rylands 1-1 Litherland REMYCA
FIRST DIVISION NORTH
Like in the Premier Division, just four teams registered an average of over 2 points in the monthly calculation over for club of the month, but there was a runaway winner.
AFC Blackpool won two of their three games, suffering defeat in the other, whilst Shelley again had a good month, winning three of their five games but draws in the other two reduced their average. AFC Liverpool also had another good month with four wins coming from their six games, however their loss at Atherton LR proved crucial.
Holding off the challenge though to win their first Club of the Month award of the season is league leaders LOWER BRECK.
They started the month with a 1-0 win at home to AFC Darwen, Louis Austin's first half goal proving decisive. Oscar Billington was the main man in their second game at Holker Old Boys, putting Breck in front before scoring an 85th minute winner after Holker had levelled. Two postponements followed, before Breck made it three out of three in their final game, a thrilling 4-3 win over Daisy Hill.
They fell 2-0 behind in that game before two quick goals from Stephen Milne levelled the scores. Daisy Hill regained the lead before Liam Morris levelled the scores once more. Milne completed his hat-trick with eight minutes remaining to give his side their sixth successive win and to secure his side the Club of the Month award.
FIRST DIVISION NORTH - LOWER BRECK
Results:
01/02/2020 - Lower Breck 1-0 AFC Darwen
08/02/2020 - Holker OB 1-2 Lower Breck
29/02/2020 - Lower Breck 4-3 Daisy Hill
FIRST DIVISION SOUTH
Unlike our other two divisions, the First Division South saw five teams register an average of over 2 points in the monthly calculation for club of the month. However it was very close in the final calculations, with two teams standing out above the rest.
Abbey Hey won three of ther four games in January, with a home defeat to Wythenshawe Town proving crucial, and it was a similar story at FC Oswestry Town where a home defeat to Stockport Town cost them a 100% month. Also winning three out of four games was Barnton, who had their best month of the season, and it was Wythenshawe Town again who cost them by inflicting their only defeat.
As you can possibly tell, Wythenshawe Town had a great month, and it is them who can count themselves very unlucky not to win club of the month. They won all five games they played, four of them coming at home, and couldn't have done any more in February.
However just pipping them on averages was VAUXHALL MOTORS, who have won the club of the month award for the third time this season.
They started the month with a 2-0 win over Stockport Town, Ryan Cox and Ben Holmes on target, before a 3-1 win at Maine Road, Cox again finding the net plus two goals from Daniel Cross. They then travelled back to Manchester to make it three successive wins in the month with Matthew Carlin's goal giving them a narrow 1-0 win at Cheadle Town.
Two postponements followed before thanks to another two goals from Cox plus one each for Carlin and Glen Rule gave them a 4-0 win away at St Martins. And perhaps their finest performance was in their last game of the month when Northern Premier League side Hyde United visited in the Quarter Finals of the Cheshire Senior Cup. Equalisers from Karl Noon and Michael Burley gave them a 2-2 draw on the night, with Hyde progressing on penalties.
For those wondering, the club of the month is a calculation based on results, venue and the league of opponent. Vauxhall's average ended up better than Wythenshawe's thanks to three away wins in the month and draw against a team from a higher division.
FIRST DIVISION SOUTH - VAUXHALL MOTORS
Results:
01/02/2020 - Vauxhall Motors 2-0 Stockport Town
03/02/2020 - Maine Road 1-3 Vauxhall Motors
12/02/2020 - Cheadle Town 0-1 Vauxhall Motors
22/02/2020 - St Martins 0-4 Vauxhall Motors
25/02/2020 - Vauxhall Motors 2-2 Hyde United
Well done to Rylands, Lower Breck and Vauxhall Motors. The awards for the Macron player and Ruesch goalkeeper of the month will be announced shortly.