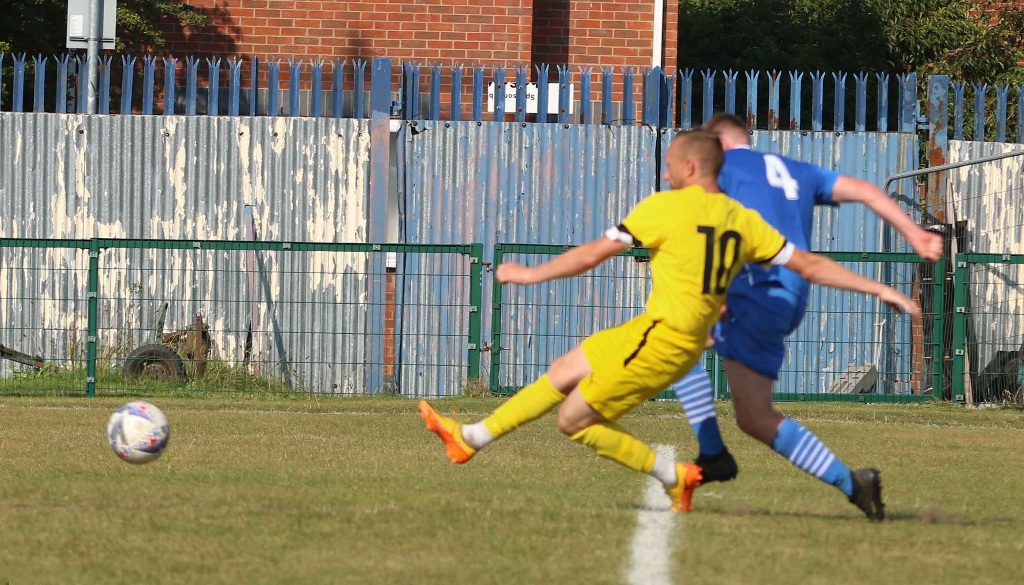 Player Of The Month Awards July/August 2022
Tue 13th September 2022 | League Awards
By Martin Fallon
The Player of the Month awards for July/August 2022 have been announced.
PREMIER DIVISION - LEWIS BUCKLEY (VAUXHALL MOTORS)
From a great start from the Motormen it has been difficult to choose a single Player of the Month as there have been some superb displays from all the players.
Narrowing it down to one player brings us to Lewis Buckley, and what a difference 12 months makes. This time last year Vauxhall couldn't score at all, and now Lewis (and Bobbie McDonnell) bring that goalscoring ability. You sense that no matter what the score is or how long there is left, Lewis will score or his prescence will unsettle the opposition defence and create a chance for himself or a team mate.
Lewis' experience and know how has been crucial in the unbeaten League start to the season for Vauxhall, and have to have scored 10 goals by the end of August is brilliant. In fact the only game that Lewis missed was the loss at Whitchurch in the FA Cup where they failed to score. That perhaps says a lot.
Well done Lewis!
FIRST DIVISION NORTH - JACK FOSTER (NELSON)
We have to go back a long way to find a Player of the Month winner from Nelson, with Rob Grimes the last recipient in November 2014. The near eight year wait is now over with Jack a deserved winner in July/August 2022.
Jack has set off this season as he ended last season... in red hot form. He has an excellent attitude and his workrate in matches is second to none.
Once again he is great goalscoring form and is an all round top player for the Admirals. In July/August he played in all six games that his team played and scored in five of those games. He scored twice against Bacup Borough and AFC Blackpool to make it seven goals in the month.
He also won Man of the Match in three of the six league games that were played, those coming in consecutive games against Ashton Town, Bacup Borough and AFC Blackpool.
A credit to the club. Well done Jack!
FIRST DIVISION SOUTH - SCOTT McGOWAN (STOCKPORT TOWN)
It's Stockport's first winner of this award since Juesuran Uchegbulam in August 2019, although this is the fourth time Scott has won it after previous wins for 1874 Northwich in March 2012, April 2011 and February 2011.
Scott started all six of Stockport Town's opening fixtures. After setting up Will Calligan for the only goal in a win over Barnton, Stockport went down to a 1-0 defeat at Wythenshawe Amateurs. Scott was instrumental in getting the season going, scoring seven goals in and picking up two in the final four games of the month.
Scott picked up his first MoM as he scored a fantastic hat trick in our 3-1 win over Cheadle Town, including a fantastic lob over the keeper from 20+ yards. He then ran Cammell Laird 1907 ragged with another MoM performance, scoring and getting an assist for Kyle Foley in a 3-0 win.
Another two goals came in the 8-0 rout of Abbey Hey as well as an assist for one of Will Calligan's three goals. And in the final game of the month, he set Stockport on the way again by hitting the opener in a 5-3 win at Cheadle Heath Nomads.
Well done Scott!
Image courtesey of MKS photo showing Scott McGowan scoring at Cammell Laird 1907