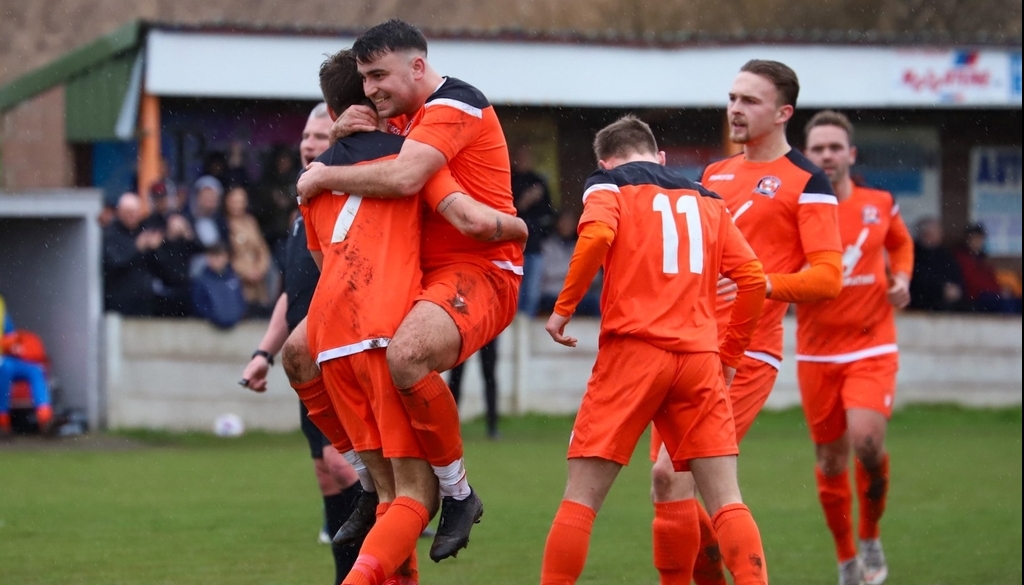 REACTIONS: NWCFL Managers give their thoughts on their NWCFL First Division North and South results
Sun 15th March 2020 | Manager Reactions
By Craig Kendall
NWCFL First Division North
AFC Darwen manager Kenny Langford, "The conditions were tough today with the weather. As soon as the rain came down it levelled the game out. A heavy pitch and sticky in patches but we managed to play our game to the best of our ability. To start with we couldn't take advantage of a lead and twice let them back into the game.
"In the final twenty minutes, we played some fantastic football. Our third and fourth goals came from superb build-up play. Today I thought the referee was fantastic, he gave everything he saw and allowed the game to develop so both teams could play their game. AFC Blackpool are a very good side but we knew we had to be better in every position and we battled hard and I felt we deserved the win. The crowd was fantastic and great to see a good number on."
Ashton Town joint-manager Karl Bell, "Hard fought game which by half time we could have been out of sight Holker to there credit never stopped coming at us 2nd half and only a brilliant penalty saved by Cheets keep us in front.
"The lads are now showing a great understanding with each other the last 4 or so game as we now as a settled squad for the first time in months with our lads working for each other
Holker Old Boys manager Kevin Watkins, "The day/game had a very strange atmosphere if I'm honest, the last few days has been a lot of uncertainty and this was visible in lads in the warm-up and build-up to the game. The feeling of should we or shouldn't we be playing after watching a lot of fixtures fall this morning.
"Could have scored within one-minute but the shot was dragged wide and Ashton responded well and were very direct with their approach which forced Sam into some good saves to keep them at bay, unfortunately, a lack of concentration for a moment led to Ashton punishing us with a good strike from the edge of the box, the first half seemed to just fizzle out after that.
"Second half we started well and the extra urgency in our play was noticeable turning Ashtons back 4 and applying some constant pressure which we were rewarded for when Brandon drew a foul from the centre half after driving run into the box but unfortunately his poor penalty was easily saved by Ashton keeper. We failed to create much after that and unfortunately left with nothing.
"We now await any approach going forward because all the uncertainty around this week and the lack of direction provided from the league certainly influenced the players, officials and supporters at today's game."
Ashton Town joint-manager Lee Bignell added, "We knew today's game was going to be tough cause Holker are a stubborn an organised side. But we have been playing well lately. We told the lads before the game we needed to start turning performances into points so an ugly 1-0 would do us an that's just what we did.
We have said for a while we just needed a good run of games to build some consistency it's starting to reflect in our performances so hopefully it continues.
Daisy Hill manager Brian Hart, "A game of two halves. We should have gone in at half time a couple of goals to the good instead of the one. The expected response from Shelley in the second half and until we lost our centre back we were holding our own.
"However, when he went off injured we lost our composure and as is the way at the minute any mistakes we make get punished."
Nelson manager Andy Harrison, "Bit of bogie team this lot for us. Beaten us 3-2 twice this season. We've been ahead 1-0 and 2-1 in both games and failed to get anything out of them. They don't stop and punish you if you don't take your chances, and that's exactly what they did today.
"We had numerous chances to put the game to bed and unfortunately, it just wasn't to be for us, having no fixture for five weeks I am sure hasn't helped but what can you do.
"A decent performance from their captain who didn't stop all game and dragged them through it. We go again."
NWCFL First Division South
Cammell Laird 1907 manager Phil Burton, "Very pleasing to get the win. Thought we controlled the game and could have scored more. The lads have adapted to the new shape and last two games we have seen much-needed improvements from every player.
"The objective for the season is still very much on, we just need to carry on the consistency from the last two games."
Cheadle Heath Nomads manager Andy Gray, "We started hesitantly and Abbey Hulton had a couple of chances but debutant keeper Joao Mendes saved well. We gained in belief and took control of the game, playing the majority of the first half in their side of the pitch.
"We were rewarded with two first-half goals through a Philip Yuille header and a superb team goal finished by Ashley Harrison.
"In the second half, it was important to keep up the tempo and we did that. 3 more goals from Ash Harrison, Jack Warren and Kyle Foley gave us a comfortable victory, spoiled only by carelessly giving away a penalty near the end which spoiled the clean sheet but we'll take the three points and move into next weeks game away at St. Martins
Abbey Hulton Utd manager Russell Leadbetter, "We should have been two up in 10 minutes but didn't take our chances. After that Cheadle was on top, they played to their strengths and we couldn't compete.
"I thought the officials played a part in three goals and were inconsistent throughout, that's not an excuse, that's just how I saw it. But we didn't deserve anything out of the game so fair play to Cheadle."
New Mills manager David Birch, "The boys worked hard, especially in the second half. We looked the better team in the last 25 mins we could have won the game.
"First half we looked comfortable up until the goal we could have been three up. Considering the player we missed Cav did well on debut and was threatening.
"Dylan made two great saves in the second half. Tommy and Harry, we're awesome. I am proud of everyone especially as we went one-nil down."
Ellesmere Rangers manager Connor Courtney, "It was a must-win game for us today. Thought we dominated the game from start to finish. Should have been a lot more. But pleased with the performance and we needed the win.
"Hopefully, we can build some momentum into final stages of the season. Wish st martins all the best and fair play they never gave up."
Vauxhall Motors manager Mick McGraa, "Great away win again totally dominated the game on a very poor pitch and difficult conditions we defended brilliantly and could of scored more than the 1 we scored.
"That was our 20th away win on the bounce and gained us promotion to the nwcfl prem it was our goal to get promoted at the start. Now to win the league."
The main photograph is by @altymoore1 from AFC Blackpool against AFC Darwen.