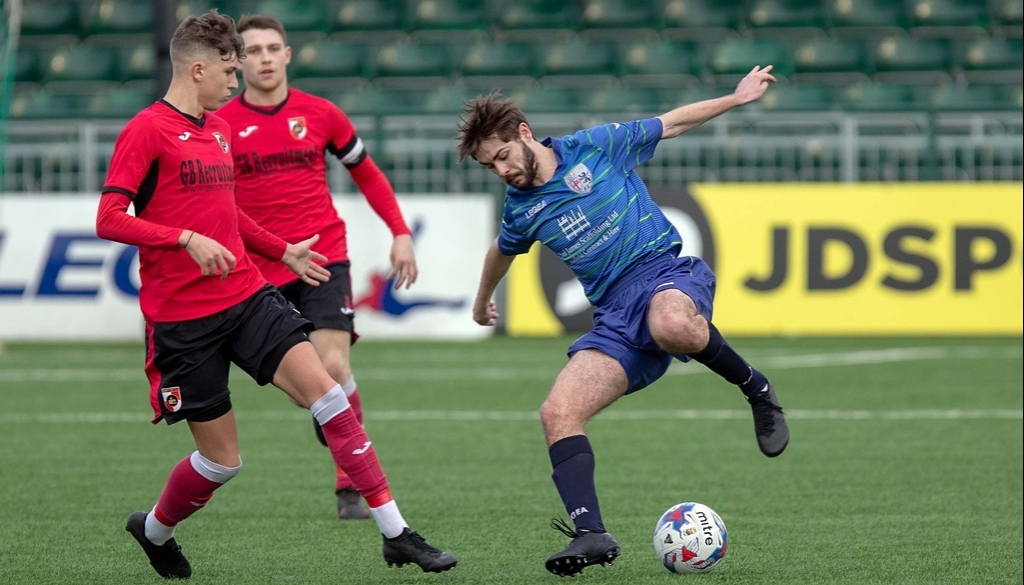 REACTIONS: NWCFL Managers give their thoughts on their NWCFL First Division North and South results
Sun 19th January 2020 | Manager Reactions
By Craig Kendall
NWCFL First Division North
Nelson manager Andy Harrison, "The first half display wasn't great today, it was a very difficult pitch and not a lot of football played. We took the lead on the stroke of half time with a scrappy goal that we just didn't give up on and went in somewhat fortunate to be ahead.
"The first half was fairly even with neither team really doing enough to go in ahead. We changed the system completely at half time and made a couple of changes in personnel. The second half performance was brilliant in every way. We defended excellently when we needed to and transitioned into attack really well. The most pleasing thing was that we were defending high up the pitch and winning the ball back in their half.
"Every time the wide players got on the ball we looked dangerous. We were first to every ball and played the game in their half. We managed the game better than we have all season and that's something that I've been on at the lads to improve. Professional and efficient performance from the lads. "
Bacup Borough manager Brent Peters, "Credit to both teams for the efforts they all put in on an extremely difficult pitch, the conditions were so bad the game could have become a Referree's nightmare, both teams had good honest group of players that put in honest fair performances which made the officials job easy on the day for that all must be applauded.
"In terms of the result and performance from our boys, it was a really good all around first class performance, some of the skills and football on such a difficult pitch was amazing to see given the conditions, the two penalties which saw us take a two goal lead epitomised the build up play and slick passing produced. The first one Callum Hewitts movement was too quick resulting in a late challenge producing a good finish from the spot from Laquan Esdaille.
"As was the second one created by the quick feet of Michael Gervin, our third goal came from a free kick awarded for a foul on Kyle Siddle from which our moving of the ball was constantly proving to be a problem for our opponents, the finish by Michael Gervin from thirty yards out was just sheer quality and precision, our fourth goal again was the result of a free kick awarded for a foul on Ryan Siddle, the quality delivery in was met with a bullet header from Joel Gnabouyou to make it four.
"A really good entertaining game from which St Helen's themselves contributed too."
Chadderton manager David Fish, "It's a sign of how far we have come in the last month that the players and I are so frustrated to not have taken a point out of yesterday's game. It was quite a scrappy game with both sides cancelling each other out and clear cut chances at a premium. I thought we defended well, competed across the pitch and matched an experienced side step for step. The goal was a tough blow coming so late in the game and in the manner it did and a nil nil draw would probably have been a fair result.
"Seven of our ten outfield players yesterday were aged 21 or under and Jordan Hadlow is only 22, the maturity shown by such a young squad is commendable, sets us up well for the rest of this season and, if we can keep the group together, beyond. We have a tricky run of games to the end of February but if we play as we have over the last four games we should pick up the points to secure a top half finish."
Lower Breck manager Gary Moore, "Delighted with the win today and after going a goal down early on we didn't panic and managed the game brilliantly from then on.
"Garstang moved the ball side to side very well both on the floor and in the air and we had to be patient when they had there spells and we did just that and when the opportunity's came late on we punished them and killed the game off with some well taken goals and some high quality build up play.
"Back to back wins for the first time since the start of December tells you the run we been on of late but these last two games the lads have really stepped up and the enjoyment of digging in and also backing each other has returned to the side and that showed today in the performance."
Prestwich Heys manager Matt Barnes,"Absolutely massive win today, we battled right upto the end and had the character to. Come back from 1-0 down to win the game fantastic result against a strong Darwen team."
Shelley manager Ash Berry, "Not a classic Pilkington. Better team first 20 minutes but we took our two chances.
"The second half we were by far better team for 35 minutes and cruising at 3-0 but Pilkington broke quickly on counter and scored we replied minutes after.
"We just played the last 10 minutes out to take another good three points."
NWCFL First Division South
Abbey Hulton Utd manager Russell Leadbetter, "A massive three points wanted for us today. I think for the last two games we've performed well and not got anything from the game.
"Today, we were nowhere near our best at all, however, we restricted Barnton from having any clear cut chances and do enough not to concede. We had a couple of good chances ourselves but it seemed like it could be another day when we didn't score a goal.
"But second half we picked up a little bit more and when the ball dropped in front of Kie Lazenby in the box he managed to smash it home. Credit to Barnton they deserved more from the game but I'm not going to complain it's a massive 3 points for the club considering the league positions between the 2 clubs."
Barton manager Neil Murray, "In the three games I've been at the club last week looks to have been a serious blip in what we're trying to achieve. We were unlucky to come away with nothing when a point on the road was looking likely after dominating large portions of the game.
"The players have listened to what we were looking to implement into our play and we looked bright and at it from the get-go. We use our performance today as a platform and foundation for the remainder of the season and the results will come with hard work and a bit of luck going our way.
"We dust ourselves down and go again next week."
Alsager Town manager Stuart Tulloch, "The boys worked extremely hard and remained patient throughout the 90 minutes. St Martins frustrated us and had 2-3 chances throughout the 90 minutes to go ahead but our keeper lee kept us in it.
"We had multiple chances ourselves to go ahead, like a penalty first half which would have seen us relax more into the game bringing them on to us. however, we take the positives out of today's performance being our first clean sheet for me and Elliot, and the lad that missed the penalty made up for it with a class free-kick to win any game."
Eccleshall manager Kyle Adams, We really had to dig that out today against a side who have been in some form.
"I thought we started the game really well and dominated the opening stages but they grew into it and it became a bit more even. It was blow to lose Jordan Benton early on but fortunately Ewan has come on for his debut and shown some real maturity. We were a little wasteful in the final third and if it wasn't for that we would've probably gone in ahead at the break. We had to be a little mindful of the counter as they looked quite dangerous in that regard and it looked the one way they might hurt us.
"Once we got a foothold in the second half we were excellent. We started to move the ball better and control things. Once Downsy misses the penalty and the rebound though you do start to wonder if it's one of those days but credit to the lads, and especially to him, he went and got the winner. Fortunately we held on near the end when they were throwing everything at us.
"It's great to be in that top four and in amongst it but there's a long way to go and some big games ahead, starting with a tough trip to Stone in the local derby on Wednesday."
FC Oswestry Town manager Nathan Leonard," Couldn't be happier with the boys after the game today. Down to 11 players today but we dug deep and controlled most of the game. The lads were tremendous every signal one of them were unbelievable and gave everything.
"We came up against a really good organised team and deservedly came away with the 3 points. It's great to see the team, committee and the whole club moving in the right direction. "
New Mills manager David Birch," We did well for large parts today but we never got to grips with their front 2! 3 out of the four goals was poor defending by us! We had a penalty shout at 2-2 and the referee failed to send off their lad when he was the last man and brought James Kalu down! We move on! "
Wythenshawe Town manager James Kinsey, "We knew this was the beginning of another tough week and the lads were superb. Their work rate was unbelievable all over the pitch. New Mills are a good young side and they'll take points off teams.
"We were more solid second half and played some good stuff. Three points but we now have a big game against West on Tuesday.
Stockport Town manager Adam Jones, "Gutted today, I thought the first half was scrappy but once we went 2-1 up we looked in control. Then a moment of madness from our keeper resulted in 10-men and a penalty, from there it was always an uphill battle against a decent team.
"Another sending off which was harsh took us down to 9 men but we could have nicked an equaliser at the end. Proud of the boys and their togetherness, as the saying goes we go again."
Vauxhall Motors manager Mick McGraa, "Really tough game today way to Stockport we didn't start the game well conceded early but as the half went on we took control deserved our equaliser.
"Same again second half conceded early, game went scrappy then we capitalised on a mistake which led to a red card for there keeper and a pen for us we equalised then we took control of the game then another red card for Stockport for a wreckless tackle we eventually scored the winner with 5 minutess to go, Stockport could of grabbed an equaliser with - men late on but we held on for 3 vital points great to grind results out when not playin great. "
Main photography by Nick Evans-Jones from FC Oswestry Town's win.