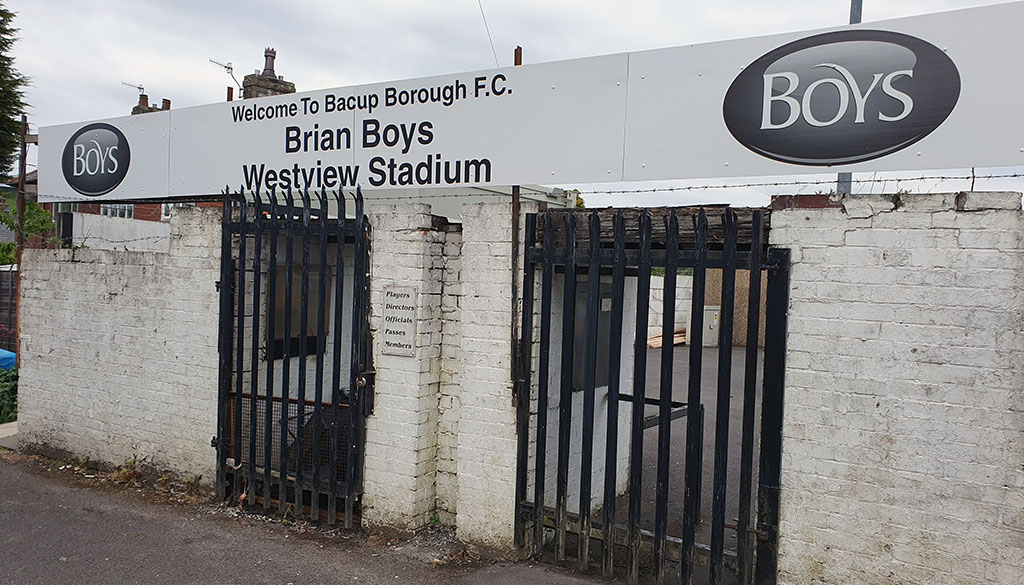 Peters aiming for promotion
Wed 3rd July 2019 | Bacup Borough
By Craig Kendall
The longest serving manager in the NWCFL is Bacup Borough's Brent Peters who has been at the helm for around 22 years and has seen so much change in that time.
Originally brought in just to help the club out from Football League side Doncaster Rovers, Peters has not looked back since.
"In September I'll be going into my twenty-second year at Bacup Borough. I came here from Doncaster Rovers, would you believe! I was Assistant Manager to Kerry Dixon when the infamous Chairman was there. They were good times at Doncaster, I enjoyed them but there were a lot of problems and I was commuting every day. Even though there was a contract on the table for the following season, they started messing about with the money, they were going into administration and I couldn't really afford to be losing out, especially when I had a business in the Rossendale Valley as well that I had to concentrate on.
"That brought me back into the Valley and it brought me at Bacup. I was only supposed to be here just to help them out and I've been here ever since! I came in as their Manager. That's what I am and that's really what I'm about. I was Manager/Coach. I came in and was only supposed to be helping them out. Going into September the season I came and they'd no points on the board. I think they had a humiliation at Tetley Walker – they got beaten 10-0 – and some of the players said, "Brent Peters is out of football at the minute. He's just left Doncaster Rovers. Why have you not approached Brent Peters?"
"I remember then, the late Mr. Frank Manning, who was the Chairman, said, "There's no way Brent Peters is going to come to Bacup. He's been at Doncaster Rovers, Accrington Stanley and Bury Football Club. He's not going to come here!" They said, "He's a football person. Just go and speak to him, see what he has to say." That's exactly what happened. He came to speak to me and he just said, "Will you help us out until we get something sorted?"
"I agreed to do it and I think we finished mid table when they'd had no points on the board so I thought that was a massive success. At the end of the season, coming into the turn of the millennium and I turned round and said, "I've not set out to do what I've done. As far as I'm concerned I'm not going to stay and I need to move on now." The club was lacking in ambition, they had no direction, they had a lot of debt and the Chairman then said to me, "Well, it looks like the end of the club if you're going to go."
"It was basically dated. They'd just no direction. I'd just sold my furniture removal and storage business and I said, "Wherever I go in football, whatever I do, there will be a Bacup Borough. I'll make sure of it." I'd underwritten the debts and I entered them into the Cup competitions. I started to give the club a bit of direction and I got hooked. Whether I like it or I don't like it, I've been here ever since and whilst I am predominantly the football Manager, that's my job, that's what I'm about. I oversee everything else and take on many tasks at the football club. That's exactly how it is, how it has been and how it is currently.
"Skeletons jumped out with me at Bacup and I was writhing round in one of those where I either walked or I thought I'm a fighter and I'm a winner so I decided to fight. It was a lot of hard work and a lot of pressure, having to try and get success on the pitch and get players into the club but also dealing with all the off-field propaganda with the local authority. Thankfully 2010 was when I secured a long-term lease for the club and it was then when I announced that this club can now kick on and go forward. We can administrate however we want. It's readily available now for new investors to come in and we started to get more and more new investors.
"The only problem is it is an old ground and it's a tired ground and we need to slowly but surely start to develop on it. That's not been easy because, again, you're dealing with local authorities and there's been the issues where the land adjacent to where we are. There was talk we were going to go to a brand new stadium but they couldn't find us the ideal – or I wouldn't agree on the ideal – facility.
"It has just been rubber stamped in the last few weeks that we're going to stay here so now we can move on and start to develop it the best we can and transform what I class as an old ground. We've got to be careful that we don't lose the history here because all the groundhoppers love it because it is an old ground but it needs to come up to modern day. That is now something we'll push on with."
2016-17 and 2017-18 weren't the greatest seasons for the club but last season, finishing eighth, Bacup could be seen as one of the sides who will be certain contenders for the title going into the new campaign, "Pre those years that you were talking about, I was might proud of my CV, to say that I'd been a frontline manager/coach since the age of twenty. I suffered a bad break when I was a triallist at Blackburn Rovers and, from that, it was Frank Casper who got me into coaching and I got on at Bury Football Club. From then I've been either a frontline manager or coach since the age of twenty. All those years I've been involved in clubs, like managing Glossop North End, where I was successful, Rossendale United, where I was successful; even Bury Football Club running the youth team, we were successful with the Youth Cup.
"I'm proud of my CV. There were no relegations or anything like a relegation; it was all quite successful and the clubs that I've always been at have been clubs that there's just been no money. We've had to beg, steal and borrow so it's been hard work but I've always been able to attract the right calibre of player and we have been quite successful in that time.
"I'm proud of that but we had an unsuccessful spell, like you say, and it hit us with a relegation. That came, whether I liked it or I didn't like it, when we appointed a Commercial Manager at Bacup Borough Football Club. It was a period where it caused me a lot of problems and grief and it caused the club a lot of financial issues that could have been a catastrophe for the club. We rode it, we got through it but sadly something had to give and it was the football that had to give. That's when we suffered the relegation.
"Onwards and upwards now. We're coming back. We've got everything sorted off the pitch, although there are still things to do off the pitch but again we've got things in place. We're moving in the right direction again now and I'm glad that, from a football perspective, we are moving in the right direction in terms of where we want to be heading and where we're going.
"Three seasons ago we got to the play-off final and we took that to extra time. We unfortunately got beaten in a tight game in extra time when Barnton came up. It's sad that the last couple of seasons there haven't been play-offs.
"Now the last few seasons there hasn't been any play-offs, which has not just been difficult for Bacup but it's been difficult for all clubs, especially for ambitious clubs in trying to achieve getting up to that next level. We're a young side, we've got some good quality young players who have proved to me that they can adapt to what I consider to be a very extremely tough competition in the North West Counties.
"If you go back through the archives, clubs that have really, really struggled to be successful in the North West Counties and struggled to get promotion but they've been there or thereabouts, you'll notice, when they go into the EvoStik, they've generally gone up and up again. There haven't been many teams who have struggled in the EvoStik. It is a tough League that we're playing in and competing in and people should never underestimate this League.
"Last season we kicked on. We got off to a bad start but that was down to a goalkeeping situation that happened virtually at kick off. I lost one goalkeeper and I wasn't happy with the goalkeeper that came in but we had to run with him. It took us some time to get the replacement but once we got the replacement we were steady away and we started to claw points back. Thankfully we finished a creditable eighth and we finished the last month on three straight wins out of five games and two draws, which earned us the Team of the Month.
"Every year I get asked the same question [Promotion?]. Obviously I want to be challenging to win it. That's what I'm about, that's what my staff's about and that's what the club's about. We want to be challenging to win it but I think if you talk to everybody else, managers will be all saying the same thing. As a Manager and coaching staff, we can only bring in the players that we feel that are ideal to take us on to be challenging and you hope that.
"Lady Luck does a lot of things to transpire against you. You can have bad luck with injuries so your first eleven is brilliant, absolutely fantastic but, as soon as you start getting injuries or into the suspensions, your back-up eleven aren't quite as good. That can have an adverse effect on your challenging. Then you have a situation where discipline can play a key area where players are getting suspended for the most stupid things.
"In particular this year, in players that I've wanted to return, I've looked at their discipline record. Those players that have had indifferent discipline records I've stayed a bit clear of them. To be honest, I could be shooting myself in the foot because they are good players but when they spend half their time not playing because of dissent or not football related matters – it's situations where they should be able to handle better themselves, like the dissent situation and especially when sin bins are coming in – you don't want to spend half your game playing ten-a-side or a 10 v. 11 or 9 v.11. You want a full complement on there because to give yourself the best chance to get the points to take you where you want to be.
"So, do I want to finish in the top five, six? If there were play-offs I'd say yes, we'll aim for a play-off place, we've got to go for place one or place two, three or four and hope that we can achieve that."
With the introduction of Sin Bins at Step 5 and 6 this season, Peters opened up about his thoughts on the subject, "Over forty years I've been in the game and the way the game's going, I'm not sure whether I'm happy. I keep going back to what made the game such a great game when you go back to players such as Nobby Stiles and Norman Hunter, people like that who were quite aggressive. Even if you come into more modern day football you come up to Bryan Robson, who was aggressive, and Roy Keane, who could be aggressive. It seems that that made football a spectacle. It seems that we're tending to go away from it, as though it's going to be a non-contact sport and I don't that's good.
"When you watch the Premier League, it's like Subbuteo football but if you watch the lower leagues from the Championship down, then you see a bit of blood and thunder, a bit of aggression and a bit of physicality. I think that's football; that's what it is.
"In terms of sin bins, I get that we should try and protect the referees a little bit and curb the dissent. Surely to goodness the club should be implementing that rather than to start implementing sin bins and players having to go off for a cool down for ten minutes because it just makes a mockery of the game. I suppose people out there will be turning round and saying, "Make sure your players are behaving themselves and then you'll stay with eleven players on the pitch!"
"I think that's a big thing in football, whether you're a manager, a coach or a referee. You're dealing with different characters on a football pitch or within a football club. You've got all sorts of different characters; you're not going to have eleven choirboys. It's not going to happen. You're going to have different sorts of characters at each club and managers have got to handle those characters. Different people want different reactions in management. Equally, on a football pitch, the referee is going to be in the same boat because he's got twenty-two players he's got to manage and they've all got different characteristics. Some are fiery, some are not. Some are really nice lads but they've got to be managed.
"When we're coming down to sin bins and talking back to a referee, I really do think it would be better if there could have been something brought in where clubs are really, really heavily penalised rather than penalising the game of football. People pay money to watch a game of football and do they really want to come and see two teams restricted down to two sin bins on both sides and it's a game of football going for ten minutes at a time without a full complement of players? I'm not sure they really will and I'm sure the lads will. "
A big thank you to Ellie Dalglish for her excellent transcribing skills.