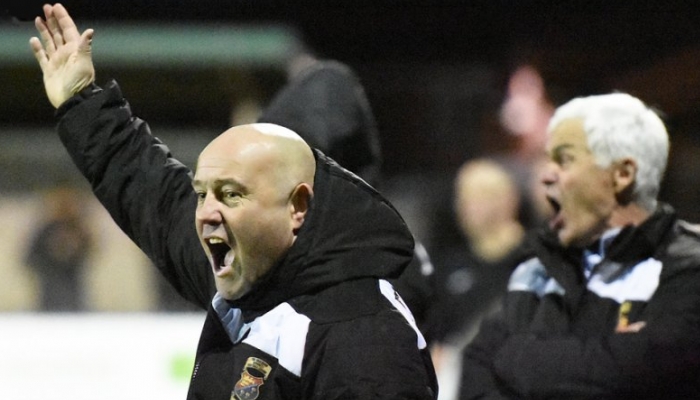 Clarkson has "unfinished business"
Sat 22nd June 2019 | Squires Gate
By Craig Kendall
In his first full season at Squires Gate, manager Andy Clarkson led his side to an 8th place finish in the NWCFL top flight - their best placing since 2014/15.
Clarkson is in his second stint as boss at The Brian Addison Stadium after two sucessful seasons last decade with the club.
"I've got unfinished business and I want to try to finish in the top three," explained Clarkson. "This is my second stint at Squires as Gate Manager. I was also their manager in 2008-2009 for two seasons and we managed to finish sixth in that first year I was in charge, which was a great achievement for Squires Gate. We've got to be realistic and, although my ambition is to finish in that top three, there are other clubs also out there chasing to finish in that top three so we'll just give it a go.
With a top half finish last term Clarkson was happy with the end eresult, "I was pleased but, with eight to ten games to go, we were looking to try and push for a top five finish, it was that close. I lost quite a few players to injury or to EvoSik clubs right at the end and the season filtered out and we finished eighth. At the start of the season, if you'd have said: "You're gong to finish eighth", I would have been really happy and taken that."
With more promotions next season Clarkson is staying grounded and realistic, "It is a great opportunity and no question about it but we've got to remember we're Squires Gate over in Blackpool. We're a small family club with a great set up. We haven't got the greatest fanbase because there are three teams within two hundred yards of each other: Blackpool Wren Rovers and AFC Blackpool, who are in the Division One of our League. You've got three teams all crying out and reaching out for spectators to come and watch.
"Also, on top of that, because our budget is probably one of the lowest in our League, I've also lost eight players to teams above us in the EvoStick League this season. It's done a bit of damage to the set but I have recruited well as well. I think a mid-table finish this season will be realistic.
"Of course we want to push further. I want to be able to say to our Chairman, "Bring a striker in and bring me this in, bring me that in", but there are only so many people out there. We're talking to people every day and the trouble is everyone's wanting better personal deals. Understandably, a club of our size cannot match what they want. We're going to give it a right good go and finish as high as we can!"
Squires Gate have just announce a link up with Blackpool Wren Rovers and Clifton Rangers, "I've been involved with Clifton Rangers Junior Football Club and last season was the last season at Under-18. I've had that team from Under-5s and there are eight players that I've seen right through to Under-18s who started at five years old. It was always my intention to give these lads a base or an opportunity to progress into adult football so the perfect opportunity was my friend, who is Secretary at Clifton Rangers.
"We had a meeting with Mark Faber, who is the Manager of Blackpool Wren Rovers, and his assistant Duncan. We've been ongoing now with talks for the last two to three months and we're creating a pathway where these young lads, if they're not ready for my first team at 18/19, they'll be going to Wrens' reserve team then hopefully to Wrens' first team, then progress into my first team.
"Rather than playing development football, we feel that giving them the adult football opportunity is the perfect way to increase their physicality in men's football. I think 18- or 19-year-old lads need to be challenged right now. "
Interview transcribed by Ellie Dalglish.