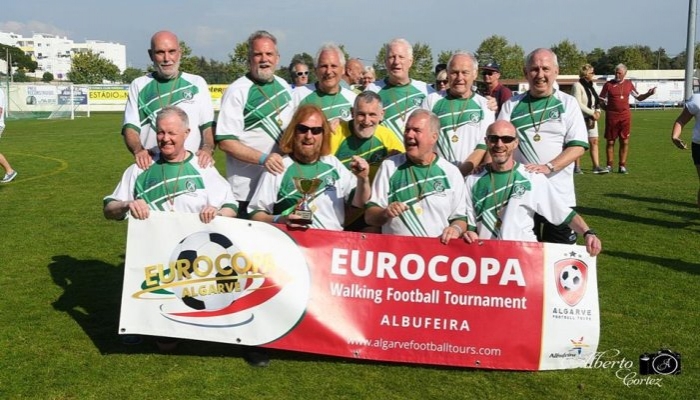 European triumph for 1874's walking football team
Tue 16th April 2019 | 1874 Northwich
By Ian Templeman
1874 Northwich's walking football team have returned victorious from playing in a tournament in Portugal.
At the end of March, 11 guys from the Greens' walking football group set out for Portugal to play in the Eurocopa tournament.
After results on the opening day led to the team being entered into the Bowl trophy, the 1874 squad ended up lifting the trophy with four victories.
1874 Northwich Chairman Brian Edge has put together the following report from the trip.
"With only 2 players below 60, and some in the squad over 70 we knew that having to play in the over 50's competition was likely to present some challenges particularly against younger and possibly fitter teams.
Nevertheless our objectives on this first trip were to see what the tournament was all about, to play to our best, to play in a spirit of fun and friendship and to enjoy ourselves. I can report that all of these objectives were met and exceeded.

Day one consisted of 3 groups of 7 teams and where you finished dictated which cup you would contest on day two. A 2-1 win in the first game against a team from East Algarve walking football club got us of to a good start.
We then got a reality check... playing South Africa Strollers (young and athletic), Sheffield United (last year's winners with 2 players from the England Walking Football Squad) and Benfica (yes, their official Walking Football Team, not a local supporters club).
We lost all three games 2-0, quite respectable but we put everything into those games and tiring legs led to defeats in the last two games.

After a cold swim and a beer we decided that we had done well and that in the Bowl competition the following day we would try to impose our game rather than having to contain really good teams.

The strength of the group became apparent on day two as South Africa defeated Sheffield to win the Champions Cup, Benfica defeated Hartshill (also in our group!!) to win the Plate.

Our Bowl campaign was a league with possible playoff if a clear points winner did not emerge.
Game 1 against a team from Spain managed by Larry Lloyd produced a 3-0 win with a hat trick from Phil.
Then a most selfless act from the 4 older guys in the squad who said that if the starting 7 could continue they should do so as it would give the best chance of a victory. We tip our caps to those true team players.
Game 2 produce a 1-0 win with John R getting the vital goal. Game 3 against North Lanark looked a difficult proposition but having seen them we had a plan to nullify their threat....executed to the letter a 2-1 win Phil and the two Johns scored (work that one out).
Game 4 required a point to win , a loss would result in a tie, after some discussion we agreed what had served us well.
With two thirds of a tight game gone and still a 0-0 deadlock, a vital save by goalie Keith and a break resulted in a loose ball which Phil smashed in, minutes to go but tension lifted as John R bagged another with 20 seconds to go. Final whistle, job done, relief, elation and exhaustion followed.

The day was rounded off by a presentation, BBQ, drinks and singing back at the hotel.
Keith the cat, Keith W, Captain Carl, John E, John R, Paul, George, Tony, Ian and Phil represented the walking football group and the club in the finest traditions and we hope to return next year with two teams.

A brilliantly well organised competition and trip, great fun and 4 days that 11 guys will never forget. We will bore everyone we know with anecdotes...."did I ever tell you about when I played against Benfica??"

Thanks are due to Steve Stewart at Cheshire F.A. for his ongoing support and interest in our group, and to the social media team at 1874 who kept news flowing and for the messages of support and encouragement that we received".
The team are pictured below with their trophy.