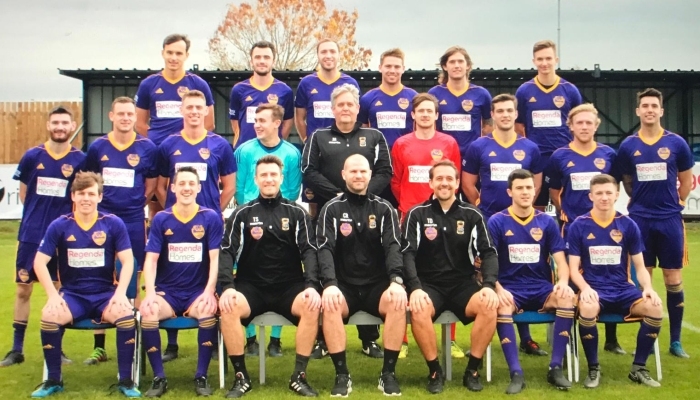 Paul pleased with Purps' progress
Wed 13th February 2019 | City of Liverpool
By Paul Manning
I don't think there can be any doubt that our club has begun life very positively since joining the league for 2016/17 season.
That first season was extremely hard work both on and off the pitch as a new club, but all the hard work was made worthwhile by the brilliant end to the campaign which saw us fulfill all NWCFL fixtures possible by winning the cup double and the 1st Division Play-Offs.
It was a massive learning curve for us, so to have to hit the ground running, and yet still be so successful with three trophies in the cabinet was outstanding and the memories we made that season, will live forever for literally hundreds of people.
The "Difficult Second Album" (our first season in the Premier Division) was not as successful, we won the Champions Cup early on and had a good start, but needed a very strong end to the campaign to gain a respectable 4th place finish and give us a foothold in the Division, but equally as importantly saw us retain the core players for this current season.
It was interesting that a lot of people we spoke to in and around the league were saying "great season" and "very well done", but we were disappointed that we never quite got close enough to the top of the table to put the leading three teams under pressure, although like most teams the atrocious weather affected us badly.
We parted company with Simon Burton just as pre-season was starting. Simon had done very well for us in that first season and will always be welcome at the club, but we both knew that the time was right to go our separate ways.
With 4 trophies in 2 seasons, the appointment of Simon and what followed can only be seen as a massive success.
We turned to Craig Robinson to take over the managerial reins and Craig has done an excellent job in building a squad and a team spirit that has put us in a very good position with just 10 league games to go in the season – another good decision!
Now is not the time to be handing out plaudits, as we have won nothing yet and know that there is still a long way to go and still a lot of points to be earned, but Craig, his staff and the whole squad have put us in a very good position at this stage of the season.
The players have put in some great performances and some hard yards in training, and we have every confidence that they can get the job done for the club, so we are all looking forward to the final couple of months of the season.
But one thing is certain, no team in the Premier Division just hands over the points without a massive fight first. There are no easy games!
We have great support from all of our sponsors, so it was great news that our main sponsor Regenda Homes recently renewed our agreement and wanted to continue and even develop our relationship over the next couple of years, which really gives the club a solid platform to work from.
Off the field, we do have a legally binding exclusivity agreement on a large site in Fazakerley, upon which we hope to build our own ground in the very near future. There are ground contamination problems and a massive mound of earth to be resolved and it is a painfully slow process, but we have clarity as to our position and crucially have excellent grant funding, finance and share options lined up, to allow us to crack on with the project as soon as we are able too.
Away from the first team we have a burgeoning football operation with a Reserves, U18, U19 and a Women's team and hope to add an U23 and Junior Section to our roster in time for next season.
So the club continues to grow year on year, although to do this requires an ever growing army of volunteers, who all give their time up for the good of the club, all of whom deserve a lot more credit than is bestowed upon them – but I guess that is true of almost all football clubs.
Our attendances are holding steady at a 400+ average, which is great testament to our support base and with an exciting end to the season in sight, we are hopeful that the attendances at our remaining home games will really show Craig and the lads that we are all behind the team in the final push for the title.
Paul Manning, Chairman, City of Liverpool FC